Rangers to buy out D Girardi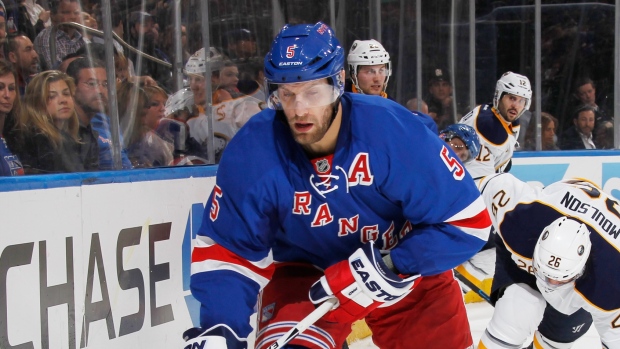 The New York Rangers have announced they will buy out the remaining three seasons of defenceman Dan Girardi's contract with the expansion draft looming.
New York did not ask Girardi to waive his no-movement clause before Monday's deadline for the expansion draft. With the extra protection spot, which Girardi would have occupied, the team can protect either Kevin Klein or Nick Holden. The other two spots will be occupied by captain Ryan McDonagh and veteran Marc Staal, who like Girardi was also not asked to waive his no-move clause. The New York posted reported Tuesday Klein is mulling retirement this off-season.
The 33-year-old Girardi scored four goals and added 11 assists over 63 games with the Rangers in 2016-17, his 11th with the club. The native of Welland, Ont., has spent his entire career with the Blueshirts.
"I would like to thank Dan for everything he has given of himself to the Rangers over 11 seasons," general manager Jeff Gorton said in a statement. "He has been one of the key contributors to our success over the past decade. We have the utmost respect for Dan and wish him all the best going forward."
Girardi owned an annual cap hit of $5.5 million and his buyout will leave the Rangers with a retained cap hit for each of the next six seasons. Girardi will count for $2.6 million against the cap next season, $3.6 million in the next two years and $1.1 million for the following three seasons starting with 2020-21.
"I would like to take this opportunity to thank the New York Rangers organization for giving me the opportunity to fulfill my childhood dream of playing in the National Hockey League." Girardi wrote in a lengthy release posted to the team's website. "I would also like to thank James Dolan, Glen Sather, Jim Schoenfeld, Jeff Gorton, John Rosasco, Jason Vogel, all of the coaches and front office staff, Jim Ramsay and his amazing training staff, the equipment staff, and all the Madison Square Garden employees for making my past 11 years so special."
Girardi, a veteran of 788 career games, owns 46 goals and 230 points in his NHL career. Undrafted in the NHL, he worked his way up from the ECHL to eventually debut with the Rangers during the 2005-06 season. He was named to the All-Star game in 2012.
He signed the six-year, $33 million contract in February, 2014 in season where he scored five goals and 24 points while averaging 23:07 of ice time per game. He averaged 19:06 of ice time per game this past season, his lowest since his rookie year.