Rangers win Vesey sweepstakes
The New York Rangers have won the Jimmy Vesey sweepstakes. New York announced Friday that it has agreed to terms on an entry-level deal with the coveted college free agent.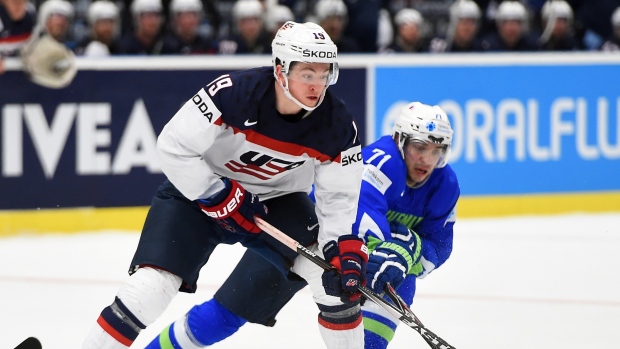 The New York Rangers offered the right opportunity and situation to win hockey's late-summer showcase: the Jimmy Vesey sweepstakes.
Vesey chose the Rangers from among eight finalists, agreeing to terms on a two-year entry-level contract Friday that marks the coveted college free agent's next step to the NHL. The Hobey Baker winner as the NCAA's player of the year said the Rangers won out because of their intense interest in him, among other factors.
"The thing that jumped out at me was that they came to really want me," Vesey said on a conference call. "It seemed that they really needed to have me in their lineup and it seemed that they believe in me. That was something that I was looking for."
Vesey, who had 24 goals and 22 assists in 33 games for Harvard last season, could've been a top-six forward for the Nashville Predators, who drafted him 66th overall in 2012. But Vesey told the Predators he'd explore free agency rather than sign, so they traded his rights in June to the Buffalo Sabres for a third-round pick.
Taking a calculated risk for the inside track, the Sabres were in the mix to sign Vesey along with the Rangers, Islanders, Chicago Blackhawks, New Jersey Devils, Toronto Maple Leafs, Pittsburgh Penguins and his hometown Boston Bruins. Vesey said he and his representatives looked at each team's depth chart before meeting to get an idea where he might best fit in.
Vesey felt he could "plug in right away" for the Rangers, and figures to be a top-nine forward, even if general manager Jeff Gorton made no official promises on where he'd fit in the lineup.
"I never got the feeling that he was looking for any kind of promise," Gorton said on a conference call. "I think that he's a pretty proud guy. He's very confident in his ability. When he looks at our team, I think he sees an opportunity to play. I think he likes the fact that some other players that we brought in recently have gotten an opportunity as young players."
Former captain Chris Drury, the 1998 Hobey Baker winner, helped sell the Rangers along with coach Alain Vigneault and one of Vesey's childhood friends, winger Kevin Hayes, who also went unsigned out of Boston College and had 45 points in his rookie season.
Hayes was a big deal two summers ago when he spurned the Blackhawks for the Rangers, but Vesey's process admittedly "took on a life of its own." It wasn't like "The Decision" with LeBron James, and the 23-year-old said he didn't expect or want this kind of attention and isn't worried about it shifting more pressure to him in New York.
"They don't expect me to come in and be a saviour," Vesey said. "I think I'm just a piece they want to add, and hopefully I can help the New York Rangers win hockey games."
The 6-foot-3, 203-pound forward from North Reading, Massachusetts, native had 144 points in 128 games at Harvard, so that level of production will bring the spotlight. So will the fact that several celebrities and New York-area athletes took to Twitter to convince Vesey to go there.
Darryl McDaniels from Run-DMC, actress Susan Sarandon, Mets pitcher Noah Syndergaard, Jets defensive lineman Muhammad Wilkerson and former Giants defensive end Justin Tuck were among those who tweeted at Vesey vouching for the Rangers. Vesey said he tried to stay off social media this week, but had friends texting him the tweets, so he was well aware of what was going on.
"They were pretty funny and pretty cool that those celebrities were reaching out to me," Vesey said. "I don't think it had a factor in the decision, so to speak, but one of the things I definitely liked about New York was the top-notch lifestyle that the city offers."
Something had to tip the scales because NHL rules limit the contract to two years with a base salary of $925,000 and bonuses. Every team could give Vesey the maximum money, so he had to decide based on the right fit.
The Rangers have been looking to get younger after not making a first-round pick since 2012. Vesey fits that bill.
"We have a really good player with a lot of intangibles," Gorton said. "He's got an ability to score, he can make plays, he's a very talented player."