Raonic reflects on memorable 2016 season
Canadian Milos Raonic reached Wimbledon final on his way to finishing the year as the No. 3 ranked men's tennis player in the world.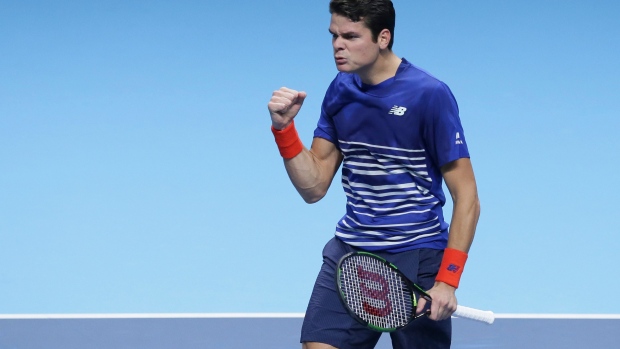 Milos Raonic finished the 2016 tennis season ranked as the No. 3 men's player in the world, an achievement no other Canadian male singles player has ever accomplished.
Raonic played the best tennis of his career in 2016 — based not only on the results but also the way he changed his game.
"I think a nine [out of 10] — it's up there," Raonic said when asked to rate his season. "One big goal was obviously to try to win my first slam. I came up very short of that.
"There are a lot of pluses because I had a lot of doubts at the end of last year. I didn't know how I was going to start the year. I didn't know when I was going to start playing well. I was fortunate to do that from the first week on, so there are a lot more positives than negatives."
It started in early January. After losing the first set in his first match of 2016, Raonic proceeded to roll through the field at the Brisbane International, capturing his first and only tour title of the year by defeating Roger Federer in the final. It was the start of what would be an impressive run through the first quarter of the long season.
Raonic, with former World No. 1 Carlos Moya now part of his coaching team, won a five-setter over Stan Wawrinka in the quarter-finals of the Australian Open and was poised to move into his first career Grand Slam Final. Up two sets to one in the semis against Andy Murray, Raonic was hit again by the troubling injury issues that have hampered his career. A right adductor tear limited his mobility and ended up costing him the match in five sets.
After skipping Canada's Davis Cup tie against France, Raonic seemed refreshed during a strong week at Indian Wells. Despite being soundly beaten by Novak Djokovic in the final, there were signs his game had changed.
Raonic added new movement to his serve, was coming to the net more often and his return game had improved. He also said goodbye to his trademark sleeve. His new prop, a mouthguard to help with his teeth grinding and posture, was paying off.
After three straight Masters 1000 quarter-final appearances and a fourth-round exit at Roland Garros, John McEnroe entered the picture. The boisterous, outspoken seven-time Grand Slam winner was added to Raonic's team as a coaching consultant for the grass-court season.
McEnroe's addition had an immediate impact. Raonic's net game was the best it had ever been, and his groundstrokes seemed more precise. Often criticized for his monotonous demeanour, the right-hander was even showing more emotion on the court with the occasional fist pump and yell.
Raonic was up a set and 4-2 in the Queen's Club Final against Murray but ended up falling in three sets. He rode the momentum of that success into Wimbledon. After a hard-fought, five-set victory over Federer, Raonic became the first Canadian male to reach a Grand Slam singles final.
Facing a veteran Grand Slam finalist who was playing in front of his home crowd, Raonic didn't play his best tennis and lost yet another match to Murray in straight sets.
McEnroe's time in a coaching role was short-lived. He decided to back away from Raonic's team due to his commentating commitments. Instead, he agreed to offer up advice to Raonic anytime he needed it.
The second half of the season had its ups a downs for the 6-foot-5 native of Thornhill, Ont. There was a disappointing quarter-final loss at the Rogers Cup, choosing to not play the Summer Olympics in Rio, a semi-final appearance in Cincinnati and a bizarre loss in the second round at the US Open to 120th ranked Ryan Harrison.
Raonic suffered severe cramping in Flushing Meadows, and claimed post-match he thought it was the result of stress.
There were more injury troubles ahead for the Canadian. After reaching the semi-finals in Beijing, Raonic was unable to play because of a partial tear in his right ankle. Three weeks later, Raonic reached another semi-final at the Masters 1000 event in Paris, but he again had to withdraw. He was unable to face Murray for the sixth time in 2016 because of a tear in his right quad.
"A big part of my goal is to stay healthy so I think I came up short on that" said Raonic. "Every single year, because I do struggle with injuries, the number one goal is to stay healthy. Then when I start playing well I can get myself momentum. It's a little bit frustrating"
After his injury in Paris, there was uncertainty about whether Raonic would be able to participate in the ATP World Tour Finals in London. One of just eight players to qualify for the year-end tournament, Raonic did play and came up with some of his best tennis of the year.
He pushed Djokovic to two tiebreakers in their round-robin match and, in one of the best matches of the ATP season, had a match point in a third-set tiebreak against Murray. The semi-final was three hours and 38 minutes long, the longest three-setter on tour in 2016. Murray came out on top 5-7, 7-6 (5), 7-6 (9). Raonic, with his improved fitness and endurance, could very well have won that match. If he had, it would have cost Murray his year-end No. 1 ranking.
The performance helped Raonic claim the year-end No. 3 ranking in the world. No Canadian singles player had ever achieved such a milestone. It was a fitting end to what would go down as Raonic's best season as a professional.
"He's a big boy and he moves around the court very well," said Martin Laurendeau, Canada's Davis Cup captain. "That's a tribute to how he's improved his movement, which was not his forte. He's improved his backhand and volleys and especially his return of service. That's why he's able to break a lot more. You see how guys improve their game through their 20s, so I think there are a lot better things to come from him."
In early December, less than a year after joining forces, Moya was out as one of Raonic's coaches. The pair parted ways amicably. Moya has since joined fellow Spaniard Rafael Nadal and his coaching team.
"It's been a great season. I always really believed he could play that well and finish No. 3," said Moya. "He's been evolving and growing as a player as the season progressed. He ended on a high note being close so close to the final. My feeling is that he is a much more complete player, has more weapons and plays smarter than he did at the beginning of the year."
For his part, Raonic is very pleased with his rise up the world rankings.
"It means a lot because I came into this year outside the Top 10," said Raonic who turns 26 at the end of December. "To get that back, which honestly if you asked me after how little I played at the end of last year, not knowing where I was going to be….now I am the third-best player of 2016. That is a pretty honouring feeling."
NOTES
• Raonic finished with a 52-17 match record in 2016, which included four finals, five semi-finals and four quarter-finals in the 19 tournaments he played.
• His $5,562,684 million in earnings in 2016 pushed his career total to $14,394,667
• In 2016 Raonic broke serve on average of once every 5.5 service games, a huge improvement to the once in 8.2 service games from 2015.
Find John Horn on Twitter: @SportsHorn