Raonic, Shapovalov advance on 'Canada Day' at Delray Beach Open
Michael Gallo, TSN.ca Staff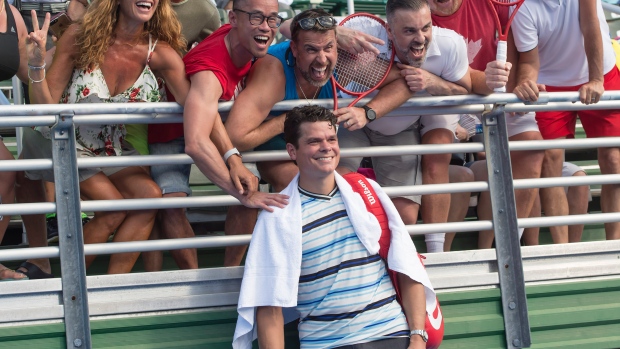 DELRAY BEACH, Fla. — Milos Raonic and Denis Shapovalov felt right at home during Tuesday's first round of the Delray Beach Open.
Backed by hundreds of Canadian tennis supporters, both players went on to win their matches in straight sets to advance to the next round. Raonic, ranked No. 32 in the world, defeated No. 105 Taro Daniel 6-1, 7-5 to earn his first ATP match win of the 2018 season and just his second victory in six months. Shapovalov, who came into the tournament ranked a career-high No. 46, had an impressive win over 38-year old big-serving Ivo Karlovic 7-5, 7-6, who is 20-years his senior.
Last year, Raonic came into Delray Beach ranked No. 4 in the world and made it all the way to the final, only to pull out before the match with a leg injury, handing Jack Sock the title.
Tuesday's win, however, didn't come without a few hiccups for Raonic. The 27-year old was down 5-2 in the second set, even facing a pair of set points, but was able to weather the storm, winning five straight games to end the match. Raonic also made just 39 per cent of his first serves, significantly lower than his career average of 63 per cent.
Still, seeing the country's top-ranked player win a match was a sight Canadian tennis fans have missed. Raonic was away from the action for a big chunk of 2017 with various injuries and he lost his both his opening-round matches this year in Brisbane and the Australian Open.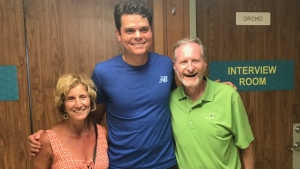 Tuesday's match was the first Raonic played under the eye of trial-coach Jonas Bjorkman, who has coached the likes of Andy Murray, Marin Cilic and Tomas Berdych. Goran Ivanisevic will also audition next month as a trial coach for the Canadian.
As for Shapovalov, the 18-year-old Canadian phenom had a rough start out of the gate – he was broken in his first service game, which would usually mean lights out against one of the biggest servers the sport has ever seen.
But Shapovalov not only broke back, he was able to break Karlovic for a second time to take the opening set without a tiebreak. The second set did need a tiebreaker, however, but it was the Canadian earning three points on Karlovic's serve, including a fantastic winner on match point.
A key factor in Shapovalov's win was his ability to play the big points well, where he saved 11 of the 12 break points he faced.
After the match, he was handed a Canadian flag and hoisted it in front of the crowd, getting a massive applause from Canadian supporters.
"It was awesome to see so many Canadians show up – it almost felt like a Davis Cup match," Shapovalov said. "It was a lot of fun to play, when I held that Canadian flag at the end it was a really cool moment for me."
Tournament organizers at the Delray Beach Open pre-scheduled Raonic and Shapovalov to play on Tuesday, even with approximate times, weeks in advance so that Canadian tennis fans could organize and plan accordingly to watch their favourite players in person. South Florida has been a very popular vacation destination for Canadians, with many having seasonal homes and spending their winters in the area to escape Canada's cold winters. Delray Beach took full advantage of this, even offering Canadians 20 per cent off box seats on Tuesday.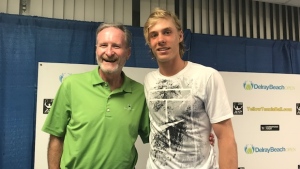 "It's a definite plus. I think it's a smart move by the tournament, especially considering the Canadian demographic down here during this time of the year," Raonic said.
Canadian fans were also treated to a third match involving Peter Polansky of Thornhill, Ont., who got into the main draw as a lucky loser, but was defeated in straight sets by American Jared Donaldson.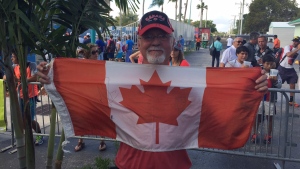 Donaldson stood in the way of an all-Canadian second-round match, with Shapovalov facing the American next.
Raonic will also play an American in the second round, taking on No. 51 Steve Johnson. He has won all three career matchups against Johnson.