Raps, Canadian talent feature in SI's NBA Top 100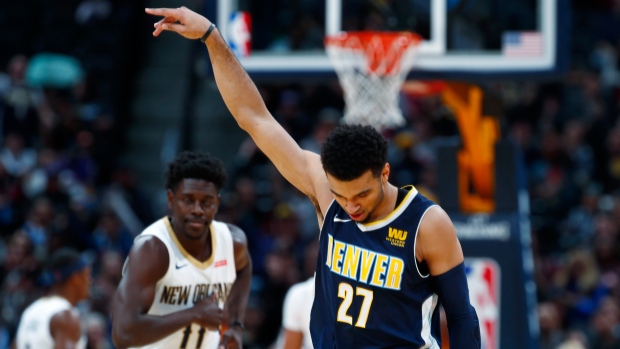 A trio of Toronto Raptors and three Canadian-born players feature in Sports Illustrated's Top 100 NBA Players of 2019 list.
The first half of the list was released on Monday.
Raptors reserve point guard Fred VanVleet came in at No. 94 after a breakout season that saw the Wichita State product finish third in Sixth Man of the Year voting.
VanVleet, 23, averaged 8.9 points, 3.2 assists and shot .426 from the field in 20.0 minutes a night, up from the 7.9 he averaged in his rookie season. VanVleet's performance earned him a new two-year deal worth $18 million.
At No. 78 came VanVleet's teammate, Serge Ibaka.
This was Ibaka's lowest ranking on the list since his rise to prominence with the Oklahoma City Thunder team that went to the 2012 NBA Finals. In his first full season with the Dinos, Ibaka played in only 27.5 minutes a night, his lowest time on the floor since 2011-2012 and his 1.3 blocks a game were the lowest since his rookie season in 2009-10. Still, the 28-year-old Brazzaville, Congo native posted averages of 12.6 points and 6.3 assists in 76 games last season.
The highest-ranked Raptor in the first 50 is centre Jonas Valanciunas, who slotted in at No. 63. Subject to trade rumours throughout last offseason, the 26-year-old big man's evolution was evident in the playoffs, posting six double-doubles in 10 postseason contests, including a monster 21 and 21 performance against the Cleveland Cavaliers in Game 1 of their second-round series. New Raptors head coach Nick Nurse has always been a big proponent of the Lithuanian seven-footer and it wouldn't be a surprise to expect greater usage of Valanciunas going forward.
As for Canadian content, Toronto's Kelly Olynyk of the Miami Heat is the first entrant at No. 93.
Signed by the Heat to a four-year, $50 million deal last summer when the 27-year-old big man was a casualty of the Boston Celtics' cost-cutting to absorb Kyrie Irving's contract, Olynyk thrived in South Beach. Playing a career-high 23.4 minutes a night, Olynyk averaged career bests in points a game with 11.5, boards with 5.7 and dimes with 2.7. The five-year pro out of Gonzaga was a big reason why the Heat returned to the postseason after a one-year absence.
At No. 74 comes the Minnesota Timberwolves' Andrew Wiggins out of Vaughan, Ont.
Some might grouse about the 23-year-old's seemingly low placement despite a respectable stat line of 17.7 PPG, 4.4 RPG and 2.0 APG, but the reasoning for it can be found in some advanced metrics. Ben Golliver cites the 2014 first overall pick's actual on-court value as to why he is where he is - Wiggins ranked outside the top 500 in WARP, outside the top 300 in Real Plus/Minus and outside the top 200 in PER and Win Shares. Basically, even though Wiggins leads the league in minutes played since his rookie season, not very many of them were meaningful and the T-Wolves will hope that changes in a hurry, consider he's entering only Year 1 of a five-year, $146.45 million max extension.
Denver Nuggets' super sophomore Jamal Murray was the high-ranking Canuck at No. 55.
The 21-year-old Kitchener, Ont., native blossomed into a full-time starter for the Nuggets, who just missed out on the playoffs, thanks to an overtime loss in Game 82 against Wiggins's T-Wolves in a winner-take-all contest.
A Kentucky product, Murray averaged 16.7 PPG and 3.4 assists in 31.7 minutes a night and shot .378 from three. Murray is at the head of a three-pronged attack alongside Nikola Jokic and Gary Harris that has brought the Nuggets from out of the Western Conference wilderness and into relevance again.
The remainder of the list is to be released over the course of the week.