Raptors' DeRozan named Player of the Week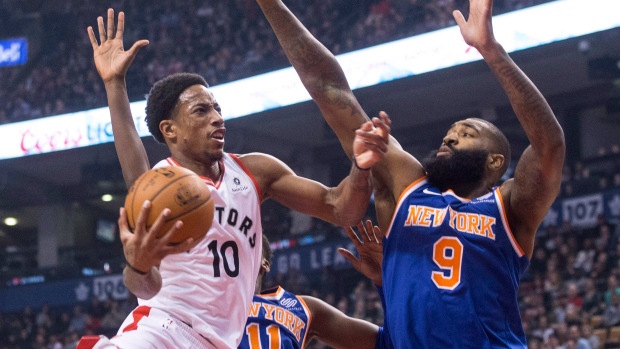 TORONTO – After leading the Raptors to a perfect 4-0 record, DeMar DeRozan was named Eastern Conference Player of the Week for games played November 13-19, the NBA announced on Monday.
DeRozan capped off his strong week with 33 points, eight rebounds and six assists in Sunday's 100-91 win over the Washington Wizards. Over the four-game stretch, he averaged 26.8 points, 7.3 rebounds and 6.0 assists, on 57 per cent shooting. The Raptors outscored opponents by 34 points with him on the floor.
With Toronto playing its best basketball of the season (having won six of its last seven games), many of his young teammates exceeding early expectations and Kyle Lowry starting to come around – all compelling storylines – the steady production of DeRozan often goes overlooked.
This is well-deserved recognition for the three-time all-star and nine-year pro, who has once again taken his game to another level.
Although his scoring is down slightly from last year's career mark (25.2, from 27.3) – as expected with almost three fewer shots per game and a lower usage rate – he's putting up personal bests in true shooting percentage (a measure of shooting efficiency that takes into account two-point field goals, three-pointers and free throws), assists and steals.
He's adjusted to the team's new offensive system quicker than most anticipated, given how much it seemed to clash with his preferred style of play. The biggest reason has been his willingness to move the ball and get his teammates involved, especially early in games. He's even started to show flashes as a three-point shooter, something that has never been a big part of his repertoire, hitting two or more triples in five of 10 contests this month.
Still, it hasn't taken away from what he does best. Only two players (James Harden and Giannis Antetokounmpo) get to the line more than DeRozan. He currently ranks third in the NBA in drives and leads the league in mid-range shots, attempting 8.0 per game and shooting them at an impressive 50 per cent clip.
"That's what people don't understand, that man is one of the best players in the NBA," Lowry said after Sunday's win. "It don't matter if he shoots threes or not, he's still going to get you buckets and that's what he do, he's a natural bucket getter."
This is the sixth time DeRozan has earned Player of the Week honours. He's now won the award once in each of the NBA's last five full months (November of this season and November, December, January and March of last).