Raptors expecting Leonard to take his game to another level
Kawhi Leonard has several strengths – levelheadedness, discipline, focus and a two-way skill set – he's displayed during the regular season but the Toronto Raptors traded for him back in July to help them clear the playoff hurdle, Josh Lewenberg writes.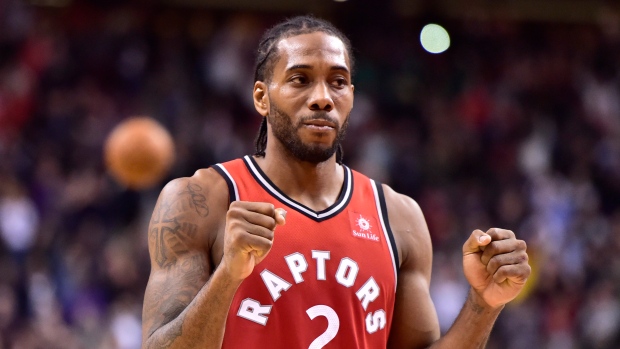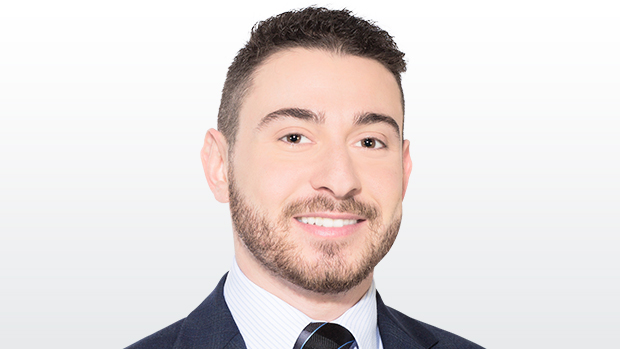 TORONTO – Kawhi Leonard has many strengths. Small talk is not one of them.
Appearing on Serge Ibaka's popular cooking-themed web series "How Hungry Are You?" recently, Leonard looked more pained by having to answer his teammate's questions about hairstyles and celebrity crushes than he did eating the beef penis pizza that was put in front of him.
No, that's not a typo. Ibaka served Leonard beef penis pizza.
Are they still on speaking terms after such an atrocity?
"Why wouldn't we be?" Leonard said on Friday, missing the playful nature of the question or, more likely, just choosing not to play along.
Moments earlier he was asked if his vast playoff experience can help the Raptors get over the hump.
"What hump?" he answered.
Of course, the Raptors did not acquire the superstar forward for his social graces. And, as good as he's looked when he's been on the court during the regular season, they also didn't bring him to Toronto for the fine work he's put in up to this point.
This is the time of year team president Masai Ujiri and general manager Bobby Webster had in mind when they traded for Leonard back in July. For lack of a better phrase, he's here to help them 'get over the hump.'
That hump, mental hurdle, or whatever you want to call it has stood in the Raptors' way each spring for most of the last half decade. Maybe it was LeBron James, maybe they were simply outmatched against better opponents, or maybe it was something more. Whatever the cause, they haven't lived up to expectations, ours or their own, getting swept out of the postseason three of the last four years.
The Raptors will begin the most important playoff run in franchise history when they host the Orlando Magic in Game 1 of their opening round series on Saturday. The window of opportunity has never been greater and they've never been more confident that this is their year.
The biggest reason why is Leonard.
Make no mistake, Leonard does not care about Toronto's ill-fated playoff history. Why should he? It isn't his history and even if it were, it's just history, it's the past. Few players – or people in general – can separate the past, and the emotion that it might elicit, from the present and the future like Leonard.
He has many strengths. Levelheadedness, discipline, focus and a two-way skill set that's matched by only a few of the NBA's best players are chief among them. When the spotlight's gotten bigger and the pressure has gone up, those qualities have set Leonard apart and allowed him to shine. Toronto is hoping he can do it again.
"He's about as balanced as you can get, emotionally," said Raptors head coach Nick Nurse. "It's probably helped a little bit [so far]. We're probably going to find out [how much it helps]. I think this is another step with him we have to take. He's been a long ways in the playoffs a number of times. I think we know he's able to handle it."
"With the playoffs, you're playing the same team and probably playing more minutes, the focus level is there, so you might shoot a better percentage than you do in an 82-game season," Leonard said. "So that's where it comes from, it's just wanting to win and the shorter period of games and more minutes."
Leonard had an excellent first season with the Raptors. If not for the 22 games he missed – 16 for 'load management' – he might be on the fringe of the Most Valuable Player conversation. He averaged 26.6 points and 7.3 rebounds – both career-highs – while shooting a typically efficient 50 per cent and making game-changing plays on the defensive end. He ranked seventh in win shares per 48 minutes, behind MVP frontrunners Giannis Antetokounmpo and James Harden, as well as Rudy Gobert, Anthony Davis, Clint Capela and Nikola Jokic.
Still, he took games off for rest and occasionally played some on cruise control in an attempt to stay healthy – coming off a season lost to injury – and pace himself for the playoffs.
"There's 82 [regular season] games and for me these are just practices," he said last month. "Playoffs is when it's time to lace them up."
Now that the time is here, there's a sense that Leonard's best work is yet to come and there's another level he can reach. That's a scary thought for the rest of the Eastern Conference.
Despite his standing as a top seven or eight talent in the league, Leonard has become an underrated player. Maybe he's always been underrated. Playing for the San Antonio Spurs, Leonard often went overlooked, at least compared to many of his peers in bigger markets and with bigger personalities. It's been nearly two years since he's appeared in a postseason game. Perhaps some are forgetting what playoff Kawhi looks like.
Leonard is a former Finals MVP winner and NBA champion. In his last playoff run, back in 2017, he averaged 27.7 points, 7.8 rebounds and 4.6 steals on 53 per cent shooting (46 per cent from three-point range) in leading the Spurs to the Western Conference Finals.
Of the 272 NBA players that have appeared in at least 75 playoff games, Leonard ranks third in win shares per 48 minutes – just behind Michal Jordan and LeBron James and ahead of Magic Johnson, Chris Paul, Jerry West, Wilt Chamberlain, David Robinson, Kevin Durant, Stephen Curry, Tim Duncan, Kareem Abdul-Jabbar and Charles Barkley.
"He can screw up a lot of things [with his defence]," said teammate Marc Gasol, who's Memphis Grizzlies teams faced and lost to Leonard's Spurs in a couple playoff series, including the 2013 Conference Finals. "When you attack him, he covers a lot of ground, obviously. Put him on the ball, it's hard. Put him away from the ball, he's good at reading [the play] and understanding what the offence is trying to get and disrupting things."
"We're all fans of the game and Kawhi is a top player in the league," Fred VanVleet said. "Obviously this is what makes the playoffs great, is you've got the top players at the top moments of the game, all the marbles and it's win or go home. That's what makes the league so great and that's what makes the playoffs so great. If he doesn't have anything more than what he's given all year I think he'll still be good enough, that's the crazy part, but I'm sure that we'll see a little bit more urgency."
The Raptors have been especially careful with Leonard all season. They monitored his minutes and erred on the side of caution whenever he was banged up or felt he needed a night off. Their load management plan was a bold, unprecedented approach, and it was polarizing. Fans weren't quite sure what to make of it. Even some prominent people within the organization disagreed with it, but they understood why it was important and accepted it as a reality.
This is what it was all for. The Raptors will go as far as Leonard can take them, that much we know. The better he is, the more dangerous they will be. If he can raise his game to another level and help take his team and its ravenous fan base to new heights, nobody will be lamenting the trade of beloved former face of the franchise DeMar DeRozan or talking about load management.
The postseason is here, and with it, the return of playoff Kawhi.
"I'm looking forward to watching him play in these playoffs," Nurse said. "I think he's really feeling good about his body and his mindset is really good too. I think there may be another gear we see here. That's what we're looking for."​