Raptors' Miles returns to the basics to get into game rhythm
C.J. Miles has carved himself out a niche in the NBA as an effective shooter, but has struggled to find his shot so far this year. With a renewed focus on getting back to the basics after suffering an adductor injury on November 14, the 31-year-old swingman looks set to draw back in when the Toronto Raptors host the Washington Wizards at Scotiabank Arena on Friday night.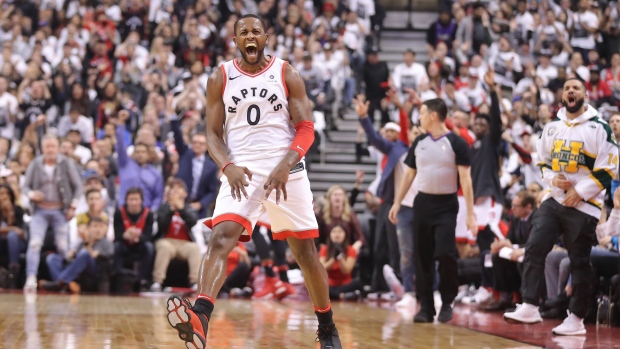 "It's terrible."
C.J. Miles wants back on a basketball court in the worst way and he says his now five-game absence from the Toronto Raptors has messed with the rhythm of his still-young NBA season.
"I feel like I've been gone for a month," Miles told TSN.ca. "You kinda hafta remind yourself it's November, it's been four or five games in a week, there's so much more of the season that still has to be played. There's bigger games and things like that, but you want to be out there for the team, you want to be able to help your team, you want to play for the fans. You want to be out there for every second you can and sometimes you just can't. There have probably been a lot of times when I shouldn't have played and I played, but it's just what you do."
The good news for Miles is that a return is on the very near horizon. Out since November 14 with an adductor injury, the 31-year-old swingman looks set to draw back in when the Raptors host the Washington Wizards at Scotiabank Arena on Friday night.
"I started feeling really good in the last day or so," said Miles, who was kept out of Wednesday night's win over the Atlanta Hawks as a final precaution. "I've been working out and they wanted me to get in a couple of more days to make sure I don't go right back down."
Miles returns to a Raptors team that has won its last three games and sits atop the NBA with a 15-4 record. Serge Ibaka and Jonas Valanciunas appear revitalized, young bigs Pascal Siakam and OG Anunoby have taken big leaps forward and perennial All-Stars Kawhi Leonard and Kyle Lowry are playing just like perennial All-Stars. Things are clicking for first-year coach Nick Nurse and players appear to be buying into his message.
Having a new coach is nothing new for Miles. In fact, the 14-year vet has almost had as many coaches as he's had seasons under his belt.
Without even thinking, he can list them.
"I've had a new coach every year since...2013, maybe," Miles said. "I had [Frank] Vogel two years in a row [with the Indiana Pacers]. I had Coach [Jerry] Sloan and Ty Corbin [in Utah with the Jazz], Byron Scott, Mike Brown [with the Cleveland Cavaliers], Vogel – I had Vogel two years – then I had Nate McMillan [also with the Pacers], Coach [Dwane] Casey and Nick Nurse [with the Raptors]."
When a team decides to move on from a head coach like the Raptors did from Casey in the spring after seven seasons, it can be a referendum on its players as much as it is the man leading them. As such, Miles believes that if a player doesn't feel at least partly responsible for a coach's dismissal in most cases, he should.
"I think there should be [that feeling], to a certain extent," Miles said. "Obviously, the coach has to put the players in the right situations to be able to excel with the skill sets they have, but at the same time, the coach can only tell you something so many times. At the end of the day, if he's doing the right things for that group and that group's just not getting it done – like maybe they're too young or they don't have enough bigs or they don't have the right point guard for the system – there's nothing the coach can actually do about that. So again, there's two sides to that story."
But in the case of the Raptors, the club didn't entirely turn the page. Instead of bringing in somebody from outside the organization, Nurse was promoted to the head chair after five seasons as Casey's assistant. When the person leading practices is somebody who was already in the room, it brings with it a sense of familiarity unlike what would happen with an external hire.
"I think everybody's a little comfortable because it's somebody you know," Miles explains. "You feel like he's approachable. You can go right up to him from Day 1. Not that you'd feel like you couldn't approach a new coach, but you've got to learn them a little bit [first]. I think everybody knows him, everybody understands what he's trying to do. There's not, like, a system flip, but at the same time, you have to get used to the fact that his responsibilities changed, also."
Assistant coach Nick Nurse and Coach Nick Nurse aren't the same person.
"When he's an assistant he's got different responsibilities with players and things like that," Miles said. "The relationship is going to change because now somebody else has to move over to his job and he's gotta handle all the other stuff of being the head coach. So that's a little different dynamic, but with a new coach, you have no idea. You don't know if he's going to run a similar system. You don't even know if he likes certain players. There's a lot of things that can change, so it's a mental thing you've got to be prepared for."
But Miles argues that, philosophically, these Raptors aren't that much different from last year's edition.
"I think the base of [the team] is the same, like we still have the same principles of what we're trying to do," Miles said. "I think, right now, we're executing at a high level with the things we're doing – which we did last year with the best record in franchise history and being No. 1 in the East. I think there's an excitement level because there's been change that you automatically think there's been all this other change."
And while much of the same team from last year has returned, there is the matter of the franchise-altering trade from the summer that saw the team's talisman and all-time leading scorer DeMar DeRozan sent to the San Antonio Spurs for Leonard and Danny Green, who have brought with them a title-winning pedigree that Miles hopes is contagious.
"They're veterans who know how to win," Miles said. "They've won championships. They understand what it takes and they add a lot to what we do because they show the young guys the ways you have to work to do this every single night, day in and day out. They add to the veteran guys because now there's an unwritten, unspoken language they understand from playing the minutes they've played. It's easy to communicate because they all know the game. So I guess you could count that as an addition, not so much a change."
While Miles says that the notoriously quiet Leonard is much chattier than he expected ("He starts way more conversations than you'd think"), he sees a kindred spirit in Green.
"I look at him the same as myself in that the route's different," Miles said of Green. "You're not a go-to, you're not a star – you're a guy who helps the team and you have to understand what it is you do to help that team and the things you have to do to make sure you can do that because you're valuable to this league. I think guys have to check their pride at some point and understand what it is that makes you valuable to the team and do that. You're not going to be a Kawhi Leonard, a Kevin Durant, a Giannis [Antetokounmpo], a Kyle Lowry – everybody can't be that. A team can't work that way."
Like Green, Miles has carved himself out a niche in the NBA as an effective shooter. The Dallas native is a career .360 from beyond the arc, but has struggled to find his shot so far this year, hitting at only a .273 clip. As we've seen with the young career of Markelle Fultz, getting that shot right can consume a player.
"Ninety per cent of it is mental, especially if you're a worker," Miles said of correcting such mistakes. "I pride myself in working on my craft and working on my shooting and the things I've done to become the shooter I've been able to become. At this point, you would think that it is all muscle memory. There's so much repetition and and so much practice. The only thing that stops you from falling into instinct is the mental aspect."
In order to get back into that rhythm, Miles says a player needs to retreat back to the beginning to eliminate the fear that comes with falling into a funk, one that can become prolonged if not addressed.
"You want to get back to the basics of your routines because usually what happens is, you tighten up," Miles said. "Mentally, you're shooting not to miss instead of to make. Now, every little thing – you're aiming, you're not letting it flow – there's all these things, so you get back in the gym and I just try to [get] back to basic form shooting, basic footwork drills, basic stuff. It's stuff that you teach from the first grade up."
For Miles, it's about finding the consistency that's existed from the first time a player has put on a pair of Nikes to hit the court.
"The game doesn't change, it's just that people are watching us play [now as pros]," Miles said. "It's all the same fundamentals and things like that. I think the more you get back to that, the more you fall back into your comfort zone because that little bit of confidence comes from just being in the gym. That's where it's made. It's made from hearing the ball bounce, hearing your shoes squeak when nobody's there. That's where that comes from."
Another trick Miles offers is to focus on what's working for you when something else isn't.
"You try to play as hard as you can because you can gain confidence from doing the other things," Miles explained. "You might have five rebounds and that gets you into the flow of the game. You make the right plays with the ball, maybe a pass – it might not be a shot every time. Get yourself an easier shot. Get a layup. Get to the free-throw line, just to see the ball go in. Being a part of the game in other ways builds your morale, also, because you're contributing and it takes you away from thinking about the game and you just fall into it. That's the hardest thing, I think, especially when you become 'a shooter,' because you get into these modes and think you're only out there because you shoot the basketball. You forget about the other things that you were able to do and can do that help the team."
With pressure mounting from all sides, Miles stresses the importance of keeping levelheaded to make sure that a slump doesn't consume you and be mindful of why you are where you are in the first place.
"It's hard because you hear it from everywhere," Miles said. "You got brought in to be a shooter. You hear it from fans. Coaches are running plays for you to hit shots and you're not making them and then the other team comes in and they're faceguarding you because they don't want you to get a shot off. And it's like 'I just need one' and then, mentally, you compress and it turns into this obsession – obviously, I'm speaking from experience, as you can tell. So it's just about falling back into it. It's basketball. It's a game. You fell in love with it because it's fun and you love to do it. As long as you can remember those things, it becomes easier to get out of it."
Having support at home doesn't hurt, either.
On this U.S. Thanksgiving, Miles is thankful for his daughter – who turns one on Friday – and his wife, Lauren, who can be both his biggest cheerleader and critic on Twitter, often live tweeting Raptors games. Lauren Miles (née Smith) offers her husband encouragment and analysis from a position of expertise, having played the game herself at Texas A&M.
"She's amazing," Miles said of his wife. "She has a competitive edge to her, also, which is one of the reasons why we're married now. She knows what she's talking about, she's not just talking out of the side of her head. She's honest, which is the biggest thing that you want from a partner and friend and wife in every aspect of it. We try not to dwell on it because you need an escape from it, too. You don't want to come home and just talk X's and O's all night, but it's definitely great to have her by my side."
And when Miles gets back into the Raptors lineup as soon as Friday night, Lauren will be right there with him.