Raptors still figuring out where Valanciunas fits
As the Toronto Raptors enjoy one of their hottest stretches in recent memory, having won six of the last seven games, the team's starting centre appears to be keeping a low profile. It's been a rough week for the slumping Jonas Valanciunas.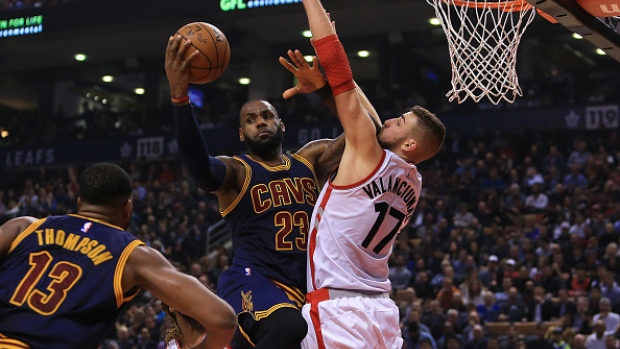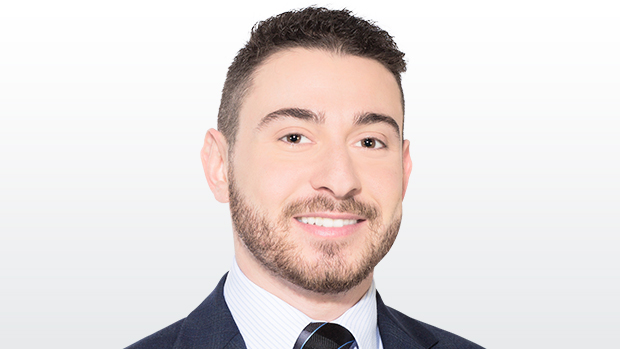 TORONTO - As the Toronto Raptors enjoy one of their hottest stretches in recent memory, having won six of the last seven games, the team's starting centre appears to be keeping a low profile.
For whatever reason, Jonas Valanciunas hasn't looked like himself of late. In the locker room, both before and after games, the always affable 7-footer has been uncharacteristically quiet. After practice on Wednesday - while some of his teammates tossed a football across the BioSteel Centre court - he was hanging around the weight room, in the back and mostly out of sight. The Raptors declined to make him available to the media.
It's been a rough week for the slumping big man. Since turning his ankle late in last Monday's win over Philadelphia, Valanciunas is averaging just 4.5 points, held under eight in four consecutive contests while shooting 32 per cent from the field.
Although the injury has almost certainly been a factor, there's more to it than a sore ankle, evident in Monday's loss to Cleveland. The Cavaliers are always a tough match-up for Valanciunas. In three meetings with the defending champs this season, Toronto has been outscored by 31 points with him on the floor, but have a 20-point advantage on the Cavs when he's out of the game. A minus-16 in the most recent match-up, Valanciunas was limited to just seven second half minutes - none in the fourth quarter - as Dwane Casey opted to counter Cleveland with smaller, quicker units of his own.
That's a dilemma Casey and his coaching staff have faced more and more over the years, not just against the Cavs but any team that plays small or features shooting bigs, and it's not likely to go away anytime soon. In a changing league, one that is faster than ever before, how does Valanciunas fit into the way the Raptors want to play? Even in his fifth NBA season, they're still working to figure it out and, naturally, that's something that must weigh on the mind of a young player.
"I think a lot of it, and probably I'll take the blame for it, is being in and out of the lineup because of the match-up situations," Casey said. "It doesn't garner a lot of confidence and that probably has jerked him around a little bit. Every player goes through a situation where they're not shooting the ball well, not scoring the way they'd like to. He's not going to forget how to score, he'll bounce back. At the same time, we've got to continue to try and win games, that's our mission, our goal as he fights through it."
"We're trying to figure out while the game's going on what's going to give us the best chance to win," said assistant coach Nick Nurse. "And sometimes it means it's not him, sometimes it means it's not DeMarre Carroll, sometimes it means it's not Cory Joseph, it's not Terrence Ross. Whoever it is, everybody goes through it - almost everybody - but he wants to be out there and he takes that personally sometimes."
After showing significant progress late last season and into the playoffs, Valanciunas' development has stalled some. It took him a little while to get in game shape during training camp, having taken some time off following the Olympics, and injuries to his ankle and - last month - his knee have set him back. The Raptors insist they are happy with where he is at, but there's a sense that they had hoped he would be further along, particularly on the defensive end.
In the absence of Bismack Biyombo and with a collection of young, inexperienced players behind him, Valanciunas seemed poised for a career season. However, a quarter of the way in, we're still waiting for him to take that next step, and the team is thriving without him doing so.
Despite logging two additional minutes per game (28.0), his shot attempts (9.0), scoring average (12.1) and rebounding numbers (9.4) are roughly the same as last year while his post touches (from 6.2 to 4.4) and usage rate (from 20.7 per cent to 19.1) are both down. The Raptors are outscoring opponents by 5.2 points per 100 possessions with him on the floor, but that number goes up to 14.6 while he's on the bench. Statistically, they have been a better team without him on the court in every season but his rookie year.
That isn't necessarily an indictment of Valanciunas, who - at just 24 years of age - has already grown into one of the league's most efficient low post scorers and is also an excellent rebounder and screen setter. He's a very good player, with an even higher ceiling in the right system, but is he an ideal fit in Toronto? With so much of their offence running through Kyle Lowry and DeMar DeRozan, they haven't found a way to utilize his strengths enough to make up for those weaknesses on the defensive end, and - if they continue to score at this rate - they may not feel compelled to.
"Our offence isn't really the problem against [Cleveland]," Nurse rightly pointed out. "So we think, well, can we play other guys and still have the same efficiency [on offence] and hopefully improve - even if it's by [a little bit] - at the defensive end because we can do some more switching or whatever?"
"I think it's a work in progress," he continued. "We're trying to figure it out. We've got to decide, how can we make them pay at the other end? How can we balance this out by leaving him out there? Could he guard someone else? Could he [defend] a guard that's sitting out in the corner the entire possession waiting for the kick out? That's a possibility. I think for us, even in the game the other night, we're experimenting with things that might or might not work and we've got to throw a few things out there."
The Raptors have a difficult decision to make as the February 23 trade deadline approaches. They are and always have been very high on Valanciunas, and there's no indication that they are looking to move him at this point. Whether Masai Ujiri, Jeff Weltman and company choose to test the market on their starting centre will depend on where they see this team right now.
Here's what we know: Toronto is among the top teams in the NBA's second tier. There is still a sizable gap between them and Cleveland and while it may not have gotten bigger, it certainly hasn't gotten much smaller. If the Raptors are sold on their core of Lowry and DeRozan and believe they are a move away, a player away from narrowing that cap enough to seriously compete with the Cavs, now would be the time to pull the trigger. A young, growing player on an excellent long-term contract, Valanciunas remains one of their most attractive trade chips. If the return is someone that really moves the needle, that fits in better with this roster and gives them a better chance against Cleveland - or teams like them - that should be something worth considering.
However, one thing they have said they won't do is mortgage their future for short-term gratification. If they're not comfortable going all in on this group, Valanciunas is the one guy on this roster - outside of Lowry and DeRozan - that you can build around should they eventually decide to change course.
For now, Valanciunas is very much a Raptor. Without much depth in a thin and inexperienced front court, they need him to get healthy, stay healthy, refocus and do what he can to adapt to a team and a league that aren't necessarily designed to accommodate his skill set.