Rask making a strong case for Conn Smythe consideration
The Bruins goalie has an outrageous save percentage this postseason, putting him ahead of a skater group with no obvious frontrunner right now, Travis Yost writes.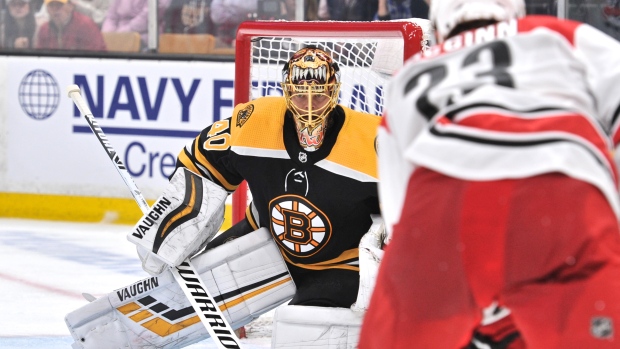 The Boston Bruins are six victories away from a Stanley Cup, and if they get there, you have to think that goaltender Tuukka Rask will merit serious Conn Smythe Trophy consideration.
There is an argument to be made that the most valuable player award should always be given to the league's best goaltender. In a sport where goals are still hard to come by, a dominant goaltender over lengthy stretches can save more goals (and add more wins) than the most impactful skater.
The league doesn't have as big an issue with this in the regular season, thanks largely to the Vezina Trophy. That's awarded to the league's most valuable goaltender, which allows for the Hart Trophy — awarded to the league's most valuable player — to give stronger consideration to skaters. Only two goaltenders have won the Hart since 2000 and Montreal had them both – Jose Theodore in 2001-02 and Carey Price in 2014-15.
The Conn Smythe has been a bit kinder to goaltenders. We've seen five goalies over the same period as above win the trophy awarded to the most valuable player of the Stanley Cup Playoffs, most recently with Los Angeles' Jonathan Quick in 2011-12. When goaltenders do win the Conn Smythe, it tends to boil down to two components: (1) an emphatic statistical argument, like outrageous save percentages sustained over 20 or more games; and (2) a lack of an obvious skater candidate.
That is sort of what we are looking at right now, though it's worth noting that there's still plenty of time for that to change.
If you look at the skating crowd, scoring rates – which tend to drive hardware nominations historically speaking – are flat from team to team, with no obvious candidate to choose from right now. Logan Couture probably has a slight edge on his peers, but Brent Burns, Brad Marchand, Tomas Hertl, Erik Karlsson and Jaden Schwartz aren't far behind. You'll note there is no Hurricanes skater here – Carolina has really had fantastic production by committee, which doesn't lend itself as well to identifying an obvious MVP candidate.
This brings us back to Rask. With the skating field a little less obvious than usual, consider the disparity in goaltending performances in this postseason. Rask has obviously been sensational over this stretch, but also note that his fiercest competition – Sergei Bobrovsky in Columbus, Philipp Grubauer in Colorado and Ben Bishop in Dallas – were all dispatched in the second round.
Even with their performances included, you can see that Rask has been a major positive impact on a Bruins team that's already keeping opponent shooting opportunities to the perimeter. When Boston gets into trouble, Rask has bailed them out: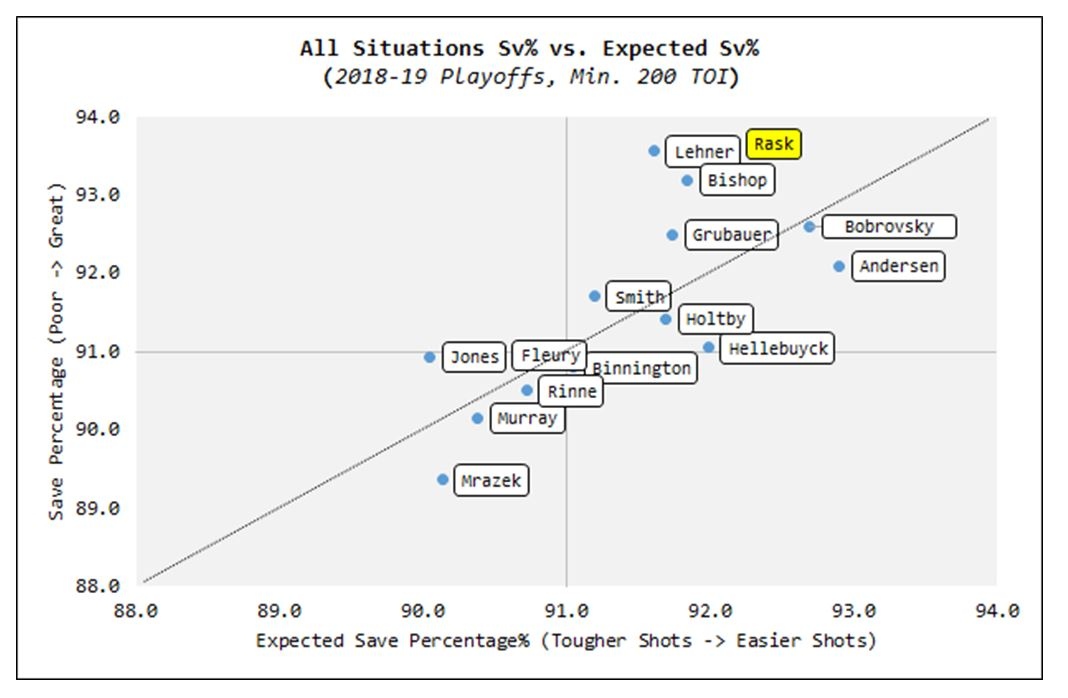 The diagonal line is basically our goaltending break-even – if a goalie stopped 92.0 per cent of shots during a playoff run and our expected goals-against models calculated him to stop 92.0 per cent of shots based on both volume and quality faced, that goalie simply did his job.
But what 'doing your job' means can vary greatly from team to team. Goalies like Petr Mrazek and Martin Jones have faced ridiculous challenging opposition attacks during their postseason appearances, whereas a goalie like Bobrovsky clearly benefited to some degree from playing behind a disciplined and structured Blue Jackets' defence.
That brings us back to Rask. He has been indomitable this postseason, stopping 93.8 per cent of the shots he's faced. Our expected save percentage for Rask is right around 92.0, which suggests two things: (1) The Bruins have played strong defensively against Toronto, Columbus, and now Carolina considering league average stop rates this postseason are a shade over 91.0 per cent; and (2) Rask has turned away a considerable number of shots that would have otherwise been goals against your run-of-the-mill goaltender.
Seven of them, to be exact. If you extrapolate the expected save percentage against the actual number of shots Rask has faced, we would expect to have seen Rask and the Bruins concede seven more goals than they have over the first two rounds and two games. That means – at least by conventional scoring rates – that Rask has already been worth more than one win by himself, which is quite a feat when you consider how small the samples are here.
Rask clearly isn't a 93.8 talent goaltender (no one is), but that's the beauty of the Stanley Cup Playoffs. One talented and capable skater or goaltender can go on a blistering stretch for a few weeks in May, and it absolutely can be the difference in a team's quest to win a title.
The Bruins still have some work to do. But if they keep getting performances like this from Rask, it's going to be tough to beat them. And if Rask keeps delivering these performances? Well, you can start carving his name into the Conn Smythe trophy.