Rask shuts door as Bruins blank Canucks
Tuukka Rask made 17 saves for his third shutout of the season and the 29th of his career as the Boston Bruins defeated the Vancouver Canucks 4-0 on Saturday.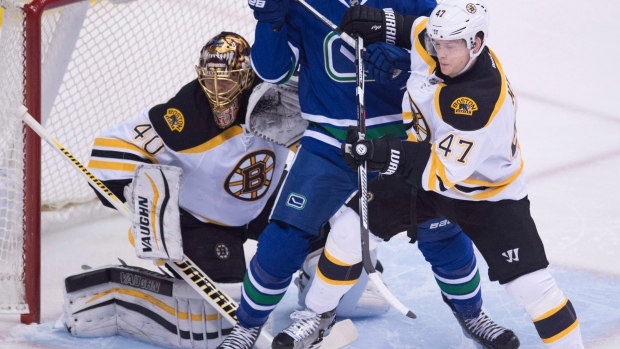 VANCOUVER - The Vancouver Canucks fell flat in a game head coach Willie Desjardins said they needed to have.
Tuukka Rask was rarely tested in making 17 saves for his third shutout of the season and the 29th of his career as the Boston Bruins defeated Vancouver 4-0 on Saturday.
Desjardins called the game a "must" in the wake of Thursday's 4-2 defeat to the Dallas Stars, but his team failed to respond on the way to losing its fifth in a row.
"When you're playing without confidence and you're not skating, that's a real bad combination," he said. "You've got to play hard, you've got to play physical, you've got to battle. I don't think our physical and battle levels are high enough."
Vancouver (9-11-8) has now dropped 13 of its last 16 and is in danger of seeing the season slip away if things don't start to turn around soon.
"There's got to be something in you where you just hate to lose," said Desjardins. "I always say if you accept losing you'll lose. You just will. There has to be something where you just won't accept it. You'll find a way, your hunger level will be higher. We've let that slip a little bit."
Landon Ferraro, with a goal and an assist, Brad Marchand, Torey Krug and Tyler Randell scored for Boston (14-8-3), which was playing for the third time in four nights following Friday's 5-4 overtime loss in Calgary.
"When you look at games like tonight you really see what this team, when it puts its mind to it, is capable of," said Bruins head coach Claude Julien. "Hopefully these kinds of wins solidifies the fact we know what we need to do to have success."
Jacob Markstrom got the start ahead of Ryan Miller for Vancouver, but allowed four goals on 22 shots, including three to the glove side.
"We have to stick together," said Markstrom. "It feels terrible right now. It's been a lot time since I've been this disappointed."
Rask served as the backup to Tim Thomas when Boston beat Vancouver in the 2011 Stanley Cup final, and picked up his first victory at Rogers Arena after giving up four goals in each of the Bruins' last two visits.
"We were in the system the whole game and it showed," said Rask. "All the shots they had were from the outside or not very difficult shots so that's a good sign."
Markstrom made 38 saves in Tuesday's 2-1 overtime loss in Los Angeles, but was beaten on the first shot of the game from Marchand at 2:54 of the opening period.
One of the villains for Vancouver fans during the 2011 final, Marchand ripped his 13th of the season shortside after a turnover before Krug blasted a one-timer from the point that flew in past Markstrom for his third at 7:03.
"We haven't learned from Game 1 to Game 28 that in this league you can't win games when you keep turning the puck over," said Canucks captain Henrik Sedin. "To have the other team put in zero effort to get scoring chances, that can't happen, and it keeps happening to us. It's not good enough."
The Canucks generated almost nothing in front of Rask at the other end, and the Bruins put things to bed at 8:02 of the second when Ferraro's weak effort from the right-wing boards fluttered past Markstrom for his second of the season.
After allowing three goals on just seven shots, Markstrom got a Bronx cheer from fans on his next save.
"He's had some real good games," said Desjardins. "He'd probably like to have a couple back tonight."
Rask's only difficult save came early in the third period on Bo Horvat before Randell bagged his fourth at 11:32 as the Bruins snapped at two-game slide.
"Boston played a good game, but we're not getting what we need," said Desjardins. "We've got to be hungrier."
Notes: Vancouver forward Brandon Prust speared Marchand late in the third period and was handed a 10-minute misconduct. ... Canucks rookie defenceman Ben Hutton returned to the lineup after missing seven games with a lower-body injury. ... Bruins defenceman Adam McQuaid left in the first period after blocking a shot with his left arm and didn't return. ... Marchand played in his 400th NHL game. ... The Canucks continue a four-game homestand Monday against Buffalo.
---
Follow @JClipperton_CP on Twitter