Reading the trade market tea leaves
With the trade deadline fast approaching, TSN Hockey Insider Bob McKenzie offers up the latest on Travis Hamonic, Dan Hamhuis and Kris Russell.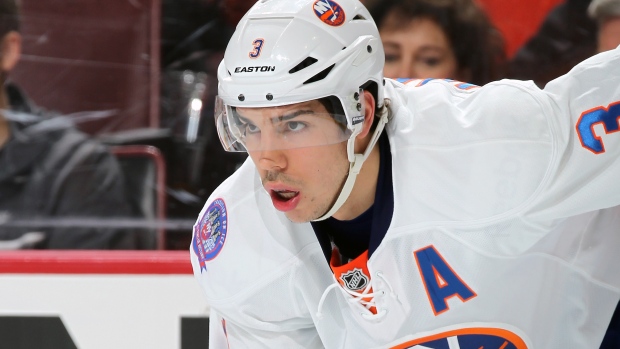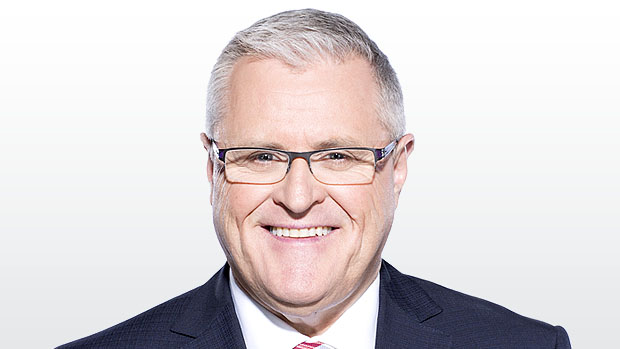 Another week, another exercise in trying to put 10 pounds of fertilizer in a five-pound bag.
It's T-minus 19 days and counting to the NHL trade deadline, so let's try to size up some of the situations/players we'll be watching and talking about between now and then.
In honour of the Dustin Byfuglien signing in Winnipeg and Dion Phaneuf trade to Ottawa, let's start with a trio of defencemen: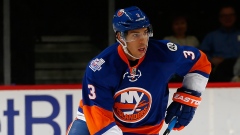 Travis Hamonic: The sense I'm getting from teams that would like to trade for Hamonic is that New York Islander general manager Garth Snow would really rather prefer to put this whole thing off until the summer.
The Islanders are all about a) making the playoffs, and b) trying to make a splash in the playoffs. Unless an incredible offer comes across Snow's desk in the next couple of weeks, which is certainly possible, those interests are likely best served by keeping Hamonic for the rest of the season and trying to deal with his closer-to-home (Western Canada) trade request (for personal reasons) in the off-season.
That doesn't preclude a deal between now and Feb. 29, it just means it's going to have to be perfect for Snow to radically alter team chemistry now when he isn't under any real pressure to do so.
Edmonton and Winnipeg still appear to be obvious suitors, but a top-pairing defenceman who has four more years on his contract with a cap hit of less than $3.9 million would be welcome most anywhere.
As for forwards Kyle Okposo and Frans Nielsen, both of whom are scheduled to become free agents on July 1, there is no real sense either would be moved as a rental before the deadline.
The Islanders' philosophy, or at least Snow's, is a little different than a lot of other teams when it comes to expiring contracts. It's not carved in stone, but repeat after me: The Islanders are all about a) making the playoffs, and b) trying to make a splash in the playoffs.
The Isles' short-term interests are not best served by getting draft picks or prospects in exchange for significant contributors to the immediate cause, as Okposo and Nielsen are. Certainly in Okposo's case, Snow knows it will be difficult if not impossible to re-sign him, but if/when Okposo walks off into free agency, the Isles will rationalize their return on Okposo as being able to spend the dollars otherwise earmarked for him on somebody else.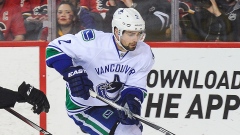 Dan Hamhuis: This is a fascinating case.
The minute I tweeted today that Alex Edler (fractured fibula) and Brandon Sutter (broken jaw) are going to miss some time, and that the Los Angeles Kings had put defenceman Christian Ehrhoff on waivers, the reaction from the Left Coast and Canuck fans everywhere was as intense as it was immediate.
Good, they said, maybe these injuries will kill the illusion the Vancouver Canucks can still compete for a playoff spot.
Trade Hamhuis now, they added. Trade him to L.A. Trade him anywhere; just make sure you trade him.
Hamhuis, of course, is a pending UFA who has played just two games since coming back from a grisly injury, having had part of his face shattered. By all accounts, the 33-year-old played extremely well, too, almost 23 minutes last night.
If he's healthy and on top of his game, Hamhuis most certainly vaults to the top of the available rental defencemen before the deadline. That makes Canuck fans eager to embrace the rebuild absolutely giddy with the prospect of parlaying Hamhuis into future considerations.
But Canucks GM Jim Benning is adamant about seeing how the next week or two plays out in terms of wins and losses and where the Canucks sit in relation to a playoff spot. The Canucks are having pro scouting meetings next weekend (Feb. 20-21) and it's expected that is most likely when any pre-deadline decision making will take place.
There's one other minor consideration here. No, actually make that a major consideration: Hamhuis has a full no-trade clause.
If Hamhuis doesn't want to go anywhere, he's not going anywhere. It's as simple as that, and he hasn't yet come to terms with any of that. Not yet anyway. For now, he's simply focused on playing, demonstrating to the Canucks and the rest of the NHL that he has miles left on his tread and that's he's worthy of a pay day that could be more than his current AAV of $4.5 million, especially if he's content to do a shorter-term deal for two or three years.
B.C. boy (Smithers) Hamhuis's preference would be to re-sign in Vancouver. That's no secret. While there have been no negotiations yet, the Canucks haven't ruled that out either. They profess it's an option that has by no means been ruled out.
So, basically everything is still on the table. If Hamhuis were prepared to waive his NTC, he could conceivably make a run with a contender and circle back to Vancouver on July 1. He could just stay put and play out the string with the Canucks and go UFA. He could re-up in Vancouver.
The thing is, like the Canucks (at this point anyway), he's not obliged to make any decision now, so he won't.
In the meantime, though, something to consider, which I found equal parts interesting and odd: the Canucks apparently haven't, as of today, received a single call, not one, from another team inquiring about Hamhuis's availability. I suspect that will change – L.A. is one of multiple teams with a veteran rental d-man as No. 1 on their wish list – especially if he continues to play as well in the days and weeks to come as he did last night.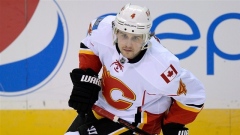 Kris Russell: The Caroline, Alta., native wants to stay with the Flames; the Flames have, generally speaking, expressed a desire for him to stay.
But the two parties haven't gotten down to the nitty gritty in contract negotiations. And while sentiments are one thing, trying to navigate what might be a noteworthy financial divide may be another.
Here's the thing: Russell is currently a fantastic bargain with a cap hit of $2.6 million. More nights than not, he plays well over 20 minutes and, at age 28, with his mobility and puck-moving ability, he's a heady if undersized blueliner who's pretty much in his prime and arriving to free agency at a very good time for him. The next deal Russell signs will be the best deal he ever signs; he's going to more than double his current salary.
You don't have to look very hard to find the guys Russell would view as open-market comparables: Montreal's Jeff Petry got five years at $5.5 million. Edmonton's Andrej Sekera got six years at $5.5 million. Similarly under-sized blueliner Jared Spurgeon collected $5.2 million per year on a three-year term in Minnesota.
Were Russell to go to July 1, is there any doubt he's going to get a five-year offer for between $5 million and $5.5 million? And he may well be looking for more than that, both in term and dollars.
As much as the Flames would like Russell back in the fold, the reality is Mark Giordano's cap hit goes to $6.75 million next season, Dougie Hamilton is at $5.75 million, Dennis Wideman has one more year remaining at $5.25 million, T.J. Brodie is at $4.65 million, to say nothing of Ladislav Smid at $3.5 million and Deryk Engelland at $2.9 million, each of whom has a year remaining on their deals.
It would be extremely difficult, though not necessarily impossible, to fit in Russell at a number greater than Brodie's and closer to Hamilton's on that defence crew with so many dollars, for now anyway, committed next season.
It would be a lot more manageable if the Flames could divest themselves of Wideman's deal. That's what made the defenceman's 20-game suspension that much more punitive to the Flames. Calgary had been in talks to try to move Wideman. A deal wasn't done, or even imminent, but there were conversations happening in that regard. They quickly evaporated after the mega-suspension.
So now the question would have to be: How much of a hometown discount is Russell prepared to take to stay in Calgary?
And given the fact Calgary isn't likely to make the playoffs, how attractive might the offers the Flames get to trade Russell as a rental before the deadline be? We need those answers to properly assess this case.
Russell is clearly valued by the Flames and he values being in Calgary, but I've got to figure both parties are going to get to that moment of truth very soon when "value" has to have a hard number attached to it. Then we'll see how wide or narrow the gap is and it will become elementary as to whether he stays or goes.
If I had to guess, and it would only be that, I'd lean towards it being more likely he goes to the rental trade market and free agency than re-signing in Calgary, but there are enough moving parts on this one to stop well short of making that a declaration just yet.
Finally, this isn't trade related news, but you may recall we talked earlier this season about the Swift Current Bronco captain and unrestricted free agent overage forward Jon Martin being courted by multiple NHL teams.
A late bloomer of sorts, the 6-foot-2, 218-pound Martin now has 34 goals and 59 points in 50 WHL games this season after scoring only 32 goals in the previous four seasons in Kootenay.
Martin is on the verge of making a decision on where he'll eventually sign his NHL entry-level contract. Edmonton, Arizona and San Jose were believed to be the teams that showed significant interest. While nothing is likely to be made official until March, the expectation is Martin is most likely to be a Shark when all is said and done.
Bob McKenzie is the 2015 recipient of the Elmer Ferguson Memorial Award for excellence in hockey writing.