Red Army: The most dangerous team of a generation
One of the greatest teams of the 1970s and '80s gets the silver screen treatment in select cities across North America today, but it's not the Canadiens, Islanders or even the Oilers. Go behind the scenes with filmmaker Gabe Polsky as he crosses former enemy lines with the stars of CSKA Moscow, better known as the Red Army.
Shane McNeil, TSN.ca Staff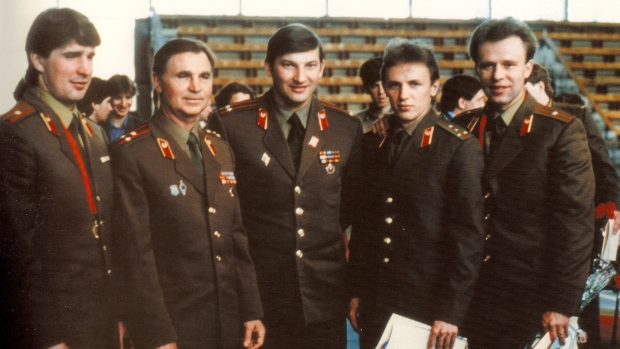 Last September, Wayne Gretzky, Scotty Bowman, Darryl Sittler and countless other hockey legends assembled in Toronto to see one of the greatest teams ever assembled.
Not on the ice, but on the big screen.
Gabe Polsky's Red Army – a feature documentary about the rise and fall of Soviet hockey in the 1970s and 1980s – had its Canadian debut at the 2014 Toronto International Film Festival and now, it's hitting Canadian cinemas.
"That Toronto event was probably one of the greatest moments of my life," Polsky said of the Toronto premiere that filled the Ryerson Theatre with a who's-who of hockey stars past and present.
Amazingly, these luminaries had all come to see a story in which they were merely the supporting cast.
ARMY BY NAME, ARMY BY NATURE
Hockey fans from the 1980s best remember the Soviets from the team's weapon of choice: The Green Unit. The front line of the Soviet attack was a five-man powerhouse that dominated international hockey for a decade, impressed in goodwill barnstorming tours against National Hockey League clubs and stunned a Team Canada which included key pieces of both the Oilers and Islanders dynasties to win the 1981 Canada Cup.
The combination featured Sergei Makarov, Igor Larionov and Vladimir Krutov up front with Alexei Kasatonov and Viacheslav Fetisov on the point.
These five starred in Polsky's film, but Fetisov in particular stepped off the blue line and into the spotlight. The mercurial defenceman opened up to provide an inside look behind the Iron Curtain's most formidable on-ice force.
Polsky remembered his trip to Russia to track down the Green Unit alumni and the difficulty in nailing Fetisov into the interview that provided the soul of his film.
"He said 15 minutes, but then he never really checked his watch and he just kept going," Polsky said of what became an estimated six-hour chat. "I think we started connecting a little bit and he started to see that I didn't come in there with any expectations."
"Maybe he thought I was a little bit weird or young and that kind of opened him up a little bit. It was kind of like in a hockey locker room and I was like a rookie, or something. He was the veteran and just kinda giving me s***."
But what he ended up giving Polsky was rare candor and the details of a system that remains shrouded in mystery. The Soviet national program, handed down from one of Russian hockey's founding fathers (Anatoli Tarasov) to the divisive personage of Viktor Tikhonov, was outright military.
Kept in barracks nearly year-round, the training regimen that led to two Olympic gold medals and six IIHF World Championships between 1980 and 1990 was part training camp and part internment camp. Fetisov recalls Tikhonov refusing teammate Andrei Khomutov leave to visit his dying father and that team officials later threatened Fetisov when the NHL came calling in the late '80s.
"You try to play for our enemies?" Fetisov recalls being told by team officials in the film. "I'll send you to Siberia. You'll never get out."
Polsky used archival footage to get beyond the on-ice story. Yes, there were highlights from the Miracle on Ice and the 1981 Canada Cup triumph, but equal screen time was given to a war-torn post-World War II Russian society and historical footage of strange training routines and exhibitions involving summersaults, gymnastics and bears on skates.
The resulting film went beyond the on-ice product to a deeper political discussion that raged between two opposing powers.
"To the Soviets sports were, in a way, a kind of warfare," renowned Cold War-era journalist Vladimir Posner said in Red Army. "The game for them wasn't just a game, it was also part of what you would call propaganda, actually, making it very clear that: 'We're the best. And, we're the best because of the Soviet system. Because of socialism, that's why we're the best."
Polsky sought balance between the sport and the state to a wider Western audience.
"This movie goes a long way in explaining the history and what shaped these people and what their experiences were," he said. "North Americans are not familiar with who these people are on a human level. We read a couple things and all we really know are the clichés to a degree and I think this reveals a bit more of the soul of the country."
COMING TO (NORTH) AMERICA
The Red Army stars had given all they could for their homeland. It was time to take on the world's best players.
Hockey Hall-of-Famer Mike Gartner had more experience playing against Fetisov than nearly anyone before Russians began to flood the NHL. He dealt with his future Hall-of-Fame classmate in three World Championships, Canada Cups the World Junior Championship and even a midget hockey invitational in 1975.
"He had great vision on the ice from an offensive standpoint, but he was so strong and he was so hard to get around," Gartner said. "He was tough. He had the whole package and he played a lot. It seemed like he was on the ice all the time."
"He was a well-respected player."
Canada had to better equip itself to handle the Soviet onslaught after 1981. Shell-shocked 8-1 in the Canada Cup Final, the Canadians knew they needed to load up to beat the Green Unit.
"We had to put our absolute best players on the ice to be in the same category as the Red Army team," Gartner said of the Canadian teams that won the 1984 and 1987 Canada Cups. "Here was a team that was put together with players that played with each other from youth in a system that was developing robotic, talented athletes. We couldn't compete unless we had our best players at the top of their games."
AUDIO: Mike Gartner on Slava Festisov
Soon enough, though, the Soviets' best was no longer strictly an international concern. Beginning with the 1989 defection of Alexander Mogilny, the door to the NHL was finally open to the Green Unit. Within one year the Berlin Wall toppled, Communist governments fell in Poland, Romania and Czechoslovakia, and stars began moving westward.
But how would they adapt?
The Green Unit in the Soviet Union
| PLAYER | SEASONS | GP | G | A | PTS | CHAMPIONSHIPS | USSR STATS |
| --- | --- | --- | --- | --- | --- | --- | --- |
| Slava Fetisov | 14 | 478 | 153 | 221 | 374 | 9 (2 OLY, 7 IIHF) | 143 - 51 - 95 - 146 |
| Alexei Kasatonov | 14 | 529 | 119 | 196 | 315 | 7 (2 OLY, 5 IIHF) | 125 - 28 - 67 - 95 |
| Vladimir Krutov | 12 | 439 | 288 | 215 | 503 | 7 (2 OLY, 5 IIHF) | 112 - 73 - 64 - 137 |
| Igor Larionov | 12 | 457 | 204 | 230 | 434 | 6 (2 OLY, 4 IIHF) | 103 - 36 - 51 - 87 |
| Sergei Makarov | 13 | 519 | 322 | 388 | 710 | 10 (2 OLY, 8 IIHF) | 145 - 83 - 89 - 172 |
The move to North America went smoother for some than for others. Makarov debuted with 86 points for the Calgary Flames at 31 years of age and won the 1989-90 Calder Memorial Trophy as Rookie of the Year.
He forever stamped his name on the League. The NHL has had "The Makarov Rule" in place ever since, limiting Calder eligibility to players aged 26 and under.
Fetisov and Larionov made solid impacts in New Jersey and Vancouver, respectively before separate trades reunited them in Detroit in 1995. Under Bowman, the Red Wings revived the Soviet style – puck possession, precision passing and meticulous patience to create the perfect scoring chance - to establish one of the League's most formidable power plays.
The two Green Unit alumni were complemented by Sergei Fedorov (not pictured), Vyacheslav Kozlov and Vladimir Konstantinov to form the Wings' "Russian Five" combination in the mid-90s. The experiment was an unmitigated success helping the Wings capture back-to-back Stanley Cups in 1997 and 1998. The five accounted for 10 of the Wings' 17 power play goals in the 1997 Stanley Cup Playoffs and the forward trio produced a combined 45 points in 20 games. A career-ending accident took Konstantinov out of the line-up for the second Cup, but the team – and his Russian replacement Dmitri Mironov – rallied around the fallen blueliner.
Krutov and Kasatonov, meanwhile enjoyed mixed results. Kasatonov lasted seven years in the NHL before injuries derailed his career. Krutov, though, was gone after just one season. He left the Vancouver Canucks after an 11-goal 1989-90 season and finished his playing career in Europe.

The Green Unit in the NHL
| PLAYER | SEASONS | GP | G | A | PTS | STANLEY CUPS |
| --- | --- | --- | --- | --- | --- | --- |
| Slava Fetisov | 9 (NJ, DET) | 546 | 36 | 192 | 228 | 2 |
| Alexei Kasatonov | 7 (NJ, ANA, STL, BOS) | 383 | 38 | 122 | 160 | 0 |
| Vladimir Krutov | 1 (VAN) | 61 | 11 | 23 | 34 | 0 |
| Igor Larionov | 14 (VAN, SJ, DET, FLA, NJ) | 921 | 169 | 475 | 644 | 3 |
| Sergei Makarov | 7 (CGY, SJ, DAL) | 424 | 134 | 250 | 384 | 0 |
Krutov's story was possibly the most tragic of the lot. The IIHF Hall-of-Famer died at 51 years old in 2012, mere months after conducting his Red Army interview.
Polsky's time with Krutov was emotional.
"He almost embodied the Russian soul, like the sadness of this heartbroken guy, still living in the past and the glory of the past and he couldn't really make it once he got all this freedom and independence. He didn't know what to do with it," Polsky said.
"He had achieved so much and he had a good heart and was a loyal guy and just a nice genuine guy with a great heart, but he just couldn't make it. He died of heartache, you know?"
A DEMILITARIZED STATE
After conquering the world and the NHL, one might think Russian hockey could only remain dominant.
Polsky's narrative ended with the Red Wings' Russian heroes triumphantly bringing the Stanley Cup to Red Square surrounded by the adoring Moscow masses.
Internationally, however, the best had arguably already past.
Russia won the World Championship in 1993 led by the aforementioned Khomutov and his 12 points in eight games. However, that victory was the beginning of a vacuum.
The Russians did not win another World Championship until 2008 when an aging Fedorov teamed with his then-Washington-Capital-teammates, Alexander Ovechkin and Alexander Semin, to win gold in an overtime thriller.
Since the foundation of the Kontinental HockeyLeague - Russia's new top division - in 2008-09, the nation has won three of six IIHF World Championships. A true All-Star team, featuring KHL standouts aided by Russian NHLers out of the Stanley Cup chase, has been afforded the Russian team since the KHL season ends prior to the beginning of the Worlds. In recent years, that has included the likes of Ovechkin and Evgeni Malkin.
However, a true best-on-best title has eluded them since 1981. The nation may have reached a new low point with the 2014 Olympic Games. Playing on Russian soil and under the constant gaze of President Vladimir Putin, Finland clipped them in the quarter-finals, forcing a Russian exit from the Sochi Games without even a shot at a medal in hockey.
Polsky blamed a shift away from the Soviet system.
"They produce individual players still, very talented individuals and they still exhibit some of the Russian characteristics of strong skating and puckhandling," Polsky said, "but there's no collective five-man unit type of play - that beautiful collective creativity - anymore."
What was lost - in his mind - was a true art form.
"When you see something incredible and a level of mastery, it doesn't matter if it's painting or literature or architecture or anything, it's self-evident, how beautiful it is," Polsky said. "It's the same thing with hockey. When you see amazing hockey and vision and skill and passing and movement, it's self-evident. You don't have to be a hockey fan to appreciate it."
Red Army opens in select theatres in Toronto and Vancouver on Jan. 30.