Redblacks beat Bombers to clinch East
Henry Burris passed for 338 yards and ran in one touchdown as the Ottawa Redblacks clinched first place in the CFL East Division Saturday with a 23-10 victory over the Winnipeg Blue Bombers.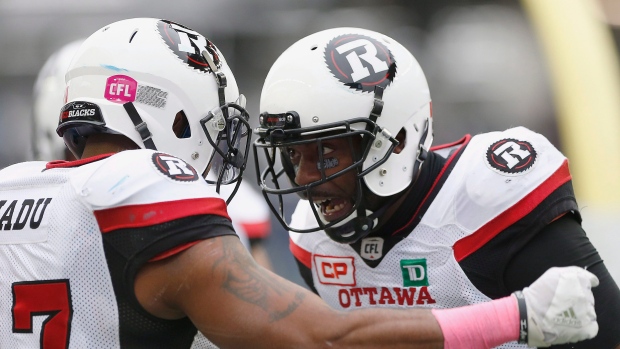 WINNIPEG — It was the kind of game Henry Burris wanted the Ottawa Redblacks to play with first place on the line.
After losing three of their last four games heading into Saturday's match against the Winnipeg Blue Bombers, the Redblacks came away with a convincing 23-10 victory.
Burris and running back Mossis Madu each ran in a touchdown and Ottawa's defence forced five Bomber turnovers, including intercepting Winnipeg quarterback Matt Nichols a season-high three times.
And, more importantly, the Redblacks (8-8-1) clinched top spot in the CFL East Division for a second straight season and get a bye before hosting the division final Nov. 20.
"It just shows you that regardless of what adversity and the struggles that we had, we knew we weren't far off," Burris said.
The win was a contrast to other games this season. Ten of Ottawa's games had been decided by seven points or less.
Ottawa led 23-3 early in the fourth quarter before Winnipeg receiver Darvin Adams caught a five-yard touchdown pass with 10 seconds left in the game. It was his first game back since breaking a collarbone July 28.
"It's a big deal," Redblacks head coach Rick Campbell said of clinching first. "It's not easy to finish in first. We just had to keep working and keep grinding."
Burris completed 23-of-33 pass attempts for 338 yards with one interception and no touchdowns in front of 26,097 fans at Investors Group Field.
"Besides the one pass that got intercepted, we were able to take good care of the ball," Burris said. "Our defence and special teams played a heck of a game.
"We tip our hats off to our defence because when a lot of situations were against us, our defence got us the ball back and allowed us to get out there and at least move the ball and milk the clock some."
Ottawa scored 11 points off Winnipeg's five turnovers.
Winnipeg turned the ball over twice on downs in the third quarter, including one on an unsuccessful fake punt. The second turnover led to Ottawa kicker Ray Early's 15-yard field goal.
Nichols' first interception resulted in eight points off Burris's one-yard TD plunge and a two-point convert catch by Ernest Jackson.
Madu had 21 carries for 125 yards and a two-yard TD in his sixth game this season, the first one in which he went over the century mark.
"My O-line did a great job all night opening holes for me," Madu said. "I could have drove a truck through a lot of those holes they opened up for me."
The Bombers had been coming off a bye week with two straight victories, but sit at 10-7 with their playoff positioning still unclear. Had they won and B.C. lost its Saturday night game to Saskatchewan, Winnipeg would have hosted the West Division semifinal.
Winnipeg wraps up the regular season next Friday when it visits Ottawa.
Nichols threw three interceptions in the first half, taking his season total to eight.
Ottawa defensive back Abdul Kanneh picked Nichols off twice and Mitchell White once.
Nichols finished 35-of-46 for 289 yards with the one TD to Adams.
"Obviously, it's on me," Nichols said. "Any time that you don't score points on offence, it falls on the quarterbacks.
"I felt like I kind of let the guys down tonight and chose a bad time to play my worst game of the season."
Ottawa back-up running back Patrick Lavoie also caught a two-point convert pass after Madu's TD. Early also booted a 29-yard field goal and a 65-yard punt single.
Justin Medlock connected on a 37-yard field goal and one convert for Winnipeg.
Ottawa led 8-0 after the first quarter and 17-3 at halftime.
Bombers head coach Mike O'Shea described his players as being "out of sync."
"Not good," O'Shea said. "All three phases, I think Ottawa took it to us."
Winnipeg defensive lineman Jaamal Westerman described it as a "misstep."
"I think we just didn't start fast and we didn't play how we normally play," Westerman said. "We didn't take the ball away, we didn't protect the ball.
"Those are the things that have really led to all our wins this year, and most of the time when we lose, it's because we didn't do it."