Remembering Canadian sports stars who went to war
Besides the farmers and fishermen, factory workers and students, miners and businessmen, many of Canada's top sporting stars also went to fight in the First World War, putting their talents on hold to represent their country in a different way, Bob Weeks writes.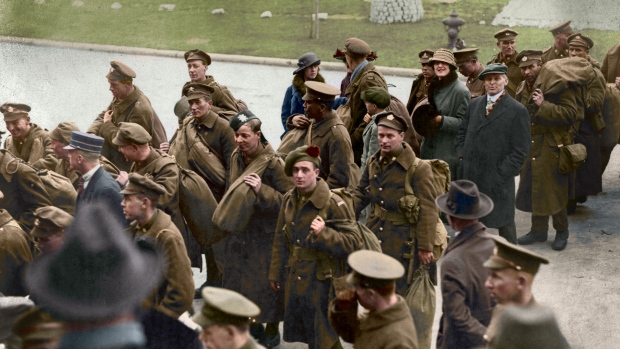 Today marks the 100th anniversary of the end of the First World War. It also commemorates the 99th anniversary of Remembrance Day, when we pause for a few brief moments to pay tribute to those who served and especially those who fell.
Of course this day now takes into account more conflicts than the one that became known as the Great War. The Second World War. Korea, Afghanistan and a host of others where Canadians fought and were killed are all essential parts of why we wear poppies and pause for two minutes every November 11th.
But it was after the four years of battles from 1914 to 1918 that this day was created. King George V hosted what was then called Armistice Day on the grounds of Buckingham Palace a year after the guns went silent.
"Very clearly there was a desire, maybe a need to mark the war, to mark the sacrifice," said Tim Cook, historian at the Canadian War Museum.
"The First World War is the hardest thing that Canada had ever done up to that point in its history, ultimately 66,000 dead, it's a shock to the country and if you think about those losses today it's five times as large. It would be about 330,000 dead in a four-year period."
The war started in late summer of 1914 and was expected to be over by Christmas. Young men enlisted to be part of the excitement and to prove their gallantry. They had no reference of what to expect. There were no movies or even pictures to learn what war was all about. They imagined they'd be riding on horses, perhaps carrying swords as they charged to take care of what would surely be the poor and hapless enemy. No one expected the horror of what was to come.
There was the slog of life in the trenches, standing knee-deep in muddy trenches where snipers were ready to pick off those who stood too tall, and rats would chew on those who stayed too low.
There was the use of poison gas, first by the Germans but in the end by both sides, which sent men ripping at their throats in a last desperate attempt at survival.
The ghastly hand-to-hand combat, where a bayonet thrust into a body allowed one soldier to watch another die just inches apart.
And the constant bombardment of artillery. One minute a soldier could be on duty in a trench, the next his body torn to shreds by shrapnel, the remains never to be found to provide a decent burial.
They were farmers and fishermen, factory workers and students. They included lumberjacks, miners and businessmen. And, yes, even some of the best athletes of the day.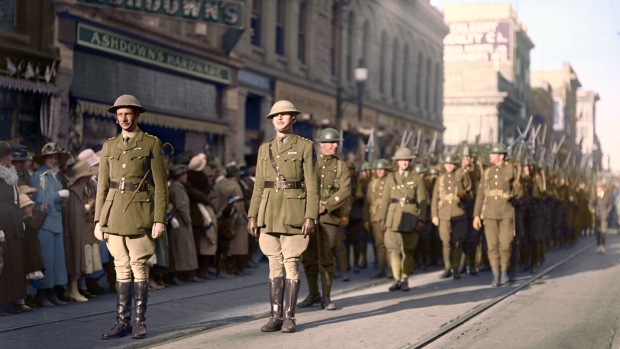 Many of Canada's top sporting stars, and even some who would go on to play a role in the future of sport in Canada, went off to war, putting their talents on hold to represent their country in a different way.
Take Jimmy Duffy, who represented Canada in the marathon at the 1912 Olympics in Stockholm. In stifling heat, he finished fifth, a disappointment to him but it remains Canada's best performance in that competition. In April 1914, Duffy won the Boston Marathon in a time of two hours, 26 minutes, rising to the top of the long-distance running world.
But just a year and five days later, he lay dead on the battlefield, killed at Kitchener's Wood in Belgium.
Or Percival Molson, the grandson of the man who founded one of the country's most famous breweries. Molson was one of Canada's best all-around athletes. He was a Stanley Cup winner, he held the world record in the long jump and was captain of the McGill football team. In July 1917 he died after being hit by shell from a German howitzer on the battlefield in Avion, Pas-de-Calais, not far from Vimy Ridge in France.
Today, if you attend a Montreal Alouettes CFL game, you do so in the Percival Molson Memorial stadium.
Some were lucky and returned from service. Tom Longboat, the great distance runner and also a Boston Marathon winner, perhaps not surprisingly, served as a messenger, running information back from the front lines, twice being wounded.
Conn Smythe, the former owner, general manager and coach of the Toronto Maple Leafs and the builder of Maple Leaf Gardens, was an observer in the Royal Flying Corps. In 1917, he was shot down and captured by the Germans, spending the last 14 months of the war in a PoW camp.
And Stanley Thompson, perhaps Canada's greatest golf course architect who would later build such notable layouts as Banff Springs, Jasper Park Lodge, St. George's and Highlands Links, served in the artillery and helped soften up the German defences at Vimy Ridge.
They all went to war because it was supposed to be an adventure. Those who survived returned home as heroes and received all that gratitude and the laurels that came with it.
Many who returned came back as amputees after losing limbs on the battlefield or were afflicted with what was then called shell shock and what is now referred to as post-traumatic stress disorder (PTSD).
Across the country there was a desire to pay tribute to all these men and women, who fought at places like Passchendaele and Ypres and Mons, to recognize their efforts. And that's why Remembrance Day started, and why cenotaphs and memorials were built in every city, town and village, many of which stand to this day.
"It's meant to heal, it's meant to find some closure to this ghastly war that went on for years and years," said Cook. "It comes from the King and his desire for everyone to stop and reflect upon it. I think it shows the enormity of this war and also how [it] bled far beyond Nov. 11, 1918. It bleeds into 1919 and it bleeds into the 1920s and you can say in some respects it's still having an impact on Canadians 100 years later."
Some of this healing took place through sports. For example, Captain James Sutherland established the Memorial Cup in 1919 as a tribute to the men who died in the war. As it was then, it remains emblematic of the junior hockey championship of Canada.
At the 1920 Olympics, held in Antwerp, Belgium, the Winnipeg Falcons won Canada's first gold medal in hockey, raising the spirits of a nation. Of the eight players on the roster for the Games, five served in the First World War.
It was also after the war that professional sports came to be seen as an accepted occupation. Prior to that, pro athletes were regarded by many as cheap and even unsavory. The top players were from universities.
But many soldiers returned home to play professionally and, as they were heroes on the battlefield, it was hard to look at them in any other way as they played for money. As a result, pro sports grew quickly during a period of urbanization and industrialization and gave Canadians an outlet away from years of misery.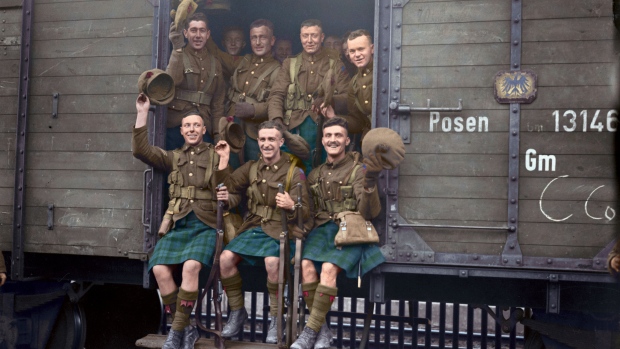 Now, 100 years later, there is some worry about what happens next. Will this war fade away in our collective memories or continue to be remembered?
"The centennial allows us a good hook to talk about this but it should not end," said Jeremy Diamond, executive director of the Vimy Foundation, a charity that keeps alive Canada's legacy from the First World War.
"There are still too many Canadians who don't know enough about Canada's impact in the First World War. And I think we can pivot now from the anniversary of the battles to looking at the centennials of those first cenotaphs, the first Remembrance Days, first time the Poppies were worn in tribute to those who paid the ultimate sacrifice."
"It may be that the First World War slips into out history and comes out something like the War of 1812 which we read about in books but doesn't resonate really with most Canadians, but I suspect not," added Cook. "I suspect the First World War still has a power. I would argue that we know more about the First World War than any other historical event in our history.
"It's the war where women received the right to vote, income tax is introduced, Canada stepped out onto the world stage, joined the League of Nations. It's the war that nearly tore us apart with Conscription and interestingly, 100 years later, even though we've lost everyone, it's still a war that affects us and haunts us largely through that prism of death and loss, through the 66,000 dead through those memorials, the National War Memorial, Vimy overseas. Last year, 25,000 going to Vimy for the 100th anniversary was astonishing. What other historical event would draw that many Canadians?"
On this Remembrance Day, a century after the Great War ended, it's worth remembering and pausing to think of what it all means to each of us.