Report: Ewen's death classified as suicide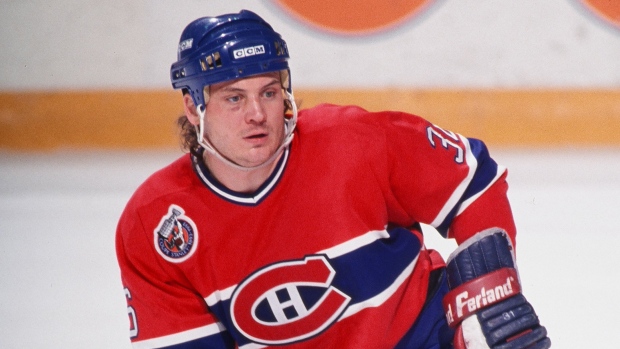 Former National Hockey League forward Todd Ewen died on Saturday at the age of 49.
According to CTV Calgary, police are classifying his death as a suicide from a self-inflicted gunshot wound to the head.
A veteran of 518 games in 11 NHL seasons, Ewen broke into the NHL for the St. Louis Blues in 1986-87. He also spent time with the Montreal Canadiens, Mighty Ducks of Anaheim and San Jose Sharks. He was a member of the Canadiens' Stanley Cup-winning team of 1993. He finished his playing career after the 1996-97 season with 36 goals and 40 assists.
A prolific fighter, Ewen amassed a total of 1,911 penalty minutes over his career, including 146 regular-season fighting majors.
Ewen is the latest in what is becoming a long line of NHL enforcers dying prematurely.
Most recently, former Calgary Flames defenceman Steve Montador was found dead in his home this past February. A veteran of over 600 NHL games, Montador's brain showed signs of chronic traumatic encephalopathy (CTE) according to a study at Toronto's Krembil Neuroscience Centre, where Montador had agreed to donate his brain after his death.
Montador's family is pursuing a lawsuit against the NHL for its part in the head trauma incurred by Montador.
Bob Probert, Ewen's opponent in six NHL fights, died in 2010 of a heart attack. After his death, Probert's brain was donated to the Sports Legacy Institute for study of the effects of concussions and other sports-related brain injuries. Researchers from Boston University found evidence of CTE in Probert's tissue samples.
In 2011, three enforcers were found dead, all from unnatural causes, in a four-month span.
Minnesota Wild and New York Rangers forward Derek Boogaard died in May of an accidental overdose of oxycodone and alcohol. A posthumous study on Boogaard's brain, also at BU, found more advanced CTE than in Probert's. According to the study, Boogaard, 28 at the time, would have likely suffered from dementia in middle age.
Vancouver Canucks forward Rick Rypien was found dead in his home in August. The cause of death was later confirmed as suicide. The 27-year-old Rypien had taken a leave from hockey as he struggled with depression for the better part of his career.
Later that month, former Toronto Maple Leafs forward Wade Belak was found dead in a Toronto hotel room at the age of 35. A cause of death was never formally established, but his family believed it to be accidental. Belak's parents confirmed that their son, retired following a 16-year NHL career, too, had suffered from depression.