Report: Jays among teams still in on Yelich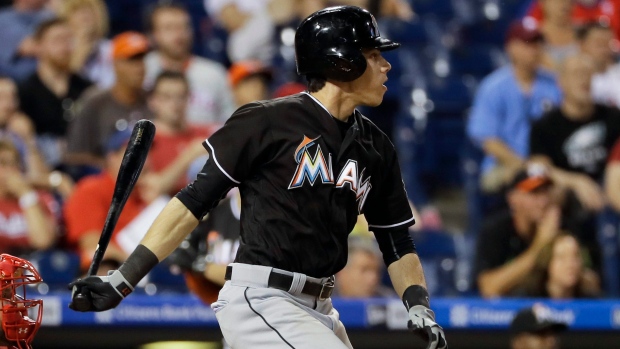 The status of Christian Yelich is still unclear as spring training comes closer, reports FanRag Sports' Jon Heyman.
A number of teams, including the Toronto Blue Jays, remain interested in the services of the 26-year-old outfielder with the team, perhaps, more willing to listen on offers than they were previously.
Heyman notes that the Marlins are seeking high-level Triple-A and Double-A prospects for the Thousand Oaks, CA native with demands lower than they were at last month's Winter Meetings.
Along with the Jays, the Los Angeles Angels, Boston Red Sox, Texas Rangers, Los Angeles Dodgers, Chicago White Sox, Philadelphia Phillies, Arizona Diamondbacks and San Diego Padres have expressed interest in Yelich.
Earlier this week, ESPN's Jerry Crasnick categorized Yelich's relationship with the club as "irretrievably broken." With the trades of Giancarlo Stanton, Dee Gordon and Marcell Ozuna over the offseason, both Yelich and catcher J.T. Realmuto have let it be known that they, too, wish to be moved.
While the Marlins initially appeared hesitant to do so, the team continues to listen to offers.
Originally taken by the Marlins in the first round of the MLB Amateur Draft, Yelich is heading into his sixth season in the Bigs.
He appeared in 156 games last year, batting .282 with 18 home runs and 81 runs batted in and an OPS of .807.
Yelich has four years remaining on a seven-year, $49.5 million deal signed in 2015. There is a $15 million option for 2022 with a $1.25 million buyout.