Report: Leafs express interest in Kovalchuk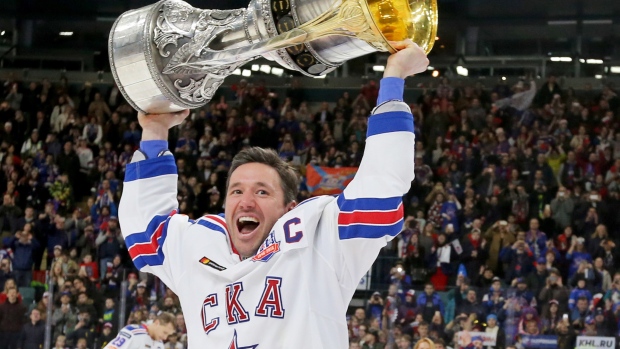 The Ilya Kovalchuk sweepstakes have begun to heat up and Larry Brooks of the New York Post reports more than six teams have expressed their interest in the KHL forward.
Brooks reports the Toronto Maple Leafs, New York Rangers, St. Louis Blues and San Jose Sharks are among the teams who are interested in Kovalchuk.
UPDATE: TSN Hockey Insider Darren Dreger reports the Leafs are not interested in Kovalchuk and sources say the team has not reached out.
Kovalchuk has declared his intention to return to the National Hockey League for the 2017-18 season after four years in Russia, but in order to return he must sign with the New Jersey Devils, who own his rights. The Devils would then trade Kovalchuk to another team. He cannot sign, however, until free agency opens on July 1.
Brooks notes that three of the teams tied by name to Kovalchuk all have previous front office experience with Kovalchuk. Maple Leafs general manager Lou Lamoriello signed Kovalchuk to the 15-year, $100 million contract he walked away from with the Devils. Blues assistant general manager Martin Brodeur played with the Russian winger and Sharks head coach Pete DeBoer served as the head coach of the Devils in Kovalchuk's final years with the team.
The 34-year-old has spent the past four seasons in the KHL with St. Petersberg SKA. He finished with 32 goals and 46 assists in 60 games last season, his best in Russia, and has 89 goals and 133 assists in 209 KHL games since leaving the Devils after the 2012-13 season.
In 816 NHL games, the 2001 first overall pick has 417 goals and 399 assists.
According to CapFriendly, The Maple Leafs have more than $40 million in cap space (if the cap remains flat) for next season with four unrestricted free agents and two restricted free agents on their roster.