Report: Some think Warriors may land George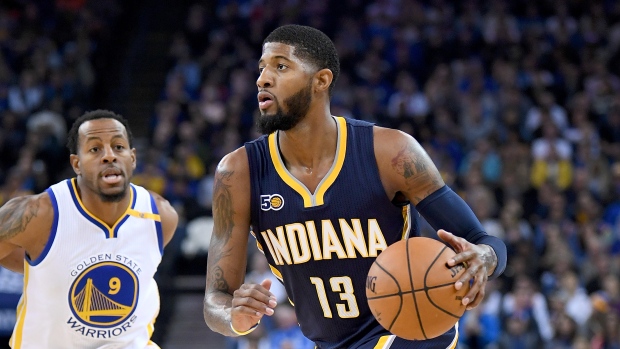 Paul George could potentially be the next NBA superstar to join the Golden State Warriors, according to Tim Kawakami of The Athletic.
Kawakami said during a podcast with Tim Bontemps of the Washington Post that he and a colleague at The Athletic believe the Warriors have a legitimate shot at the 27-year-old George in free agency next summer.
"We think they're going to go after Paul George, somehow. I think [Warriors owner] Joe Lacob is going to try to find a way to get Paul George. I don't know how that would happen, but I didn't know how it was going to happen when they were—three years ago, when they said they were go after Durant," said Kawakami.
The Warriors picked up Durant in July of 2016 after reaching the NBA Finals in two consecutive seasons.
Earlier this off-season, George was traded to the Oklahoma City Thunder in a deal that sent guard Victor Oladipo and forward Domantas Sabonis to the Indiana Pacers.
George is a free agent after the 2017-18 season but it would have to take some creative salary cap maneuvering to get him to Golden State. Stephen Curry, Kevin Durant, Klay Thompson, Draymond Green and Andre Iguodala are all under contract for the 2018-19 season, making it nearly impossible to squeeze George in under the cap at anything less than a significant pay cut to his $20.7 million salary for the coming season.
George is entering his eighth season in the league after being drafted out of Fresno State in 2010. In 75 games last season, he averaged 23.7 points per game to go along with 5.8 rebounds.