Rielly all-star campaign reaches final hours
With the NHL All-Star Game 'Last Men In' voting closing Thursday night, the Maple Leafs made a hard push on social media to get fans to vote for Morgan Rielly who leads all defenceman in goals (13) and is second behind San Jose Sharks veteran Brent Burns in points, Mark Masters writes.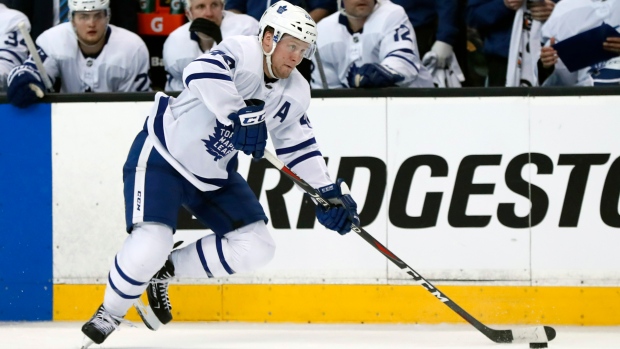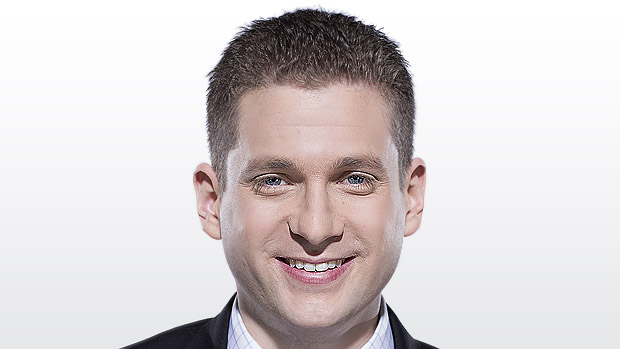 TSN Toronto reporter Mark Masters checks in daily with news and notes on the Maple Leafs. The team held a limited media availability on Thursday afternoon at the Prudential Center. The New Jersey Devils held a full morning skate ahead of tonight's game.
The voting in the new "Last Men In" initiative to determine ​the final NHL All-Star Game participants wraps up Thursday night and the candidacy of Morgan Rielly received a big boost over the last 24 hours in the form of several high-profile endorsement videos from teammates, including Nazem Kadri, Auston Matthews, Patrick Marleau and Mitch Marner that were posted on social media.
The initiative was spearheaded by de facto campaign manager Jake Gardiner.
"He's probably one of the most deserving in the league," said Gardiner, "just based off his numbers. So, we filmed some guys last night and had fun with it. Mitch kind of followed me around and we had some good ideas and just kind of built it from there."
The videos feature heartfelt pleas to the public to elect the 24-year-old to his first all-star game. Rielly leads all NHL defenceman in goals (13) and is second behind San Jose Sharks veteran Brent Burns in points with 45.
"The way he's played this year, it's a shame he hasn't made it or been named yet," said Marleau, who admitted he needed two takes to nail his video. "You guys have seen what he's done on the ice. It's pretty remarkable."
Rielly is competing with Boston's Patrice Bergeron, Buffalo's Jeff Skinner, Detroit's Dylan Larkin, Florida's Aleksander Barkov, Montreal's Shea Weber, Ottawa's Mark Stone and Tampa Bay's Brayden Point for the final spot out of the Atlantic Division.
The results are expected to be announced on Friday.
----
Devils defenceman Damon Severson will be well aware of Zach Hyman when​ the gritty left winger is on the ice tonight. Hyman is returning to Toronto's lineup for the first time since sustaining an ankle injury in a game in New Jersey on Dec. 18.
"He's a good forechecker so that puts pressure on us," Severson said. "He makes us make decisions a lot quicker than maybe other guys and he finishes us when we go back. He doesn't let us beat him up the ice. As a defenceman, I try and jump in the play as fast as I can, but he'll finish his check and make sure he doesn't get beat up the ice so he's effective in that way, for sure."
----
Out with a lower-body injury since Dec. 23, Devils left winger Taylor Hall will sit out an eighth straight game on Thursday.
"He's definitely moving in the right direction and progressing well," said coach John Hynes. "It's a situation where we had to make sure we knew what was going on with him before you can start to rehab and get him going. There's a chance, for sure, he's back before the all-star break, but I think, right now, we just have to evaluate him every day and see where he's at. It's a situation where once he gets back skating it's not going to be too long before he plays."
Injured goalie Mackenzie Blackwood (lower body) and winger Marcus Johansson (upper body) both skated on Thursday morning, but won't play against the Leafs. Cory Schneider also skated and, per Hynes, took shots for the first time since getting hurt.
----
Despite their struggles this season, the Devils have been very effective in shorthanded situations, killing off 85.3 per cent of power plays to rank second in the NHL in that department. Hynes credits assistant coach Alain Nasreddine, who has worked with the group the last few seasons and added a new tweak this year.
"We've had a little bit more freedom this year just to pressure when we feel the need be," Severson revealed. "We have some guys who can skate on the penalty kill and we've been creating a little bit of offence through the penalty kill, which is key, because when you just dump the puck every time it's easy and power play is able to conserve energy … when we force them to back check and tire themselves out and they have to go for a change it makes it more difficult."
The Devils have killed 38 of 40 power plays over their last 12 games
Toronto, meanwhile, is struggling to produce much on the power play, going just 1-for-15 over the last seven games. Leafs head coach Mike Babcock shuffled his groups at Wednesday's practice, moving Matthews to the second unit where he's reunited with William Nylander while giving Kasperi Kapanen a chance with the first unit quarterbacked by Marner.
Despite outscoring New Jersey 13-3 in two games this season, Toronto is 0-for-7 on the man advantage against the Devils.
----
Michael Hutchinson makes his fourth straight start for the Leafs while Keith Kinkaid is back in for the Devils after allowing five goals on 33 shots against the Sabres on Tuesday in Buffalo.
"He's got to be a little quieter in the net and that's something we've talked to him about," Hynes said of Kinkaid. "He's a highly athletic goalie, highly competitive so just understand that less is more at times. You have to have that athleticism and the competitiveness in a focused, structured way. The thing we'd like him to do is eliminate the pucks that have gone through him. Some of the goals that have gone in haven't been his fault, but we'd like him to eliminate the leaky goals."
Kinkaid has allowed 11 goals on 53 shots (.792 save percentage) in a pair of losses to the Leafs this season.
Since the start of December, Kinkaid is 4-6-2 with an .875 save percentage.
----
Projected Leafs lineup for Thursday's game:
Forwards
Hyman-Tavares-Marner
Johnsson-Matthews-Kapanen
Marleau-Kadri-Nylander
Lindholm-Gauthier-Brown
Defencemen
Rielly-Hainsey
Gardiner-Zaitsev
Dermott-Ozhiganov
Goaltenders
Hutchinson
Kaskisuo