Rielly not ready to return to Maple Leafs
Toronto defenceman Morgan Rielly tested his injured ankle at the morning skate but won't be in the lineup against Dallas tonight.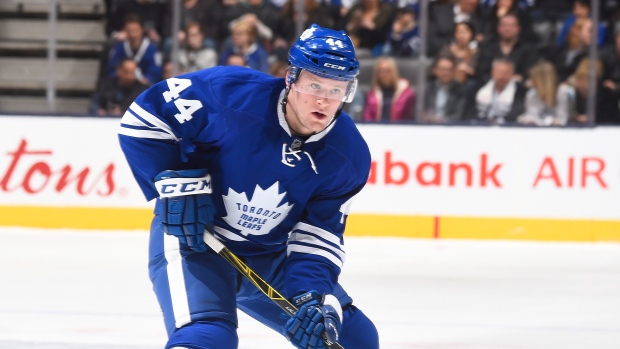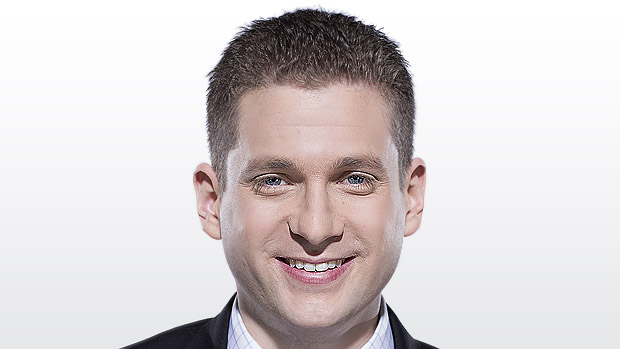 TSN Toronto reporter Mark Masters checks in with news and notes from Maple Leafs practices and game-day skates. The Maple Leafs and Stars skated at American Airlines Center ahead of tonight's game in Dallas.
- Morgan Rielly skated in his regular spot opposite Nikita Zaitsev at Toronto's skate on Tuesday morning, but the 22-year-old didn't take part in special teams drills and didn't seem to be going at full speed throughout the workout. Later in the skate, the defenceman informed head coach Mike Babcock that he would be unable to play against the Stars. "I think coming back after just one practice with the team may have been a stretch in the first place, but I would have liked to try and do that, but you can just tell when things aren't quite there," Rielly explained. With Rielly out, Babcock indicated that he will revert to the pairings from before the break when Martin Marincin played with Zaitsev.
- On the heels of his all-star debut, Auston Matthews rejoined the Leafs in Dallas on Tuesday morning. "I got to pretty much meet everybody so I think you're just amazed how good of a guy everybody is," the teenager said reflecting on the weekend. "You play against [Brad] Marchand and he's kind of known for being a guy who likes to get under your skin and he was one of the nicest guys I met there." Matthews spent a good chunk of time getting acquainted with Sidney Crosby. The pair of centres was matched against each other in one of the three-on-three games. "He was giving it to me before the game saying he was messing with my sticks and then all sorts of stuff," Matthews said. "Obviously, he's the best player in the world and just an unbelievable guy off the ice." Matthews had trouble identifying a top moment from the event noting that it was a blur in many ways. "You're just trying to soak it all in. You're really busy throughout the whole weekend with all kinds of different stuff. Being around all those guys, the players I grew up watching and really enjoyed watching growing up, it was pretty special to kind of get to know them."
- Will Matthews gain some momentum from being around the NHL's elite players? "Well, it depends on how you lived at the All-Star Game, right?" Babcock said with a smile. "So, it's a great opportunity long-term wise, we'll see what it does to a guy short-term wise, you know what I mean." Babcock hopes the decision to let Matthews have Monday off and meet the team in Dallas will pay dividends. "We didn't fly him back. He didn't practise yesterday so he should be ready to go here. His line is an important line for us. They drive us."
- Tyler Seguin expects Matthews to be fired up. The Stars centre recalls how amped up he was when he returned from his first all-star adventure in Ottawa five years ago. "I think every All-Star Game you get some sort of kick in the butt, but the first one you really get that extra boost," he explained. "You're around guys who you were watching on TV a year or two ago so it's a surreal experience and I'm sure Auston will be buzzing after it." What does Seguin remember about his first experience at the midseason showcase? "That was the first time really where I got to see Pavel Datsyuk and those kinds of guys. You see them in warm-ups during the year, but you actually interact with them and it definitely gives you that boost, because they kind of look at you as another NHL player and you're still looking at them as a guy you watched on TV a year before."
- Seguin turns 25 today and his teammates serenaded him with a rendition of "Happy Birthday" at the morning skate. The second-overall pick in 2010 is still marvelling at the display of young talent in Los Angeles over the weekend. "I'm excited by it, but also a little intimidated by it," Seguin said with a smile. "I mean, I'm 25 so I'm getting up there as far as the age ratio in this league. It seems like everyone's 18, 19, 20."
- After Tuesday's skate, Nazem Kadri was asked about Donald Trump and specifically the president's executive order blocking entry to the United States from seven Muslim-majority countries. "Obviously, it's unfortunate," said Kadri, a Muslim who was born to Lebanese parents in London, Ont. "I'm just proud to be Canadian and happy it doesn't affect me a whole lot. It's banning some people from coming back into the country, some smart people that really could make a difference and I really feel bad for those people and their families."
- On Sunday, former NFL and CFL receiver Chad Johnson tweeted out that he planned on getting a Maple Leafs jersey. On Monday, Kadri responded to Johnson on the social media website suggesting he would look good in a No. 43 jersey. "He seemed to be thrilled with the idea," Kadri said with a smile. "I started talking to him a little via direct messages and invited him out to a game so maybe we'll see him shortly."
- Kari Lehtonen was the first goalie off the ice at the Stars morning skate and is expected to start for Dallas tonight. Radek Faksa will return to the lineup after missing the last two games with a lower-body injury. "He's a big man," said head coach Lindy Ruff, "heavy on the puck, plays against the best players, one of our better defenders when it comes to playing in our own end and I think the chemistry that [Devin] Shore, himself and [Patrick] Sharp have had has given us a real good look up there in our top three lines.
Lines at Leafs morning skate:
Hyman-Matthews-Brown
van Riemsdyk-Bozak-Marner
Komarov-Kadri-Nylander
Martin-Gauthier-Soshnikov
Leivo, Smith
Rielly-Zaitsev
Gardiner-Carrick
Marincin-Polak
Hunwick-Polak
Andersen starts
McElhinney