Thomas scores winner as Bulldogs top Titan at Memorial Cup
Robert Thomas scored the winner on the power play as the Hamilton Bulldogs edged the Acadie-Bathurst Titan 3-2 on Tuesday in the Memorial Cup round-robin finale for both teams. The win earns the Ontario Hockey League champion at least a berth in Friday's semifinal.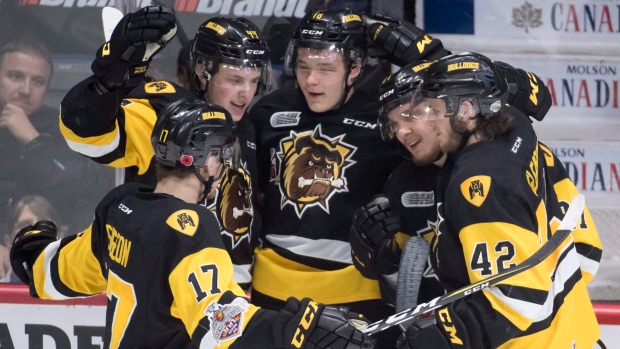 REGINA — Hamilton Bulldogs captain Justin Lemcke is now a fan of the Swift Current Broncos, even if it's just for one day.
The Ontario Hockey League champion earned at least a berth in the Memorial Cup semifinal with a 3-2 win over the Acadie-Bathurst Titan on Tuesday.
Hamilton (2-1) now needs a win on Wednesday night by the Broncos (0-2) against the host Regina Pats (1-1) to skip Friday's semifinal and automatically reach the championship game. If Regina beats Swift Current, the Titan (2-1) advance directly into Sunday's final.
"Not actively cheering for the Swift Current Broncos, but they are the team that we need to win, so a little bit," Lemcke said. "But I don't think you're gonna see anybody jumping out of our seat."
Robert Thomas scored the winner on the power play for the Bulldogs just over a minute into the third period with a wrist shot above goaltender Evan Fitzpatrick's glove. Nicholas Caamano and Benjamin Gleason, on the power play, also had goals for Hamilton.
Bulldogs coach John Gruden said that he doesn't care how the scenarios shake out.
"If we have to play Friday, we have to play Friday," he said. "It don't matter because when we play the right way, we believe that we're a very tough team to beat. So if we have to do it the old-fashioned way like how we got here, that's what we'll do."
Jeffrey Truchon-Viel and Samuel Asselin scored for Acadie-Bathurst, which lost for the first time at this year's Canadian major junior championship.
A Titan win on Tuesday would have given the Quebec Major Junior Hockey League champion automatic berth in the championship.
Acadie-Bathurst coach Mario Pouliot had the chance late in the game to pull his goalie while on a power play and make it a 6-on-4 opportunity and possibly tie the game and force overtime. But he decided to play it safe and keep Fitzpatrick in net to avoid any chance of going down two goals just in case plus-minus is needed in any sort of tiebreaker scenario.
Pouliot said that he had thought about the different scenarios before facing the Bulldogs.
"After the second, I just make sure we'll stick to the first plan if we were trailing by one and that's a decision I did before the game," Pouliot said. "Even when we were on the power play and stuff like that."
The Titan had trouble staying out of the penalty box all night and were charged with five penalties, including a double minor. Hamilton finished the game 2 for 6 on the power play while Acadie-Bathurst failed to score on three opportunities with the man advantage.
Asselin said that his team took too many penalties at bad moments and were too cute.
Gleason opened the scoring with a power-play goal at 14:33 of the first with a slap shot through traffic from the point.
A big hit in Hamilton's end led to a turnover a few minutes later and the Bulldogs capitalized at the other end with Caamano slapping one past Fitzpatrick in the slot.
The Titan finally got one back when Truchon-Viel was left in front where he tapped in pass from Noah Dobson into a wide-open net.
Acadie-Bathurst struck right back after Thomas's goal when Truchon-Viel launched a cross-ice pass right on top the stick tape of Asselin. Truchon-Viel leads all tournament scorers with nine points.
Kaden Fulcher stopped 33 shots for the win in net and Fitzpatrick turned away 31-of-34 shots in defeat.
For now, the Titan wait to see what happens on Wednesday.
"We had our chance, we had our destiny right in our hands," Asselin said. "I think we missed that chance because I don't think we played out best game of the tournament.
"We'll be ready for sure whether it's Friday or Sunday."
Note: Attendance at Brandt Centre was 6,072.
— Follow @RyanBMcKenna on Twitter