Rockets pound Remparts to advance to Memorial Cup final
Justin Kirkland and Rourke Chartier each scored twice as the Kelowna Rockets downed the host Quebec Remparts 9-3 in the semifinal at the Memorial Cup on Friday night, a wild game that had two fights and a delay caused by debris thrown onto the ice by angry fans.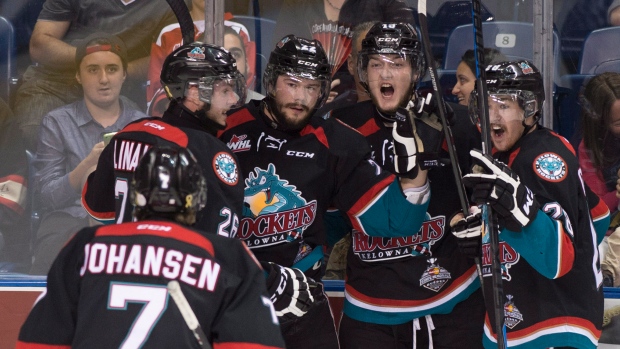 QUEBEC CITY, Que. - The goals poured out of the Kelowna Rockets and that could be a good sign heading into the Mastercard Memorial Cup final.
Justin Kirkland and Rourke Chartier each scored twice as the Rockets downed the host Quebec Remparts 9-3 in the semifinal on Friday night in a wild game on the ice and in the grandstands at the Pepsi Colisee.
The win put the Rockets into the final on Sunday night against the tight-checking Ontario Hockey League champion Oshawa Generals.
"We're going in to play a team that's great defensively, so to have that outburst is good," said Rockets captain Madison Bowey. "We're not going to get the chances we had tonight against Oshawa.
"It's going to be a two-way, hard-nosed game and whoever works harder and wants it more will win."
The Remparts edged Kelowna 4-3 in the opening game of the four-team tournament, but had little hope in the rematch. Playing a third game in as many nights against a Kelowna squad coming off two days of rest proved too much for a team that had key players battling injuries.
The Remparts, boosted by the crowd of 9,870, came out flying and got the first goal from Adam Erne on a 2 on 1 only 3:11 in, but then faded as the Rockets poured on a high-paced, physical game.
"I've been there, three games in three nights," said Rockets defenceman Josh Morrissey. "They battled as hard as they can and sometimes mental errors happen.
"And once they get down, they start taking more risks. I'm sure they were tired mentally and physically."
Leon Draisaitl, Josh Morrissey, Cole Linaker, Chance Briad and Tyson Baillie also scored for the Western Hockey league champions, who blew the game open with four second-period goals.
Anthony Duclair and Dmytro Timashov had the other goals for the Remparts, who were eliminated. The Remparts, who played their final game at the Colisee before moving into a new building next season, were outshot 44-23. Zach Fucale stayed in for all nine Kelowna goals.
"It's not easy but forget the score. Kelowna won and they're going to the final and that's all," said Fucale.
There was old-time hockey at the 66-year-old rink.
During the Rockets blitz in the second period, fans rained cups, souvenir sticks, cardboard signs and at least one nail onto the ice when an obvious hit from behind on Jerome Verrier by Bowey went uncalled, causing a five-minute delay.
"It's in the refs' hands and luckily he didn't (call a penalty) and I guess the fans didn't like it too much," said Bowey.
Despite warnings over the PA system, at 16:38 a bag of popcorn came over the glass when Kelowna's Dillon Dube was awarded a penalty shot after being tripped. Dube hit the post.
On a power play only 17 seconds into the middle period, Draisaitl burst down the left side and scored to make it 2-1 Kelowna. Then he fed Kirkland to deke the goalie for another with a man advantage at 3:23. Kirkland reached into a crowd and flipped a puck over Fucale's pad at 4:06.
Morrissey whipped one to the top corner at 16:46
Duclair was left open to deke Whistle at the side of the net 21 seconds into the third, but Chartier finished a 2 on 1 at 2:17 and Linaker came out from behind the net to score at 2:54. Timashov and Baillie then traded power-play goals.
"We came here on a mission and now we're one step closer to where we want to be," said Draisaitl.
Quebec's Yanick Turcotte was ejected for taking a second major after winning fights against Rodney Southam and Braid.