Rockhold: 'One stupid Conor McGregor comment' created disloyalty narrative
To those who felt Luke Rockhold was being disloyal to his AKA teammates, he puts the blame on a narrative created by Conor McGregor.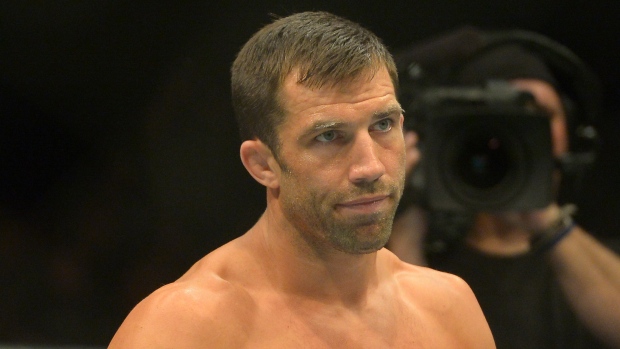 Much has been written about Luke Rockhold's decision to train with Hard Knocks 365 in Florida rather than at American Kickboxing Academy (AKA) in California where he has been based for most of his career.
The decision was scrutinized because Volkan Oezdemir, his AKA teammate light heavyweight and champion Daniel Cormier's opponent at UFC 220, also trained at Hard Knocks 365.
"I think that he's looking for something a little bit different right now and I think as his brothers, we have to really respect and applaud him for that," Cormier told the Sammy and the Punk show during an interview prior to UFC 220, indicating he was okay with Rockhold's decision.
To those who felt Rockhold was being disloyal to his AKA teammates, he puts the blame on a narrative created by Conor McGregor. During The Ultimate Fighter season 22, McGregor accused T.J. Dillashaw, a coach on Team Faber, of turning his back on his camp, Team Alpha Male.
"Back in the day, people were jumping and changing training camps and doing what they needed to do to build upon their repertoire and their game and now one stupid Conor McGregor comment has driven everybody into this disloyalty, 'snake in the grass' bull[expletive]," Rockhold told The TSN MMA Show. "It's just stupid. People need to wake up and learn."
For Rockhold's interim middleweight championship fight in Perth, Australia against Yoel Romero on Saturday night, he has fused the two camps and will be represented by coaches from both in his corner.
"My team, we all are working seamlessly together, everyone compliments nicely," said Rockhold. "Greg [Jones] is here with me now, along with Bob Cook, Javier Mendez and Henri Hooft is on the way."
Rockhold said he's glad to finally get another chance to capture middleweight gold against Romero. He told TSN he feels like he played his cards right by being somewhat inactive during the divisional logjam created by Georges St-Pierre returning to the UFC and fighting then-champion Michael Bisping, which was the only middleweight championship fight of 2017.
"Why would I waste my time fighting the best guys in the world while these guys are just tying up the [expletive] division? And holding that leverage, that gold, that gives you power," Rockhold said. "I'm not going to go fight the best guys in the world without getting championship fights or championship money, it makes no sense.
"Why should the best guys fight each other while two [expletive] chumps are fighting each other for middleweight gold? I waited for the right opportunities and now we are where we are. We've finally ironed things out and we're back on track."
Rockhold has voiced his displeasure over these "superfights" in the past and continues to be opposed to them, including the recently rumoured Nate Diaz versus Tyron Woodley fight.
"Nate's a legend, but he's not a champion," said Rockhold. "I think it's an entertainment approach. I think they are thinking singularly. They don't think about the repercussions of once you put these fights together and what's to happen. Things fall apart. You need to keep a recipe, so I think they're straying from the plan a little bit."
With championship gold in sight, Rockhold knows that he faces a tough test ahead of him in Romero, but is convinced that Romero has never faced an opponent of his calibre.
"I've got a lot of things on my mind with Yoel," said Rockhold. "Yoel's a crazy fighter. He's a wild fighter, he's a powerful guy. He relies on his athleticism. He hasn't fought people that are as fast as me, as athletic as me and have the technique to beat him to every spot. All these guys he's fought, they're limited in so many ways. So I plan on opening up."
The middleweight division remains stacked. Although fighters like Ronaldo "Jacare" Souza and Kelvin Gastelum feel that they should have been considered for Romero's spot, Rockhold feels that he, champion Robert Whittaker and Romero have separated themselves from the pack.
"What have they done lately? Jacare just lost to Whittaker pretty badly. It feels like he's slowing down, like he's getting a little stiff, a little older. Jacare is a gangster, he's been in the game for a long time," said Rockhold.
"A guy like Kelvin Gastelum, he's done nothing. When you beat these guys, it's about timing. He beat Bisping, Bisping dramatically aged in the last couple years and he came off a knockout two weeks before he fought Kelvin, so it's like you're fighting a guy at half mast, like fighting Vitor Belfort after the [expletive] steroid era and the downfall he's had. The guy's got no case, he's done nothing. If they want to prove it to themselves, they should fight each other."
While Whittaker recovers from his injury, he has been the rare champion to embrace an interim championship and this fight between Rockhold and Romero.
"Of course Robert Whittaker's looking forward to our fight – he's taking one of us out of the way. I think Robert is a true contender, a true champion and the guy, he's a true fighter and he wants to test his mettle just like the rest of us. So that's what it's all about, testing yourself about the best guys in the world," said Rockhold.
Luke Rockhold competes for the interim middleweight championship against Yoel Romero this Saturday night at UFC 221 in Perth, Australia and is available on pay-per-view. The preliminary card airs at 8 pm ET on TSN2.