Ronson hoping for short notice bout with Taleb in Ottawa
Jesse Ronson of London, Ont., is looking to return to the bright lights of the octagon after squandering an opportunity to do so last December, Aaron Bronsteter writes.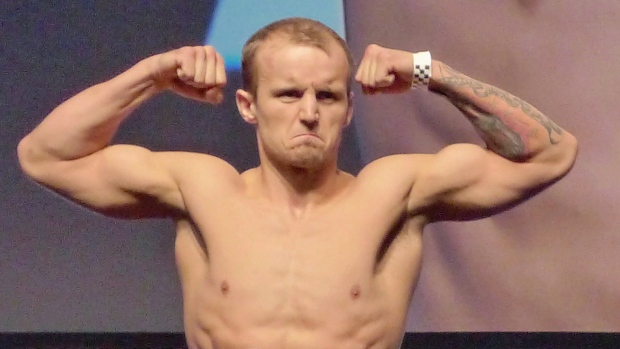 Jesse Ronson is no stranger to the octagon.
Ronson competed in three fights in under a year during his brief UFC tenure where he was on the wrong side of three split decisions.
Since then, the London, Ont., native has gone onto become the lightweight and welterweight champion in TKO, one of Canada's premiere mixed
martial arts promotions and now with Tristar Gym welterweight Nordine Taleb in need of a late notice adversary. Taleb's opponent Siyar Bahadurzada withdrew
from their May 4 matchup in Ottawa due to injury and Ronson is hoping to be the one to fill the vacancy.
However, it's not that simple, as Ronson hopes to regain the trust of UFC matchmakers after he squandered an opportunity to return to the UFC last December.
When the UFC needed a late notice replacement, Ronson got the call to face Carlos Diego Ferreira at UFC 231 in Toronto in the lightweight division. However, Ronson showed up during fight week at a weight that was deemed too dangerous for cutting down to the 156-pound lightweight cutoff.
"I messed up in Toronto," Ronson told TSN. "I embarrassed myself, but this is a weight class up and I'm the TKO welterweight champion, so it's not like I can't handle it."
Ronson currently weighs 172 pounds, just one pound over the welterweight cutoff, which would means that he could make weight for the division in mere minutes.
"I'm practically on weight now," said Ronson. "A week or more out and in the best shape of my life. It's up to (matchmaker Sean) Shelby. I hope that he does the right thing and gives me my shot – I won't let him or the UFC down this time."
Earlier this month, Ronson was scheduled to face featherweight champion Charles Jourdain, whose UFC signing was announced this week as he's scheduled to face lightweight Desmond Green at UFC Fight Night in Rochester on May 18. However, the matchup with Jourdain was scrapped mere hours before the fight after Quebec's athletic commission would not clear Ronson due to what they deemed to be a skin infection.
Ronson told TSN that all tests regarding the infection came back negative and that the commission made a knee jerk decision without proof.
Now having lost the ability to face Jourdain, who was signed by the UFC following an interim lightweight championship win over Damien Lapilus, Ronson is looking to return to the bright lights of the octagon after squandering an opportunity to do so last December.
It was just a few weeks ago that Ronson weighed in at 154 pounds for his title defence against Jourdain. He also had a fight camp under his belt and a licence to compete in Ontario. Ronson hopes that doing what he had to do will help tip the scale in his favour.
He also believes that his contract situation with TKO will not be a hurdle.
"(TKO President Stephane) Patry is always fair with me and it makes sense to let me out provided that I'm still actually under contract," said Ronson.
Ronson hopes that the situation at UFC 231 did not burn his bridges with the UFC.
He's counting on his manager, Daniel Rubenstein, who represents the likes of Sean O'Malley, Roxanne Modafferi and Petr Yan, to be able to score him a second chance at proving to UFC matchmakers that he is one of Canada's best mixed martial artists.