Russian wingers top TSN's ranking of NHL-affiliated prospects
Vitali Kravtsov of the Rangers edges fellow Russian right wing Grigori Denisenko of the Panthers in TSN Hockey's annual list of the Top 50 NHL-affiliated prospects, while the Habs and Canucks lead all Canadian teams in the ranking with three players each.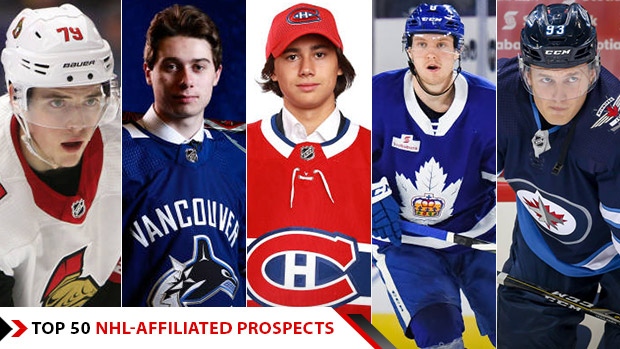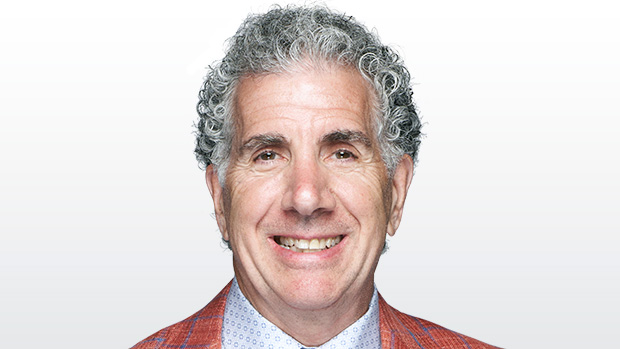 New York Rangers prospect Vitali Kravtsov barely edges out fellow Russian winger Grigori Denisenko of the Florida Panthers to lead the way in the 2019 edition of TSN Hockey's annual list of the Top 50 NHL-affiliated prospects.
Only players considered to have not achieved full-time NHL status are included in the rankings.
Kravtsov, 19, is a highly skilled winger who is an offensive threat with his combination of speed, power, shot and finish. He's expanding his game by playing centre this season. Kravtsov's skill set, along with this adaptability, allows him to impact the game in multiple ways. His style of play is similar to that of the recently retired Rick Nash.
Denisenko, 18, is a dynamic offensive player who has a tremendous level of confidence in his play. Skating for Lokomotiv Yaroslavl in the KHL this season, Denisenko can shoot as well as make a play and has qualities that are reminiscent of Tampa Bay Lightning star Nikita Kucherov.
Cale Makar, 20, (No. 3) of the Colorado Avalanche is the top defenceman on this year's list. Currently playing NCAA hockey for the University of Massachusetts–Amherst, the 20-year-old has the ability to control the game when he's on the ice. Dynamic with a flair for the spectacular, Makar will be a welcome addition to the Avalanche blueline.
Portland Winterhawks centre Cody Glass, 19, is at No. 4 for a second consecutive year. The first-ever draft pick of the Vegas Golden Knights looks every bit the number-one centre teams covet. He's more of a playmaker, but his ability to skate, attack and open up ice to create offensive opportunities allows him to be a consistent threat.
Our top five is rounded out by Anaheim Ducks property Troy Terry, 21, who is excelling in the American Hockey League this season with the San Diego Gulls (37 points in 32 games). The American right winger is a great skater who creates plays at a high pace to make life uncomfortable for opponents. It's difficult to understand why he hasn't been given a shot at the NHL level by a Ducks team screaming out for offence.
The rest of the top 10 features Martin Necas (No. 6), a Czech centre and Hurricanes prospect who has 26 points in 30 games for the AHL's Charlotte Checkers this season; Eeli Tolvanen (No. 7), a right winger and Nashville Predators prospect who has 12 points in 24 games for the AHL's Milwaukee Admirals this season; Canucks blueliner Quinn Hughes (No. 8), who is currently playing for the University of Michigan; and Russian goaltenders Ilya Sorokin (No. 9) of the Islanders and Igor Shesterkin (No. 10) of the Rangers, who are both having strong seasons in the KHL.
On the team side, the Florida Panthers and Los Angeles Kings are tied for the lead with four players each in the top 50.
Denisenko (No. 2) is joined by fellow Panther prospects centre Aleksi Heponiemi (No. 15), right wing Serron Noel (No. 20) and right wing Owen Tippett (No. 40). The Kings are represented by centre Rasmus Kupari (No. 30), centre Gabe Vilardi (No. 34), defenceman Mikey Anderson (No. 43) and winger Akil Thomas (No. 44).
The Montreal Canadiens and Vancouver Canucks lead the way for Canadian teams with three players each in our top 50.
The Habs have Russian defenceman Alexander Romanov (No. 19), American centre Ryan Poehling (No. 36) and Canadian winger Nick Suzuki (No. 39), while the Canucks have Hughes (No. 8), centre Adam Gaudette (No. 41) and goaltender Thatcher Demko (No. 46).
The Ottawa Senators are represented by two players – right wing Drake Batherson (No. 23) and left wing Alex Formenton (No. 25). The Maple Leafs (defenceman Rasmus Sandin at No. 26) and Jets (left wing Kristian Vesalainen at No. 22) have one player each in the rankings. The Oilers don't have any players in the top 50.
Note: The first column in the table below indicates the prospect's placement in our 2018 rankings:
Top 50 NHL-Affiliated Prospects
| 2018 | 2019 | Name | Age | NHL Team | 2018-19 Team | GP | G | P |
| --- | --- | --- | --- | --- | --- | --- | --- | --- |
| - | 1 | Vitali Kravtsov | 19 | NYR | Chelyabinsk (KHL) | 36 | 6 | 17 |
| - | 2 | Grigori Denisenko | 18 | Fla | Yaroslavl (KHL) | 17 | 3 | 3 |
| 11 | 3 | Cale Makar | 20 | Col | UMass/Amherst (NCAA) | 20 | 8 | 24 |
| 4 | 4 | Cody Glass | 19 | VGK | Portland (WHL) | 30 | 12 | 58 |
| - | 5 | Troy Terry | 21 | Ana | San Diego (AHL) | 32 | 16 | 37 |
| 3 | 6 | Martin Necas | 20 | Car | Charlotte (AHL) | 30 | 9 | 26 |
| 2 | 7 | Eeli Tolvanen | 19 | Nsh | Milwaukee (AHL) | 24 | 4 | 12 |
| - | 8 | Quinn Hughes | 19 | Van | Michigan (NCAA) | 19 | 3 | 22 |
| 7 | 9 | Ilya Sorokin | 23 | NYI | Moskva (KHL) | 31 | 1.20 | .940 |
| 9 | 10 | Igor Shesterkin | 23 | NYR | St. Petersburg (KHL) | 22 | 1.23 | .947 |
| 20 | 11 | Erik Brannstrom | 19 | VGK | Chicago (AHL) | 27 | 4 | 20 |
| 36 | 12 | Adam Fox | 20 | Car | Harvard (NCAA) | 15 | 7 | 23 |
| - | 13 | Ukka-Pekka Luukkonen | 19 | Buf | Sudbury (OHL) | 28 | 2.42 | .923 |
| 14 | 14 | Kirill Kaprizov | 21 | Min | Moskva (KHL) | 44 | 20 | 31 |
| 17 | 15 | Aleksi Heponiemi | 20 | Fla | Kärpät (SM Liiga) | 30 | 8 | 27 |
| 15 | 16 | Jordan Kyrou | 20 | StL | San Antonio (AHL) | 26 | 11 | 25 |
| - | 17 | Filip Zadina | 19 | Det | Grands Rapids (AHL) | 30 | 10 | 20 |
| - | 18 | Noah Dobson | 19 | NYI | Rouyn-Noranda (QMJHL) | 28 | 9 | 16 |
| - | 19 | Alexander Romanov | 19 | Mtl | Moskva (KHL) | 29 | 0 | 0 |
| - | 20 | Serron Noel | 18 | Fla | Oshawa (OHL) | 43 | 24 | 56 |
| - | 21 | Jason Robertson | 19 | Dal | Niagara (OHL) | 35 | 31 | 62 |
| - | 22 | Kristian Vesalainen | 19 | Wpg | Jokerit (KHL) | 17 | 5 | 12 |
| 29 | 23 | Drake Batherson | 20 | Ott | Belleville (AHL) | 26 | 8 | 25 |
| - | 24 | Janne Kuokkanen | 20 | Car | Charlotte (AHL) | 33 | 11 | 30 |
| - | 25 | Alex Formenton | 19 | Ott | London (OHL) | 13 | 7 | 16 |
| - | 26 | Rasmus Sandin | 18 | Tor | Toronto (AHL) | 18 | 5 | 10 |
| 10 | 27 | Ilya Samsonov | 21 | Wsh | Hershey (AHL) | 18 | 3.60 | .866 |
| 13 | 28 | Lias Andersson | 20 | NYR | Hartford (AHL) | 21 | 5 | 15 |
| - | 29 | Barrett Hayton | 18 | Ari | S.S. Marie (OHL) | 23 | 18 | 39 |
| - | 30 | Rasmus Kupari | 18 | Los | Kärpät (SM Liiga) | 29 | 8 | 23 |
| - | 31 | Urho Vaakanainen | 20 | Bos | Providence (AHL) | 9 | 0 | 5 |
| - | 32 | Joel Farabee | 18 | Phi | Boston U (NCAA) | 19 | 6 | 16 |
| - | 33 | Alexander Alexeyev | 19 | Wsh | Red Deer (WHL) | 33 | 7 | 35 |
| 22 | 34 | Gabe Vilardi | 19 | Los | Kingston (WHL) | | | |
| - | 35 | Ty Smith | 18 | NJ | Spokane (WHL) | 32 | 4 | 48 |
| - | 36 | Ryan Poehling | 20 | Mtl | St. Cloud St (NCAA) | 18 | 3 | 17 |
| 33 | 37 | Morgan Frost | 19 | Phi | S.S. Marie (OHL) | 35 | 23 | 65 |
| - | 38 | Denis Gurianov | 22 | Dal | Texas (AHL) | 28 | 11 | 31 |
| 23 | 39 | Nick Suzuki | 19 | Mtl | Guelph (OHL) | 33 | 23 | 53 |
| 41 | 40 | Owen Tippett | 19 | Fla | Saginaw (OHL) | 28 | 21 | 38 |
| 26 | 41 | Adam Gaudette | 22 | Van | Utica (AHL) | 7 | 4 | 7 |
| 37 | 42 | Dante Fabbro | 20 | Nsh | Boston U (NCAA) | 19 | 4 | 17 |
| - | 43 | Mikey Anderson | 19 | Los | Minn-Duluth (NCAA) | 18 | 3 | 8 |
| - | 44 | Akil Thomas | 19 | Los | Niagara (OHL) | 36 | 18 | 56 |
| 30 | 45 | Phillippe Myers | 21 | Phi | Lehigh Valley (AHL) | 38 | 7 | 24 |
| 42 | 46 | Thatcher Demko | 23 | Van | Vancouver (NHL) | | | |
| 35 | 47 | Pierre-Olivier Joseph | 19 | Ari | Drummondville (QMJHL) | 9 | 0 | 4 |
| 38 | 48 | Dillon Dube | 20 | Cgy | Stockton (AHL) | 11 | 2 | 11 |
| 25 | 49 | Alex Nylander | 20 | Buf | Rochester (AHL) | 35 | 9 | 24 |
| - | 50 | Max Jones | 20 | Ana | San Diego (AHL) | 32 | 12 | 24 |
Top 5 Prospects from each Canadian Team
| RK | Name | Age | NHL Team | 2018-19 Team | GP | G | P |
| --- | --- | --- | --- | --- | --- | --- | --- |
| 1 | Dillon Dube | 20 | Cgy | Stockton (AHL) | 11 | 2 | 11 |
| 2 | Oliver Kylington | 21 | Cgy | Stockton (AHL) | 18 | 7 | 14 |
| 3 | Andrew Mangiapane | 19 | Cgy | Stockton (AHL) | 13 | 7 | 14 |
| 4 | Matthew Phillips | 19 | Cgy | Stockton (AHL) | 34 | 10 | 23 |
| 5 | Tyler Parsons | 20 | Cgy | Stockton (AHL) | 9 | 4.70 | .870 |
| | | | | | | | |
| 1 | Kailer Yamamoto | 20 | Edm | Edmonton (NHL) | 13 | 1 | 2 |
| 2 | Evan Bouchard | 19 | Edm | London (OHL) | 17 | 5 | 22 |
| 3 | Dmitri Samorukov | 19 | Edm | Guelph (OHL) | 34 | 3 | 20 |
| 4 | Olivier Rodrigue | 18 | Edm | Drummondville (QMJHL) | 33 | 2.53 | .898 |
| 5 | Kirill Maksimov | 19 | Edm | Niagara (OHL) | 38 | 28 | 57 |
| | | | | | | | |
| 1 | Alexander Romanov | 19 | Mtl | Moskva (KHL) | 29 | 0 | 0 |
| 2 | Ryan Poehling | 20 | Mtl | St. Cloud St (NCAA) | 18 | 3 | 17 |
| 3 | Nick Suzuki | 19 | Mtl | Guelph (OHL) | 33 | 23 | 53 |
| 4 | Jacob Olofsson | 19 | Mtl | Timra (SHL) | 23 | 2 | 6 |
| 5 | Cayden Primeau | 19 | Mtl | Northeastern (NCAA) | 16 | 2.22 | .923 |
| | | | | | | | |
| 1 | Drake Batherson | 20 | Ott | Belleville (AHL) | 26 | 8 | 25 |
| 2 | Alex Formenton | 19 | Ott | London (OHL) | 13 | 7 | 16 |
| 3 | Josh Norris | 19 | Ott | Michigan (NCAA) | 17 | 10 | 19 |
| 4 | Jacob Bernard-Docker | 18 | Ott | North Dakota (NCAA) | 21 | 4 | 13 |
| 5 | Filip Gustavsson | 21 | Ott | Belleville (AHL) | 27 | 3.48 | .886 |
| | | | | | | | |
| 1 | Rasmus Sandin | 18 | Tor | Toronto (AHL) | 18 | 5 | 10 |
| 2 | Timothy Liljegren | 19 | Tor | Toronto (AHL) | 19 | 2 | 8 |
| 3 | Trevor Moore | 23 | Tor | Toronto (AHL) | 30 | 19 | 26 |
| 4 | Ian Scott | 20 | Tor | Prince Albert (WHL) | 31 | 1.78 | .937 |
| 5 | Carl Grundstrom | 21 | Tor | Frolunda (SHL) | 37 | 11 | 26 |
| | | | | | | | |
| 1 | Quinn Hughes | 19 | Van | Michigan (NCAA) | 19 | 3 | 22 |
| 2 | Adam Gaudette | 22 | Van | Utica (AHL) | 7 | 4 | 7 |
| 3 | Thatcher Demko | 23 | Van | Vancouver (NHL) | | | |
| 4 | Jonathan Dahlen | 21 | Van | Utica (AHL) | 38 | 9 | 20 |
| 5 | Tyler Madden | 19 | Van | Northeastern (NCAA) | 16 | 6 | 18 |
| | | | | | | | |
| 1 | Kristian Vesalainen | 19 | Wpg | Jokerit (KHL) | 17 | 5 | 12 |
| 2 | Dylan Samberg | 19 | Wpg | Minn-Duluth (NCAA) | 17 | 2 | 5 |
| 3 | Sami Niku | 22 | Wpg | Winnipeg (NHL) | 7 | 0 | 0 |
| 4 | Declan Chisholm | 20 | Wpg | Peterborough (OHL) | 41 | 3 | 32 |
| 5 | David Gustavsson | 19 | Wpg | HV 71 (SHL) | 16 | 0 | 4 |