Ryan: Karlsson and I 'thought we were gone'
Bobby Ryan admitted Monday both he and Ottawa Senators captain Erik Karlsson believed they had been dealt to a Western Conference team the day before the Feb. 26 deadline.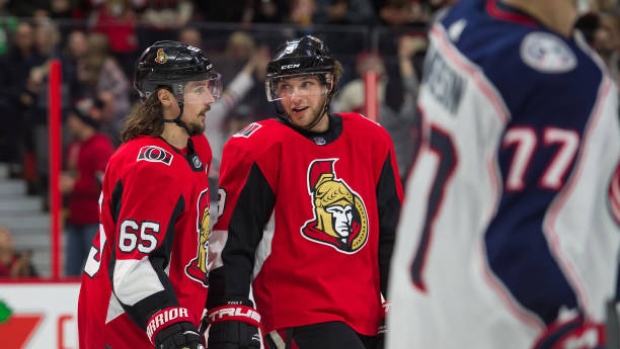 Ottawa Senators general manager Pierre Dorion said after the trade deadline last month that he didn't shop defenceman Erik Karlsson, he simply listened.
As Karlsson entered the rumour mill, reports surfaced the Senators were looking to move winger Bobby Ryan's massive contract out with their star defenceman. The trade deadline came and went with both players remaining in Ottawa.
However, Ryan admitted Monday both he and Karlsson believed they had been dealt to a Western Conference team the day before the Feb. 26 deadline.
"I heard on Sunday it was done and somebody backed out at the last second," Ryan told the Ottawa Sun. "Karl and I were like, 'pack it up.' We thought we were gone. That's just the way it goes. Then you're like, I've got to move again?
"I guess I'll just wait and see how it goes in the summer. That's all you can do."
Karlsson's future in Ottawa remains in doubt as he heads into the final season of his current contract. The same goes for Ryan, though he's under contract through 2021-22 at a $7.25 million cap hit.
Don Brennan of the Ottawa Sun writes Ryan could be bought out by the Senators if he's not traded over the summer.
"I understand with my contract and the obligations that I haven't performed up to a $7-million player," he said. "But that's something that happens. That's the business side of things. I try to separate it when I get to the rink. I don't worry about what's going on over there, in the other hallway. I just worry about what's in front of me. That's all you can do."
Ryan has eight goals and 27 points in 48 games this season. He's now two years removed from last topping 20 goals with the Senators and hasn't hit the 30-goal mark since he was with the Anaheim Ducks in 2012.
Despite the uncertainty of his future, the 30-year-old said he's simply letting the process play out.
"Generally you don't talk to anybody within the organization about it, because… I don't want to say you're crossing the line by asking, but you know it's out of your hands," Ryan said. "Other than you going in and solidifying yourself with them by saying 'I don't want to be here' it's not going to do anybody any good. The GM has that right to listen to every team and every option available. So I think in the room guys generally understand that, and they don't take it personally, as you get older.
"Me, in particular, I reached out to my agent and said hey listen, I'm sure you're aware of what's going on here, and I'm hearing it, and if I'm hearing it, you are. So he told me on Friday (before the deadline) that (being traded) was a very real possibility. And that was the most communication I had. Then it was just kind of sitting. I caught myself looking at stuff online, things like that, Twitter and whatnot, trying to figure out if anybody knew anything. Most of the time it's just guys speculating. So I tried not to get wrapped up in it."
Ryan is on pace for just 10 goals this season, his lowest mark since becoming a full-time NHL player in 2008.