Dorion fielded calls, 'didn't shop' Karlsson
Erik Karlsson remains an Ottawa Senator, at least for now. Surprisingly, general manager Pierre Dorion said the Senators "did not actively shop Erik Karlsson," but would've been remiss had they not listened to offers.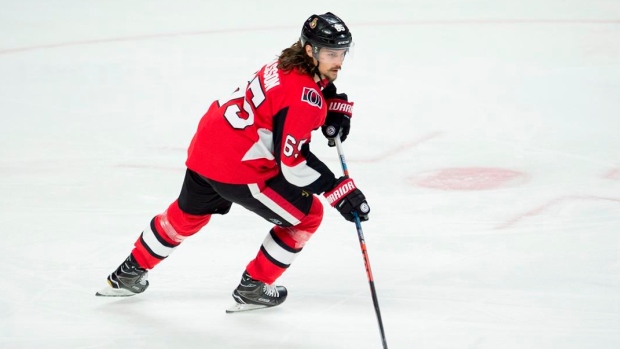 OTTAWA — Erik Karlsson remains an Ottawa Senator, at least for now.
Speculation swirled Monday that the Senators would deal their captain and best player. But when the NHL's 3 p.m. trade deadline passed, Ottawa opted to hang on to the two-time Norris Trophy winner.
"Multiple teams phoned but Erik's a franchise player and we felt there was no franchise deal out there that could satisfy to make the best hockey deal," said Ottawa GM Pierre Dorion.
Surprisingly, Dorion said the Senators "did not actively shop Erik Karlsson," but would've been remiss had they not listened to offers.
"Obviously this year we thought we'd be a playoff team," Dorion said. "We thought we'd be a team that could make noise in the playoffs and now we're in 29th place and when that comes there are tough decisions that have to be made.
"I think everything has to be reviewed. I think I fielded calls on every single player on our roster over the last few months or so and I think we have to do it as an organization to listen to every offer on every player."
Karlsson has one more year remaining on his contract before becoming a restricted free agent July 1, 2019. The slick defence is expected to garner plenty of interest in June at the NHL draft with Dorion saying changes are still to come.
"I think there still could be changes from now to September," Dorion said. "We have to remould the roster.
"Our goal here is to have a team like we had earlier in this franchise, where we knew every year when the puck dropped the first game of the year that we were going to be a perennial playoff team."
Dorion said the current Senators squad will differ from the one that starts the 2018-19 season and the organization faces many difficult decisions. But Dorion added Ottawa will attempt to re-sign its captain.
"I think Erik wants to be a Senator for life," Dorion said. "We'll see what the next few months bring but if Erik Karlsson is here July 1, we will be making him a contract offer."
Dorion looked displeased when asked if there could be any ramifications from the trade talk. Dorion said he and Karlsson have a great relationship and no division has taken place.
"I'm told about a lot of stuff that is pure, total nonsense," he said. "It's almost to the point of stupidity and I shouldn't even comment on it.
"Erik and I have a great relationship."
But many players were more than surprised to hear someone of Karlsson's calibre was mentioned in trade talk.
"I hope they got the message," said Dorion. "If we're willing to trade a generational player that means we're not very happy about a lot of their performances this year."
Surprisingly, Ottawa didn't deal a player of significance Monday. Leading up to the deadline forwards Zack Smith, Mike Hoffman and Jean-Gabriel Pageau had all been mentioned as potentially moving on.
"The only direction I got from my boss (owner Eugene Melnyk) is make the best hockey deals for the Ottawa Senators," said Dorion. "Today I didn't feel there was good enough hockey deals for this organization."
Earlier this month, Ottawa did send veteran defenceman Dion Phaneuf and forward Nate Thompson to the Los Angeles Kings for forwards Marian Gaborik and Nick Shore. On Monday, the Senators sent Shore to Calgary for a 2019 seventh-round pick.
On Friday, Dorion sent centre Derick Brassard to the Pittsburgh Penguins in a three-team deal that also involved Vegas Golden Knights. Part of the return for Ottawa was defenceman Ian Cole, who never played for the Senators and was traded to Columbus on Monday for forward Nick Moutrey and a third-round pick.
Forward Alex Burrows cleared waivers and will complete his 10-game suspension Tuesday night against Washington. But defenceman Johnny Oduya was claimed by the Philadelphia Flyers.