Sabres' Kane out 4-to-6 weeks
Buffalo Sabres forward Evander Kane will be out approximately four to six weeks because of an injury to his left knee. Coach Dan Bylsma provided the update after practice on Monday.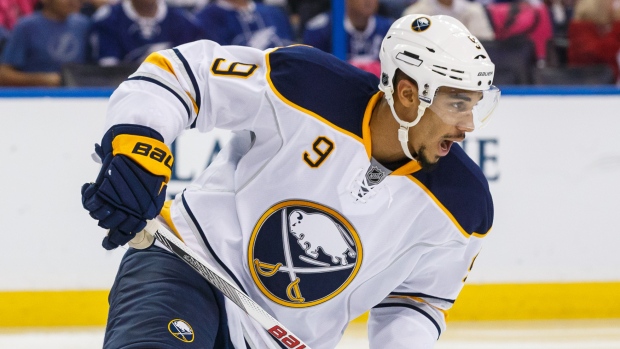 BUFFALO, N.Y. - Evander Kane's fresh start with the Buffalo Sabres has been sidetracked by an injury to his left knee.
The hard-hitting, top-line forward will miss approximately four to six weeks, coach Dan Bylsma announced after practice on Monday.
Without revealing the exact nature of the injury, Bylsma said Kane won't require surgery after hurting his medial collateral ligament.
Kane was hurt in the third period of a 4-3 loss to New Jersey on Saturday. He was chasing down a puck in the right corner, when he was checked by defenceman David Schlemko. Kane's left knee was exposed and pinned to the boards by the knee-on-knee collision.
Kane had difficulty applying any weight on his left leg as he was helped off the ice after being treated by trainers.
"Yeah, it could've been a lot worse," Bylsma said. "But I don't know if I sighed in relief when told it was four to six weeks."
It's the latest setback for Kane. The No. 4 pick in the 2009 draft was sidelined by a season-ending shoulder injury when Buffalo acquired him in a trade with Winnipeg in February.
Kane has a goal and two assists in eight games, and ranks second on the team with 28 shots on goal.
The Sabres (2-6) are already struggling on offence. They have scored just 15 goals — a 1.9 goals-per-game pace that ranks 27th in the NHL.
The Sabres are already down defenceman Zach Bogosian (lower body injury) and starting goalie Robin Lehner, who hurt his right ankle in a season-opening 3-1 loss to Ottawa.
Buffalo opens a two-game road trip that begins at Philadelphia on Tuesday night.
Forward Marcus Foligno is set to return after missing one game with a lower body injury.
Buffalo recalled forward Tim Schaller from its American Hockey League affiliate in Rochester. He had a goal and assist in 18 games with the Sabres last season.