Sabres rally from three-goal deficit to beat Blue Jackets
Evander Kane scored a power-play goal with 2:29 remaining and the Buffalo Sabres rallied from a three-goal deficit to beat the Columbus Blue Jackets 5-3 on Saturday night.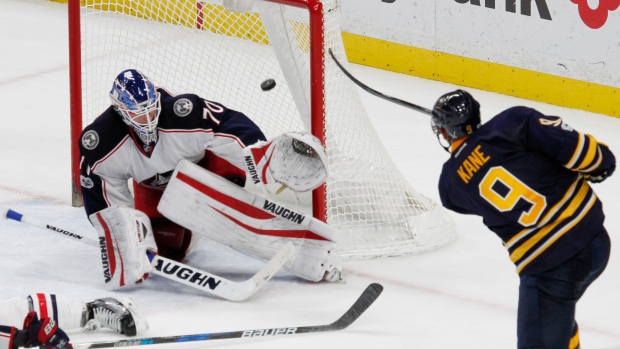 BUFFALO, N.Y. — Evander Kane and the Buffalo Sabres ended a three-week tailspin by rallying from a three-goal deficit to beat the Columbus Blue Jackets 5-3 on Saturday night.
"We played like we had nothing to lose, and maybe we should start doing that more often," said Kane, who scored the go-ahead goal on a power play with 2:29 remaining.
Sam Reinhart, Matt Moulson and Jake McCabe scored to tie it and Jack Eichel added an empty-netter for Buffalo. The Sabres snapped an 0-3-1 skid and improved to 2-6-2 in their last 10. Robin Lehner stopped all 24 shots he faced after taking over for Anders Nilsson to start the second period. Nilsson was yanked after giving up three goals on 12 shots.
The Blue Jackets collapsed but at least evaded longterm trouble when Cam Atkinson returned to the game following a scary moment in the second period. Atkinson was stepped on by Buffalo's Marcus Foligno, and his skate blade sliced open the back of Atkinson's left shoulder, requiring 17 stitches. Foligno's skate was within inches of Atkinson's neck.
"Yeah, I definitely have a couple of guardian angels looking over me," said Atkinson, who returned for the third period. "It could've been my neck. It could have been other damage, nerve damage. So I've gotta count my lucky stars and hopefully they keep looking out for me."
The game turned chippy after that, with Columbus forward Scott Hartnell taking exception to what Foligno did. In attempting to go after Foligno at the end of the second period, Hartnell instead squared off with Zach Bogosian.
Foligno was charging into the corner to check Brandon Dubinsky but lost his balance before stepping on Atkinson.
"I know Marcus isn't a dirty player, but I think maybe he didn't think at that moment in time," Hartnell said. "(Atkinson) is on his knees. His head hits the dasher, and (Foligno) comes in and tries to finish a hit. Just a dumb play."
Nick Foligno, Oliver Bjorkstrand and David Savard scored for Columbus. Joonas Korpisalo stopped 26 shots.
The Blue Jackets (43-17-6) had a three-game winning streak snapped. They are one win shy of setting a franchise record for wins in a season.
The Blue Jackets built a 3-0 lead on Bjorkstrand's goal with 2:04 left in the first period.
The Sabres responded to score three times in the second period. Jake McCabe started the surge by scoring 18 seconds in, and Sam Reinhart tied it with three seconds remaining.
Kane then sealed it while Boone Jenner was serving a penalty for hooking Ryan O'Reilly.
Eichel set up the goal by circling the puck along the left boards in the Blue Jackets zone. He threaded a pass through the crease to Kane, who snapped a shot inside the right post before Korpisalo could get across.
Lehner's best save came with 34 seconds remaining during a scramble in front. The puck bounced through the crease to Atkinson, who snapped it at the net only to be stopped by Lehner, who kicked out his right pad just in time.
The Sabres rallied a day after losing 4-3 at Columbus, and they ended a tough three-week stretch during which they lost three times when holding a lead in the third period. That included a 4-3 loss at Pittsburgh last weekend in a game Buffalo led 3-0.
"There's been a couple here in the end that got away a little bit," Lehner said. "I think it's the personal mistakes and not being a mature consistent team yet. But as we did today, we didn't give up and we're not giving up on the season either."
NOTES: Blue Jackets coach John Tortorella had no update on the status of D Ryan Murray, who did not return after hurting his right hand in the opening minutes of the game. ... Newly acquired Blue Jackets D Kyle Quincey was scratched for the first time in six games since being acquired in a trade with New Jersey on March 1. ... Sabres D Cody Franson did not return for the final 5:39 and required stitches after he was struck in the face by Savard's shot from the right point.
UP NEXT
Columbus: At Philadelphia on Monday.
Buffalo: Open three-game California swing at San Jose on Tuesday.