Senators look to maintain focus amid trade speculation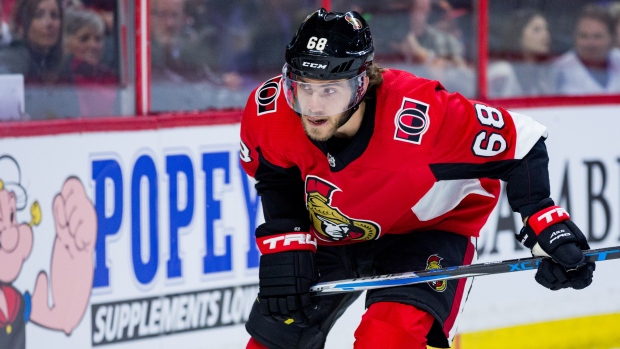 OTTAWA — The NHL trade deadline is still two weeks away but the Ottawa Senators know changes are imminent.
For many players, it's a time to find ways to avoid the distraction of rumours and speculation and instead focus on the club's upcoming games.
Sitting 29th overall in the standings, the Senators (19-26-9) have no choice but to take a hard look at the lineup and make some changes as they hope to return to playoff contention as soon as possible — owner Eugene Melnyk said as much when general manager Pierre Dorion was given a three-year contract extension on Friday.
The comments ramped up trade speculation, which players said can be hard to ignore.
"It's always a distraction for every team in the league and every player," said Derick Brassard, whose name has been mentioned among those who could be moved. "It's the business part of it and we're on the wrong side of the line right now so obviously our GM has the right to make some changes or build the team he wants. There's a lot of guys who are up in the next couple of years so we'll see what happens."
And as the Feb. 27 deadline looms, waiting is the hardest part.
"It's that kind of being stuck in limbo that makes it even harder," Mark Borowiecki said. "It's that anticipation and that little bit of anxiety leading up to it that can really magnify the situation. I think it's important when you're at the rink that you're kind of doing your best to just focus on your job here and the task at hand. It's cheesy but you can only control what you can control.
"It's when you're at home or in the back at the dry stall and on your on your phone you're a little more tense and walking on eggshells, but when you're at the rink you kind of doing your best to just focus on your job here and the task at hand."
But he noted that following a season like this one, trades don't come as a surprise.
Last season the Senators fell one goal shy of advancing to the Stanley Cup Final. But this year, they're among the basement dwellers.
"We've brought this on ourselves, this wasn't a stroke of bad luck that made this happen," Borowiecki said. "The onus is on us here so there's going to be consequences and unfortunately you're going to lose friends and teammates, but it's the nature of the business."
The Senators return to Pittsburgh Tuesday for the first time since losing Game 7 of the Eastern Conference Final in double overtime, so Guy Boucher did his best at Monday's practice to remind players of the kind of effort it will take to beat the defending Stanley Cup champions.
The practice was a modern-day version of a bag skate with numerous one-on-one drills to emphasize the areas that Boucher felt were lacking in the team's 6-3 loss to Toronto on Saturday, when their first period was dismal.
"I really didn't like the way we came out in Toronto," he said. "It hasn't been a habit in the first period, but we're looking at having guys come out hard. It's going to be a very difficult game (Tuesday)."
Nate Thompson was hopeful to return for Tuesday's game following a lower-body injury, but isn't ready, so the Senators will recall a player from AHL Belleville. Gabriel Dumont (lower body) was back on the ice for practice and could be ready to return for Thursday's game.
Mike Condon is expected to get the start.