Sens' Borowiecki out, Burrows a GTD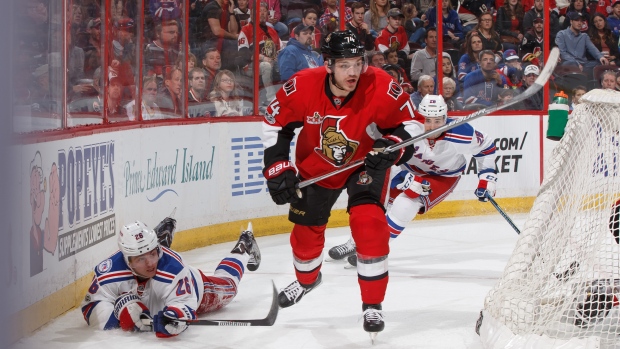 Ottawa Senators defenceman Mark Borowiecki was on the ice for Friday's optional skate, but his return will not come in Game 4
Borowiecki said there's "still a little bit to go" in his recovery before he can play and admitted he suffered a setback since the first round injury.
Borowiecki has been out since Game 2 of the Senators' first round series against the Boston Bruins due to a lower-body injury. He left that game in the first period when sliding into the boards feet-first at full-speed after a brief battle with Boston's Riley Nash.
The 27-year-old collected three points in 70 regular season games with the Senators this season, while amassing a career-high 154 penalty minutes. He averaged 14:01 of time on ice during the regular season.
The Ottawa native was drafted in the fifth round in the 2008 NHL Entry Draft.
Burrows a GTD
Alex Burrows was not in attendance for the Senators' optional skate on Friday morning. Senators head coach Guy Boucher declared the forward a game-time decision.
Boucher said Burrows' injury is "not as bad as we thought."
His injury occurred halfway through the game when Burrows and Penguins defenceman Ian Cole got tangled up in front of the net causing Burrows to fall down hard. The 36-year-old appeared to hurt his left knee on the play and struggled to leave the ice under his own power. Burrows did not return to action.
Burrows picked up one assist before his was forced to leave and had six goals with five assists over 20 games with the Sens during the regular season.
Ottawa acquired Burrows a day before the Trade Deadline from the Vancouver Canucks for Jonathan Dahlen.
Ottawa is two wins away from advancing to the Stanley Cup Final for the first time since 2007. Game 3 will take place Wednesday night in Ottawa.