Senators trade Phaneuf, Thompson to Kings for Gaborik, Shore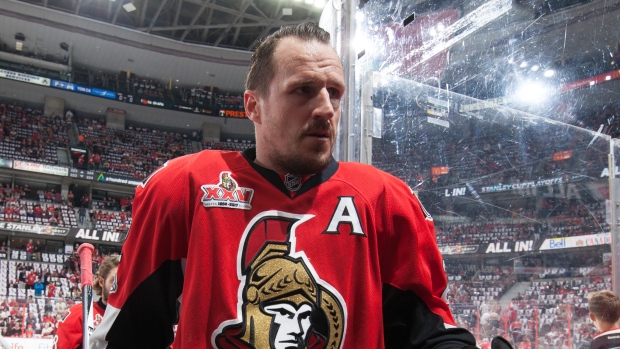 The Ottawa Senators have traded defenceman Dion Phaneuf and forward Nate Thompson to the Los Angeles Kings in exchange for forwards Marian Gaborik and Nick Shore according to TSN Hockey Insider Darren Dreger.
Dreger reports that the Senators will retain 25 per cent of his salary. According to TSN Senior Hockey Writer Frank Seravalli, the Senators will save almost $5.5 million in real cash with the deal.
According to TSN Hockey Insider Pierre LeBrun, the Kings and Senators have been talking on and off for a bit on a Phaneuf deal but a source says Ottawa agreeing to take Gaborik in the deal was "huge" and that the deal otherwise would not have happened.
"It's disappointing when you do get moved but with saying that I'm very excited about where I'm going and to be a LA King," Phaneuf said.
Phaneuf played four shifts in the second period during their game against the Pittsburgh Penguins Tuesday night, but was not on the Senators' bench to start the third. He has a $7 million cap hit each year through the 2020-21 season.
Coming into play Tuesday, Phaneuf had three goals and 13 assists to go along with 34 penalty minutes in 52 games. Over 13 NHL seasons, Phaneuf has 133 goals and 345 assists.
Over the course of his career, Phaneuf has also played for the Calgary Flames and Toronto Maple Leafs, coming to Ottawa in a mid-season trade with the Leafs in February of 2016.
Meanwhile, Gaborik, 36, has seven goals and seven assists in 29 games this season for the Kings.
The Senators will be back in action Thursday when they host the Buffalo Sabres.