Slumping Habs shuffle lines, place Galchenyuk with call-ups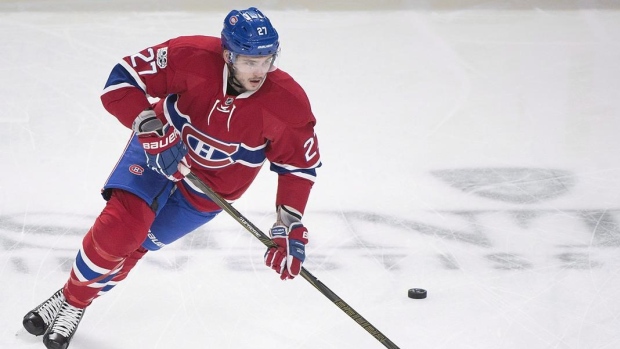 Alex Galchenyuk has moved up and down the Montreal Canadiens lineup this season and skated on the team's top line against the Anaheim Ducks on Friday night.
On Monday, however, Galchenyuk was placed once again on the team's fourth line, skating with Michael McCarron and Nikita Scherbak - both of whom were called up from the AHL on Sunday.
Claude Julien's decision gave the Canadiens with a line of each of their three first-round picks from 2012-14 as he looks to spark the team's offence which has generated an NHL-low 13 goals this season.
McCarron, the team's 2013 first-round pick, owns two goals and four points in six games with the Rocket this season. Scherbak, taken 26th overall in 2014, has one goal and eight assists in six games with the Rocket.
Only the second line of Max Pacioretty, Phillip Danault and Andrew Shaw remained together in practice on Monday from Friday's 6-2 loss to the Ducks.
Paul Byron and Artturi Lehkonen moved up to the team's top line with Alex Jonathan Drouin at centre, while Charles Hudon (rotating with Jacob De La Rose) and Brendan Gallagher moved up to the third line with Thomas Plekanec at centre. Torrey Mitchell was the team's extra skater.
On defence, Karl Alzner and Jeff Petry were separated for the first time since training camp opened in September. Jordie Benn skated with Alzner as the team's second pairing, while Brandon Davidson paired with Petry. Joe Morrow, who skated with Davidson against the Ducks as Benn was scratched, was the extra who skated on defence Monday.
The Canadiens have lost seven straight games since winning their opener against the Buffalo Sabres. Montreal hosts the Florida Panthers (3-4) on Tuesday night.