Spain vs. Portugal highlights 2018 FIFA World Cup™ Day 2 on TSN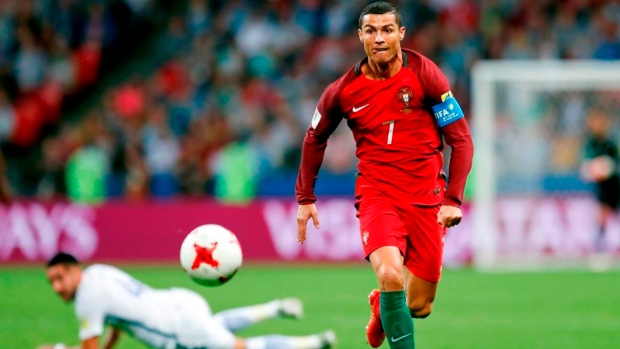 Russia's win on home soil over Saudi Arabia Thursday kicked off the 2018 FIFA World Cup™ in style but things really get into full swing Friday with three matches across the TSN Platform.
Coverage begins at 7am et with Egypt taking on Uruguay in Group A action from Central Stadium in Yekaterinburg. Star forward Mohamed Salah is expected to suit up for Egypt as they play their first World Cup game in 28 years. Catch all the action LIVE on TSN1, TSN4, TSN5, TSN.ca, TSN Direct and on TSN Radio as each team looks to start things off on the right foot.
Second on Friday's schedule is Morocco and Iran LIVE from Zenit Arena in St. Petersburg with coverage beginning at 10:30 am et. Iran was the first team to qualify for this year's tournament and will look to improve on a record that has seen them win just one of their 12 World Cup matches. Catch all the action on TSN1, TSN4, TSN5, TSN.ca, TSN Direct and on TSN Radio.
The most anticipated matchup of the day comes at 2pm et when Spain takes on Portugal in a showdown of Group B powerhouses. Spain fired head coach Julen Lopetegui just two days before the start of the tournament but won't have much time to find their new footing under new coach Fernando Hierro as Cristiano Ronaldo and the rest of the Portuguese side looks to come out aggressive. Whomever loses – if someone does for that matter – becomes vulnerable to an upset at the hands of Morocco later on according to TSN's Kristian Jack.
"That's why I think it will be very cagey and very tight. I think Portugal will be the instigators of that more than Spain. They'll try and be solid obviously and hope they get an opportunity to Ronaldo. It's an interesting matchup [between Real Madrid teammates Sergio] Ramos and Ronaldo, they know everything about each other's game. Let's see if Ramos is as physical on his teammate as he was with Salah a few weeks ago," said TSN's Steven Caldwell.
Spain were World Cup champions in 2010, while Portugal is looking for its first ever title with their seventh appearance set to get underway Friday afternoon. Pre-game coverage begins LIVE at 1:30 pm et on TSN1, TSN4, TSN5, TSN.ca, TSN Direct and on TSN Radio.
Here is TSN's and CTV's full broadcast schedule for the 2018 FIFA World Cup™.