Speedy Kapanen savouring time on Matthews' wing
Maple Leafs winger is turning heads with his explosive speed and increased confidence while flanking Auston Matthews and Patrick Marleau, Kristen Shilton writes.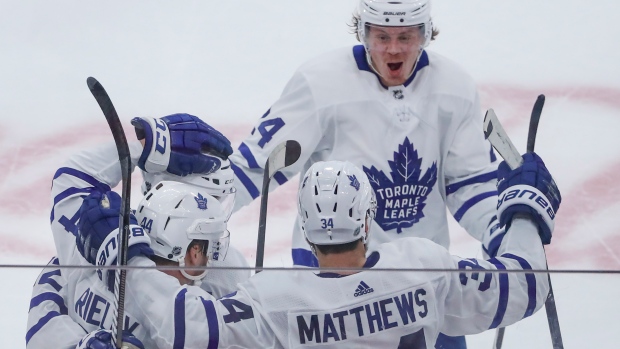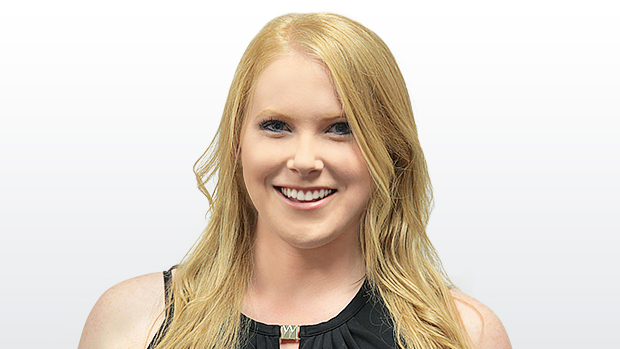 TORONTO – In the aftermath of Kasperi Kapanen's fourth multi-point game of the season in the Maple Leafs' win Monday night, goaltender Garret Sparks was asked how his teammate of four years has impressed the most.
"The obvious thing is he's the fastest person on Earth," Sparks deadpanned.
It was an observation only Sparks would so candidly make, but it also raised the question of where the Finnish winger's speed really does rank amongst other NHLers.
"There are a lot of fast players in the league, it's hard to say [where I fit]," Kapanen said in response to Sparks' claim. "But obviously one day hopefully people can call me [the fastest person]. But I still have a ways to go. And I do feel like I've been playing pretty well now."
In the most recent NHL Players' Association poll released in March, 81 per cent of respondents identified Oilers star Connor McDavid as the league's fastest skater, with Michael Grabner (3.6 per cent), Nick Leddy (2.4 per cent), Dylan Larkin (2.2 per cent) and Chris Kreider (1.6 per cent) also garnering votes.
Kapanen wasn't a full-time NHL player for the first half of last season and thus wouldn't have factored into the poll. On Tuesday, defenceman Jake Gardiner said Kapanen's speed is top 10 in the NHL, while other teammates argued he's not that far removed from McDavid.
"Honestly, I wouldn't say he's far behind, if he is even behind," said defenceman Travis Dermott, who was teammates with McDavid for two seasons with the Ontario Hockey League's Erie Otters.
"I think McDavid has some real good elusiveness at top speed, which Kappy is getting better at. But top speed in general? I wouldn't say McDavid has many steps on him, if any."
Connor Brown, another one of McDavid's former Erie teammates, would also place Kapanen near the top of the list and can appreciate how much work goes into his skating.
"His straightaway speed is right there with anyone in the league," Brown said. "A lot of it is fast-twitch [muscles] and you have to be naturally fast to start with. I think he's got that. His stride is really, really efficient too – that's the other half of it."
Exuding what coach Mike Babcock calls the "swagger and confidence" Kapanen is currently playing with all starts in the winger's legs. The Kuopio, Finland native has put together a rigorous off-season training program with his father, former NHLer Sami Kapanen, to hone and refine his speed.
Kapanen won't divulge all the details of their workouts – "I'm not going to start telling you guys [specifics] because then everyone's going to start doing it," – but variation and creativity are keys to the program.
"If there's a guy to trust with your skating and getting faster it's for sure [Sami], and so far, so good," Kapanen said. "You have to be in the weight room and then on the track to do some sprints, a lot of jumps and get that explosiveness in you. You're never really at a full stop during the game, and you've got to be able to get going from 40 to 100 really quickly, so that's a main focus for us."
The 22-year-old arrived in Toronto as the primary return in Toronto's trade of Phil Kessel to Pittsburgh in 2015. It took three seasons for Kapanen to grind his way off the American Hockey League's Toronto Marlies roster and into an opening-night spot with the Leafs earlier this month.
Originally, Kapanen was meant to play on the fourth line, but with William Nylander still absent due to a contract holdout, Kapanen has jumped into Nylander's spot flanking Auston Matthews and Patrick Marleau. In the five games since being promoted, Kapanen has produced eight points.
Matthews, for one, is glad to be reaping the benefits of Kapanen's play. The Leafs have been on a five-game win streak since Kapanen joined Matthews' line last Sunday, with the centre posting 12 points in that stretch.
"He just drives the D back with his speed," Matthews said. "…A guy who can skate like him, he opens up space for myself and Patty [Marleau] and even himself because guys have to respect his speed."
How long the rest of the NHL will have to face Kapanen and Matthews together is anyone's guess. Babcock evaded a question about whether Nylander will immediately retake his old spot next to Matthews upon signing, and Kapanen isn't any more informed on the subject. But he's more than willing to try to keep the success going as long as possible.
"I think I've fit pretty well with those two guys," Kapanen said. "You never know what the future holds, but I'm just enjoying the ride right now."