Stampeders, Tiger-Cats ready to battle for 102nd Grey Cup
All that's left now is to play the game. The Calgary Stampeders and Hamilton Tiger-Cats have finished all their preparations leading up to today's game and are now ready to meet for the Grey Cup. Stay with TSN all day for Grey Cup coverage. Pre-game starts at 1pm et/10am pt on TSN1, TSN3, TSN4, and TSN5. Kickoff is at 6:30pm et/3:30pm pt. You can also listen to the game on all TSN Radio stations.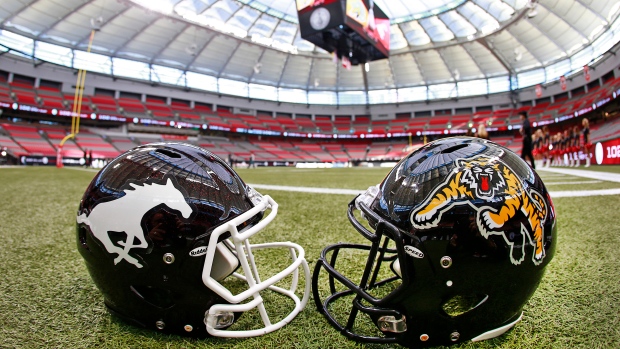 All that's left now is to play the game. The Calgary Stampeders and Hamilton Tiger-Cats have finished all their preparations leading up to Sunday's game and are now ready to face off for the Grey Cup.
Stay with TSN all day for Grey Cup coverage. Pregame starts Sunday at 1pm et/10am pt on TSN1, TSN3, TSN4, and TSN5. Kickoff is at 6:30pm et/3:30pm pt. You can also listen to the game across at TSN Radio stations.
---
VANCOUVER - Demonte Bolden was reduced to tears Saturday.
The Calgary Stampeders' towering six-foot-five, 285-pound defensive tackle admits he broke down a little bit after being told he'll start Sunday in the Grey Cup game against the Hamilton Tiger-Cats at B.C. Place Stadium. The 29-year-old hasn't played since suffering a broken leg in a 40-33 home win over Toronto on Sept. 13, a span of eight games.
It's been a long road back for Bolden, who auditioned this week with Frank Beltre, Freddie Bishop and Brandon Jordan for starting spots created by injuries to Charleston Hughes and DeQuin Evans. Bishop drew the starting defensive end position.
"It really sunk in this morning when I was told," Bolden said following Calgary's final walkthrough at B.C. Place. "I was literally in tears because this opportunity doesn't come around often.
"Physically it was trying (coming back) but mentally it was more difficult. I'm an interior D-linemen and we do a lot of knocking around and banging. Obviously I don't want a big 320-pound offensive linemen falling on my leg again and I had to get past the mental part. But I'm excited."
It was hard to see that in Bolden's demeanour as he sported a perfect poker face.
"Trust me, I'm very excited," he said in an emphatic, slightly intimidating tone. "I've been out for a while, I am very very excited."
The same applied to Bishop, a six-foot-four, 265-pound native of Inkster, Mich., completing his second CFL season.
"My father always told me a real man doesn't feel pressure, he applies it," he said. "I live my life that way and at the end of the day it's just football."
Calgary coach/GM John Hufnagel said he's expecting big things from both Bolden and Bishop.
"They've played good football this year and helped us win games," he said. "Injuries are part of the game . . . unfortunately we lost two soldiers last week."
Bolden returns to B.C. Place, where his 2013 season ended on a sour note as he suffered a torn medial collateral ligament in Calgary's regular-season finale visiting the Lions. Bolden said he continued lifting weights while his leg healed and he enters Sunday's contest very fresh and with no lingering apprehension.
"I've been banging with the best offensive linemen in the CFL," he said. "That's a test in its own right and I feel like I passed it."
The contest features the two division winners as Calgary topped the West with a CFL-best 15-3 record that included two victories over Hamilton. The Ticats finished tied with Montreal atop the East with a 9-9 mark but secured first based upon point differential.
Hamilton goes with the same roster it had in last weekend's 40-24 East Division final win over Montreal. Slotback Andy Fantuz, who played against the Als after missing three games with a torn hamstring, starts again Sunday.
"The work is done," Hamilton coach/GM Kent Austin said. "Our players are ready to play."
Brandon Banks was a one-man show against Montreal, returning two punts for TDs and accumulating a playoff-record 226 return yards. But that means little to Jeff Reinebold, Hamilton's veteran special-teams coach.
"What you recognize really as you get to this point where you've got enough grey in your beard is that last week doesn't buy you anything this week," he said. "I'm trying to get that message to our players ­that when we line up against Calgary on Sunday and it's the first punt return, whatever you've done in the past doesn't affect anything right now.
"It's right now, this moment, this play, And whether it goes good or bad for you, you have to put it away and go on to the next one. That sounds trite and cliched but it's the reality of the business."
Calgary was 2-0 against Hamilton this year but those wins came by a combined 13 points. However both teams were missing key performers.
CFL rushing leader Jon Cornish didn't play either game against Hamilton while the Ticats were also minus starting quarterback Zach Collaros.
Hamilton is making a second straight Grey Cup appearance after losing last year 45-23 to Saskatchewan at Mosaic Stadium. The Ticats last won a CFL title in '99, beating Calgary at B.C. Place.
The Stampeders are chasing their second CFL crown since '08, John Hufnagel's first year as head coach/GM. Calgary reached the '12 final but lost to Toronto at Rogers Centre in the 100th Grey Cup game.
Calgary would appear to have a huge edge on Hamilton given it was CFL-best 8-1 on the road this year. The Ticats were just 2-7 away from home and 4-6 versus West Division competition while Calgary was a dominant 7-1 against East clubs.
Despite a matchup of first-place teams, the game wasn't yet a sellout as of Saturday. While over 51,000 tickets had been sold, roughly 2,000 remained.
A reason for that could be fan apathy. This marks the second Grey Cup game in B.C. since 2011 and the hometown Lions were eliminated in the East Division semifinal 50-17 by Montreal.
The Grammy Award-winning Imagine Dragons perform at halftime. The alternative rock band from Las Vegas released its debut album "Night Visions" in 2012 that was certified three times platinum in Canada. The single "Radioactive" went platinum seven times while followup "Demons" was platinum five times over.
Snow fell here Friday night but weather won't be a factor Sunday as B.C. Place's roof will be closed.
The night before a big game is traditionally a sleepless one for many athletes but Bolden said he won't have any problems sleeping. And he's expecting to be tucked in early.
"I'll probably go to sleep around 7-8 p.m. because I want to be ready," he said. "I don't know about my teammates but I suspect the vets will be sleeping early and I suspect the players who want it will be in sleeping early."
Bishop plans to spend Saturday night with his girlfriend and family, who arrived from Detroit on Saturday. But he's also expecting to have an early night.
"Oh man, it has to be an early night," he said. "I've got an early morning and a big day."