Stamps WR Rogers hints he'll play Grey Cup
The Calgary Stampeders' beleaguered receiving corps got a bit of good news Wednesday as receiver Eric Rogers suggested he'll be good to go against Ottawa on Grey Cup Sunday.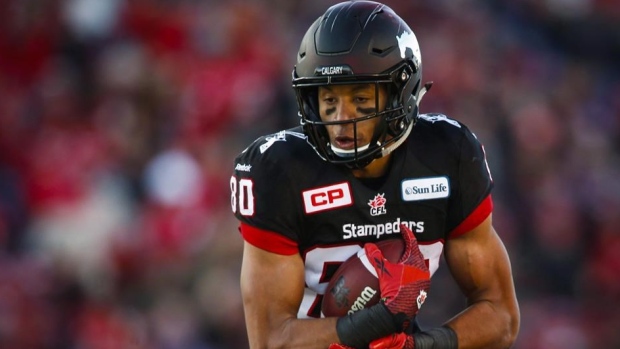 EDMONTON — The Calgary Stampeders' beleaguered receiving corps got a bit of good news Wednesday as receiver Eric Rogers suggested he'll be good to go against Ottawa on Grey Cup Sunday.
"Everyone's a little banged up at this time of year, some more than others," Rogers, told reporters prior to team practice on the southern campus of the University of Alberta.
"If you're healthy enough to play and be yourself, then you'll be out there playing."
Rogers caught three touchdown passes Sunday in the Stamps' 22-14 West Division final victory over the Winnipeg Blue Bombers, even though he missed part of the game with a knee injury.
Rogers has missed time already this season due to injury. He is one of an emergency ward full of Calgary pass-catchers who have gone down this season, forcing quarterback Bo Levi Mitchell to run through a series of receivers while still leading an offence that was second in the CFL in points scored at 26.8 per game.
Kamar Jorden, Marken Michel and Reggie Begelton have gone down with season ending injuries while DaVaris Daniels (broken collarbone) remains a question mark for Sunday.
In their stead, Markeith Ambles has come off the practice roster and NFL vagabond Chris Matthews has come on board up to help put Calgary (13-5 in the regular season) in the championship game.
The Stampeders arrived in the Alberta capital facing renewed questions on how they will bounce back from two consecutive championship losses.
A loss on Sunday and they will become the first team since the Montreal Alouettes of the 1950s to lose three CFL championships in a row.
Calgary lost 39-33 in overtime to Ottawa in 2016 and 27-24 to Toronto last season despite being favourites in both games.
Mitchell said it's a new team and a new season, adding that past losses are poor motivators.
"By saying we're using (the Grey Cup) as revenge for two years ago or as redemption for last year is disrespectful in my eyes," said Mitchell.
"This is a brand new year and you've got to respect the team that's in front of you, and respect the entire year as a whole.
"It's very, very hard to win in the CFL. It's very hard to get to this point."
Mitchell, the West Division nominee for most outstanding player, won the Cup in 2014. He said he's telling teammates to be ready to pounce on opportunity, as games often turn on a handful of plays.
"Just understand that no play is bigger than the other, but you just don't know when those two to three to four plays are coming, so when you get the opportunity, be ready to make that play," he said.
Earlier Wednesday, Calgary head coach Dave Dickenson said both Ottawa and Toronto earned their Cup victories, and reflected on the cruel world of life defined by quantified winning and losing.
"The losses hurt. I think they sting more than any of the great feeling of a win, which is sad. You should cherish the other side. You should remember the good times, not necessarily the pain," said Dickenson.
"I think we've all been there ... I think certain things in your life will always stay with you. Get over it, though. Time to live in today and take advantage of the moment."
Dickenson also dismissed a post-game comment last weekend that no one wanted to see Calgary back in the big game, preferring a fresh face instead.
"I don't know, maybe I fabricated my own little storyline, but I did feel like people were talking a lot about Sask and Winnipeg and not as much about us," he said.
"(It) doesn't help you win or lose a football game but maybe I should have kept those comments to myself."