Stars' attack proving balanced and relentless
Dallas is the NHL's best team at both getting into dangerous scoring areas and turning those chances into goals, Travis Yost writes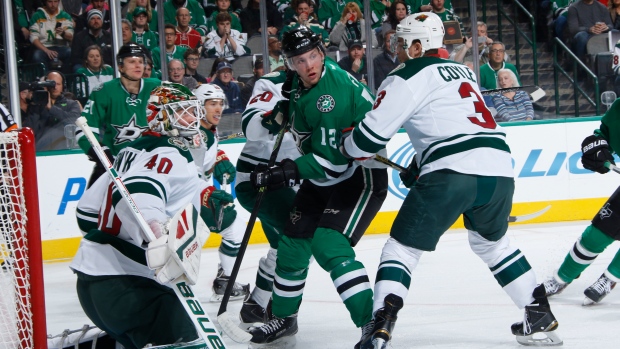 Give a head coach a microphone and five minutes and he'll almost certainly exalt the imperativeness of his players getting to the so-called dirty areas of the ice.
There's actually a lot of truth to that old hockey cliché. The relationship between shot distance and goal-scoring is undeniable. As players drive into the home plate area and toward the opposition goaltender, their likelihood of scoring increases.
But hockey just isn't that easy. Getting into those scoring areas is supremely difficult – teams generally play with an incredible dedication to preserving a defensive structure in their own zone, a far cry from where the sport was 20 or so years ago.
Still, it certainly seems that some teams have more success than others at getting into those dangerous areas. Last year's Tampa Bay Lighting team was probably a perfect storm of both elements – they drove with frequency towards the net, and they also possessed the requisite individual shooting talent to turn those scoring chances into goals. Combined with strong territorial play and timely goaltending, Tampa Bay was able to parlay that combination into a Stanley Cup Final appearance.
Twenty or so games into this season, I was curious about how teams were faring on this front. Were certain teams better at getting into those in-tight scoring areas? Were certain teams better at converting on opportunities in those areas?
Below, I've dropped each team's shots/game from 'in tight' scoring areas (any shots generated from the slot or low slot) and each team's goals/game from in-tight scoring areas. There is some interesting placement here.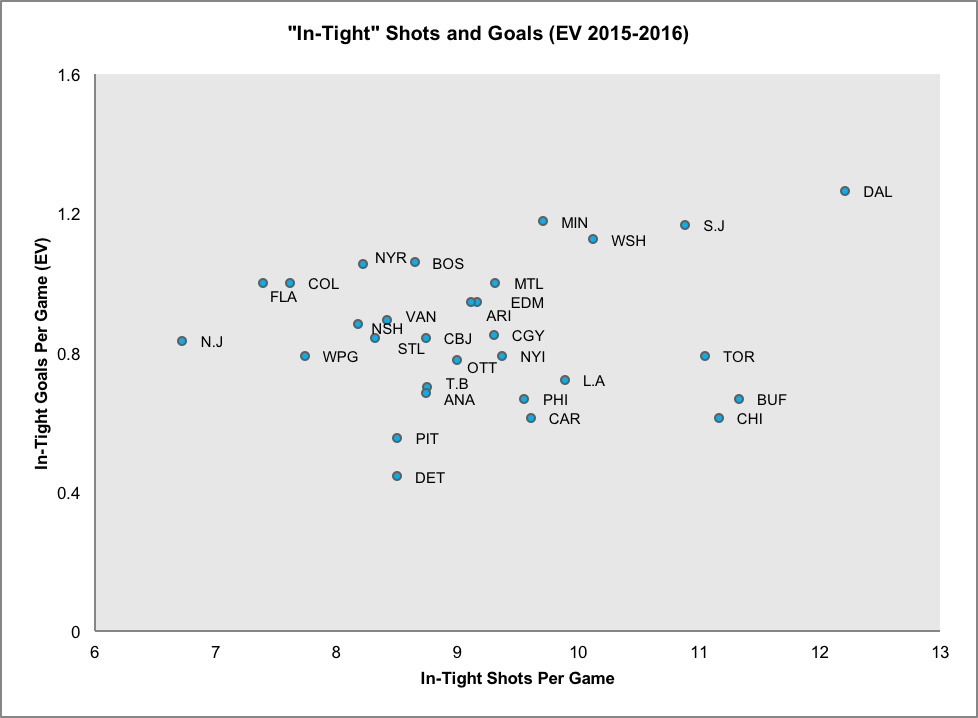 Let's start out with the ones that make sense.
Dallas is the NHL's best at both getting into dangerous scoring areas and turning those chances into goals. It's completely unsurprising. The Stars' attack is relentless and balanced, featuring just the right blend of playmakers and bona fide snipers.
Quick quiz: if I asked you which forwards currently had the highest number of individual dangerous shots on this Dallas team, what would your response be? I know I'd immediately rattle off Tyler Seguin and Jamie Benn. Good answers, but neither of them is in the top three.

More than anything else, this spells out just how well-rounded the Stars' attack is. And, now that their defensive/goaltending issues appear to be cleaned up, Dallas has evolved from simply being a fun team to watch to scary as hell on the attack. They're averaging well over a goal per game on shots very close to the opposition goaltender at even strength alone. This, of course, says nothing about all of the other chances that can materialize over the course of a game from different locations and in different game states.
Other teams to note on the positive side of the ledger: the San Jose Sharks, Washington Capitals, and Buffalo Sabres. San Jose and Washington are not surprises – the Marleau/Thornton/Pavelski trio and the wonderful Alex Ovechkin have been tearing the rubber off of pucks this season, just as they have done for years now. The Sabres are much more curious, but we noted this development on Tuesday. Buffalo hasn't been able to turn rapidly improving underlying numbers into a great record just yet, but this team looks vastly improved compared to where they were just a few months ago.
I'm a bit surprised to see Winnipeg and Anaheim grade out so poorly here. It coincides with the early struggles of both teams, but frenetic crash-the-net hockey was a staple of these two teams last season – perhaps more so than any other team in the league. Their rosters are filled out with a litany of guys who are as physically imposing as they are talented. The good news for team like Anaheim is that they can get away with middling hockey in a moderately weak division. Winnipeg is in a much tougher spot. There's very, very little margin for error in a stacked Central Division. This team needs to right the ship quickly.
The Takeaway
Very rarely does such a broad topic have such an easily defined takeaway, but here's the obvious bottom line: the Dallas Stars' attack in absolutely terrifying. As for the rest of the teams, I'm curious to hear what you guys think. Any surprises? Any disappointing showings?