Stecher put summer boxing lessons to use in Canucks season opener
Troy Stecher dropped the gloves for the first time in his National Hockey League career when he duked it out with Oilers forward Ryan Strome late in the second period. With his new off-season training program, Stecher was ready.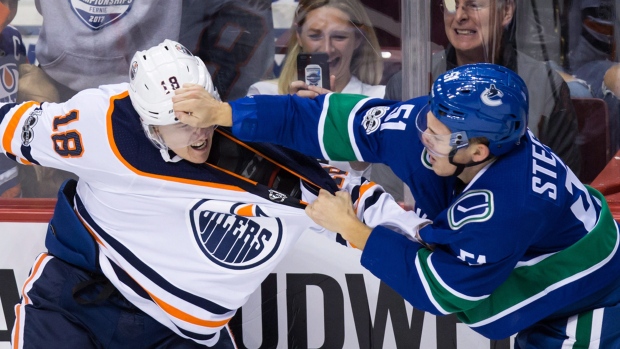 VANCOUVER –Rogers Arena was full of surprises on Saturday night. Not only did the Vancouver Canucks beat the Edmonton Oilers, but did so by holding Connor McDavid off the scoresheet. They won with Derek Dorsett playing five minutes more at even strength than either Daniel or Henrik Sedin. And if that wasn't enough, fans saw diminutive defenceman Troy Stecher drop the gloves for the first time in his National Hockey League career when he duked it out with Oilers forward Ryan Strome late in the second period.
The bantamweight bout may have caught many off guard, but it didn't come as a shock to Stecher who added boxing to his summer training routine. He wasn't itching for a fight on Saturday night, but after an off-season working on jabs and uppercuts, the Richmond, B.C., native certainly wasn't going to back down when Strome took exception to the way he finished his check just inside the Canucks blueline.
"It wasn't really my choice," Stecher explains of adding boxing to his off-season routine. "It was something my trainer implemented. It wasn't right away in the summer, but about a month into it after a Wednesday workout, I kind of figured we were done and the next thing I knew it was like 'alright put on the gloves, grab a partner and they threw on those hand-punching targets and we just did a bunch of speed rounds, hitting the bag and little combinations. It wasn't too technical from the aspect of a boxing lesson. I think it was more for the cardio and the exercise because it was pretty tough."
The 5-foot-10 Stecher looked pretty tough on Saturday, holding his own against Strome despite giving up three inches and five pounds, according to NHL.com. The tale of the tape didn't seem to matter in the tussle as each combatant appeared to land a few shots. For Stecher, it was his first fight on ice in several seasons. With severe sanctions for scrapping in the NCAA ranks where he starred with the University of North Dakota for three years, Stecher figured his last dust-up was during his BC Hockey League days in Penticton.
After practice Monday, he said he hadn't reviewed video of the fight but had been told by friends and teammates that his boxing lessons appeared to have paid off.
"Once you get out there, your adrenaline kicks in and you're just swinging – at least I was," he laughs describing his technique. "I was taught as a smaller guy, don't really square up. If someone wants to go, at least get a punch in. With the fact I'm small; guys can try to overpower me. So I got a quick shot in right away – maybe even before our gloves were completely off. From there, I don't know if I got another shot in."
The fact Stecher engaged in a fight was certainly out of character and he doesn't expect to make it part of his game with any regularity. However, in his mind the scrap served a dual purpose. In the moment, he wasn't going to back down from Strome. And if the rest of the league was looking on, Stecher wants others to know he's not afraid to stand up for himself.
He felt, at times, that he didn't have an appropriate response when tested physically as an undersized rookie last season. As he showed Saturday, that's not going to be the case this time around.
"I think last year as the season progressed, maybe there were some shots I took that if I stuck up for myself a little bit more, perhaps they won't happen," Stecher says. "Maybe it's my way of trying to earn a little more respect. There were little things in the corners – like an elbow with a follow through to the chin. Little things like that and if I stick up for myself maybe they won't do it. I want to show people I'm not going to back down. I've grown up my whole life having to prove people wrong and it's no different in a fight. I'm pretty small and I know that, but it's the size of the fight in the dog."
Troy Stecher knows he'll never be the heavyweight champion of the National Hockey League – nor does he want to be. He wants to stay on the ice and help the Canucks and realizes he's far more useful to the hockey club on the ice than in the penalty box. But Saturday night showed that if push comes to shove, despite his stature, he's not afraid to throw down.
And opponents ought to be aware that he spent the summer working on his boxing skills and has no intention of backing down when the going gets tough.