Strong Jets team could still improve forward depth
One of the big reasons why the Western Conference playoff race is so captivating this year is tied into the emergence of the Winnipeg Jets as a legitimate contender. Travis Yost looks at what the Jets might do to upgrade an already impressive lineup.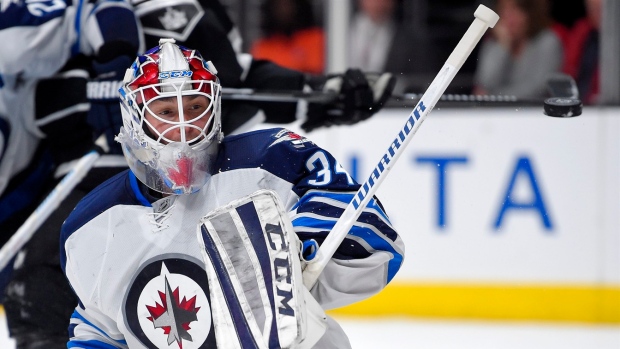 One of the big reasons why the Western Conference playoff race is so captivating this year is tied into the emergence of the Winnipeg Jets as a legitimate contender. Combine that with Nashville's explosion in the standings, and you're looking at a quarter of the playoff berths in the West potentially going to teams who many had on the outside looking in last October.
Make no mistake, a big reason why Winnipeg has looked better in the standings this year of is tied into improvement in the goaltending department. Michael Hutchinson has been a blessing for Paul Maurice's team, and even Ondrej Pavelec has turned things around a bit this season. Relatively speaking, it's the best goaltending the Atlanta/Winnipeg franchise has seen.
The goaltending has carried things along, but it's important to note that Winnipeg's also playing significantly better from a possession standpoint this season, too. At Arctic Ice Hockey, Garret Hohl did an excellent job explaining the team's spike in Score-Adjusted Corsi% this season (53.3% year-to-date, good for 9th in the NHL), and how three of Winnipeg's four lines are generally out-playing the opposition.
This, of course, brings us to the most important question of all. We know the team can skate with most opponents. We know the goaltending's improved – although there's a degree of uncertainty as to whether or not the Hutchinson/Pavelec duo can hold on. If you are Kevin Cheveldayoff and are looking to improve this club at the trade deadline, how do you do it?
Winnipeg's in a fascinating position from a trade deadline perspective, in that they have (a) plenty of future assets; (b) are not in need of a defenceman; and (c) need to be cognizant of their spending short-term, with the likes of Jacob Trouba and Dustin Byfuglien in need of new deals. Byfuglien, of course, has been the talk of Winnipeg over the last couple of months. His return to the blueline has created a crowded back end, in which every-day defenders like Paul Postma have been healthy scratched.
So, Winnipeg maybe has an extra defenceman or two, and future assets available, and would probably prefer to acquire a rental type, perhaps a forward or two that can shore up that problematic fourth-line that's been beaten up rather soundly from a possession and scoring-chance aspect.
The good news: finding cheap, quality bottom-six wingers who can drive play and move up in the lineup as needed doesn't strike me as a difficult task. The key is to hone in on players who have posted strong underlying numbers over many years, yet remain undervalued due to the two things that generally drive contracts – point-scoring and size.
Let's work through some quick criteria to isolate for players with excellent underlying numbers. We will pull out forwards who have logged at least 2000-minutes since 2010. The forwards must have been on the ice for 53% of shot-attempts (we'll use Corsi%) and 53% of scoring chances. The forward must also have been a quality relative player. That is, his team must have measurably benefited from a possession and scoring chance standpoint with the player on the ice. We'll set +1.0% Relative Corsi% and 1.0 Relative ScoringChance% as additional parameters.
Who are we left with? Just 43 players.
Our criteria did an excellent job at qualifying only high-end possession and scoring-chance drivers. There's only one problem – the list is littered with first-line or top-six talent, a group of either untouchable players or forwards who are going to cost a king's ransom to acquire.
How can we cut this list down further? One way is to create ice-time parameters. We want bottom-six forwards who presumably can be had for cheap. What happens if we only select players from this group who played less than thirteen minutes a night at even-strength?
Jaden Schwartz, Reilly Smith, and Brendan Gallagher aren't going anywhere. Jakub Voracek would cost a ton. Patrik Elias, Viktor Stalberg, and Benoit Pouliot all carry big contracts. I see no reason Detroit would move Darren Helm. Mathieu Perreault? He's already with Winnipeg, and has been a massive success story. What a surprise!
We are left with two players in Florida's Sean Bergenheim, and Ottawa's Erik Condra. Both players are on expiring contracts with small cap hits. Both players have been healthy scratched this season. Both have been shopped by their general managers (here and here).
And yet, for almost five years running, they fit within a small group of forwards that range from 'very good' to 'elite'. Despite whatever deficiencies the player allegedly possesses, his teams have historically done a fantastic job at beating up on the opposition when they have been on the ice. Over thousands of minutes, dozens of linemates, and deployment in ranging situations, that's not a fluke.
Perhaps, more importantly, these are the exact types of sound two-way forwards you need on a roster in order to build a legitimate contender. They cost pennies on the dollar because they aren't big scorers, but play an extremely responsible game and generally spend most of their shifts in the offensive zone. Early identification of these players affords a front office the luxury of spending big on the guys who will carry gaudy scoring rates and log a ton of minutes like, say, free-agent-to-be Dustin Byfuglien.
I think Winnipeg recognizes their legitimacy as a contender, but I also think they have an eye towards the future in terms of building a true championship contender. Thus, it strikes me as the sensible move to acquire a forward or two who will cost next-to-nothing in terms of current or future assets, yet will certainly improve the team as they head towards the postseason.