Sullivan: Crosby a game-time decision
Sidney Crosby passed his concussion baseline test and is a game-time decision for the Pittsburgh Penguins in Game 5 against the Washington Capitals.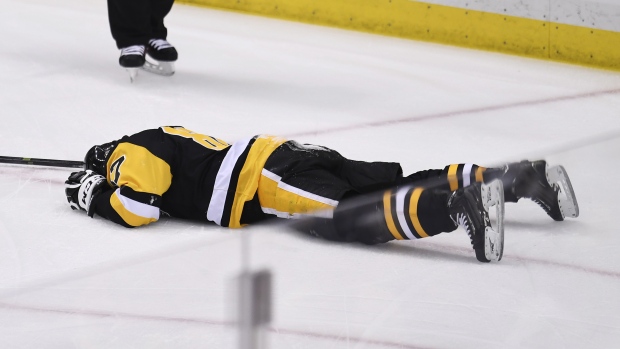 WASHINGTON — Sidney Crosby passed his concussion test, and it will be determined at game time Saturday night if the Penguins captain can play in Game 5 against the Washington Capitals.
Coach Mike Sullivan said Crosby had a few good days. Winger Conor Sheary also passed his baseline test and will be a game-time decision.
The Penguins lead the second-round series 3-1, but Sullivan says that does not factor into the decision of when Crosby or Sheary returns.
"We trust our doctors and the process that they go through, and when they tell us that these guys are healthy and are cleared to play, then that's all we need to know," Sullivan said after an optional morning skate. "The health and safety of our players is always the priority and that will never change. But we trust our medical staff, we trust the doctors that are monitoring these guys.
"They know way more about it than the rest of us do. And so, we rely on those guys to monitor these situations and advise us the right way. So I think that's the most prudent way to approach it and that's how we are."
Crosby has a history of concussions and missed the first six games this season. On Monday night, he took a cross-check to the head from Washington's Matt Niskanen in Game 3 in Pittsburgh and missed Game 4 Wednesday. He skated in full gear Thursday and took part in a full-contact practice Friday, taking rushes with usual linemates Jake Guentzel and Patric Hornqvist.
He wasn't on the ice for the optional morning skate, but Sullivan says he had improved enough to make him a possibility for Game 5.
Crosby has two goals and two assists in parts of three games in this series. His 11 points on four goals and seven assists are tied for fifth among all players in the playoffs.
"He does everything," winger Bryan Rust said. "He is who he is for a reason, and he plays a full 200-foot game and that would help us all over the ice."
The NHL's concussion protocol does not stipulate a certain amount of days a player must sit out after being diagnosed. Capitals coach Barry Trotz said Friday he wouldn't be surprised if Crosby was back for Game 5.
Sullivan says it's his experience that players respond to concussions in their own way.
"Some recover quicker than others, and I don't claim to know a whole lot about it and that's why we refer to the people that do," he said.
Sheary skated Saturday morning and said he felt good but wouldn't declare himself ready to go.
"Just see how the day goes and see how I feel and go from there," Sheary said. "With this injury you've got to kind of wait it out and see how you feel."
___
Follow Hockey Writer Stephen Whyno on Twitter at http://www.twitter.com/SWhyno .