Sunday's Ice Chips: Canucks' Matthias hurt; Sharp, Green nearing return
Check in throughout the day for the very latest from around the NHL, including injury updates, roster moves, and other breaking news. The Canucks lost Shawn Matthias to a Stephane Robidas elbow Saturday while Patrick Sharp and Mike Green are nearing their return.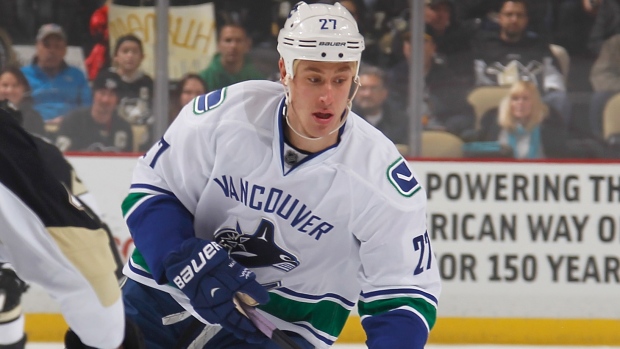 Anaheim Ducks
Colby Robak, who as acquired in a deal with with Floriada Panthers for Jesse Blacker, will make his debut today against the Winnipeg Jets. - Eric Stephens, Orange County Register
Carolina Hurricanes
Carolina Hurricanes center Jordan Staal took a major stride Saturday in his recovery from a broken leg, getting in his first skate since the injury.Staal, dressed out in full hockey gear, did some light skating on his own after the Canes' practice at Raleigh Center Ice. He said it was his first time on the ice since the Sept. 23 injury against the Buffalo Sabres. – News Observer
The team has recalled winger Chris Terry from the AHL. - Team Website
Cam Ward gets the nod in net today against the Red Wings. He is 8-8-1 with a 2.48 goals-against-average and a .912 save percentage. - Mike Maniscalco
Chicago Blackhawks
Head coach Joel Quenneville said winger Patrick Sharp likely will return when the Hawks face the Devils on Tuesday night in New Jersey. Sharp missed his 14th consecutive game for the Hawks on Saturday with a right knee injury suffered Nov. 4 against the Canadiens. The veteran traveled with the Hawks and skated Saturday morning. Quenneville said there's "a good chance (Sharp) is going to play on that trip and likely … the first game." – Chicago Tribune
Colorado Avalanche
Valuable forward Jamie McGinn, who can play on any line, will undergo back surgery Wednesday and could be lost for the season, Avs coach Patrick Roy said. McGinn has missed the past eight games with the same back injury that forced his absence throughout training camp and preseason. Roy said doctors won't know if McGinn requires a short-term or long-term repair until the surgery is performed. – Denver Post
The team sent Tomas Vincour and Michael Sgarbossa down to Lake Erie (AHL) on Sunday. - Team Twitter
Detroit Red Wings
Petr Mrazek will start in goal for the Red Wings tonight against the Hurricanes, He sports a 2-0-0 record with a 3.36 goals-against-average and a .875 save percentage. - Ansar Khan, MLive.com
Los Angeles Kings
Marian Gaborik took part in practice today and is close to returning from an upper-body injury that has kept him sidelined for the past four games. - lakingsinsider.com
Minnesota Wild
Captain Mikko Koivu missed practiced with what head coach Mike Yeo called a "very, very minor strain" and he's expected to practice Monday. Koivu was around doing an off-ice workout and it doesn't appear to be anything serious. Ryan Suter practiced. The hope is he can practice Monday and return Tuesday against the Islanders. – Star Tribune
Montreal Canadiens
The team has sent Drayson Bowman down to Hamilton of the AHL. The forward had no points in three games. - Team Twitter
Michael Bournival has been recalled from his conditioning stint in Hamilton. The forward has missed 15 games with a shoulder injury. - Team Twitter
New Jersey Devils
The Devils have assigned struggling winger Damien Brunner to Albany of the AHL and have recalled defenceman Peter Harrold. - Team Twitter
Winger Mike Cammalleri will not travel to Carolina for New Jersey's game tomorrow against the Hurricanes due to a lower-body injury. Forward Patrick Elias also won't be making the trip due to a groin injury. - Tom Gulitti, The Record
New York Islanders
Lubomir Visnovsky (upper body), out since Nov. 29, appears on target to come off IR before Tuesday's game against the Minnesota Wild.
Casey Cizikas left Saturday's game in the third period with an undisclosed injury. He appeared to take Vladimir Tarasenko's stick to the face after Thomas Hickey leveled Tarasenko with a clean hit. – Newsday
New York Rangers
Kris Kreider was injured today in practice after colliding with teammate Carl Hagelin. The winger apparently suffered an upper-body injury. - Steve Zipay, Newsday
Ottawa Senators
Goaltender Craig Anderson will get the start this evening against the Vancouver Canucks. Anderson is 5-7-4 with a 2.47 goals-against-average and a .929 save percentage.
Milan Michalek, who is suffering from an upper-body injury, will not be in the lineup for the Senators this evening. He will be replaced by Mark Stone, who is coming off a foot injury. - Team Twitter
Jared Cowen might be a healthy scratch for the third-straight game. The defenceman has struggled this season, and with others bodies such as Marc Methot returning to the lineup, Cowen need to step up his game. - Ottawa Citizen
St. Louis Blues
Alexander Steen took part in the Blues' pregame warm-up Saturday, but was later scratched from the game due to a lower-body injury that happened Thursday in Nashville. He is considered day to day.
Blues goalie Brian Elliott, who is out week to week with a sprained right knee, will remain off the ice for the time being after feeling sore following an on-ice practice in Chicago.
Martin Brodeur will start against the Florida Panthers on Monday. – St. Louis Post Dispatch
Washington Capitals
Mike Green has been skating with his teammates. He is targeting Tuesday night's game in Tampa for his return. – Comcast Sportsnet.com
The Capitals have assigned centre Liam O'Brien to the AHL. - capitalstoday.com
Winnipeg Jets
Ondrej Pavelec will get his turn in goal for Winnipeg, Sunday, after Michael Hutchinson recorded the win over the Avalanche. – Team Twitter
Vancouver Canucks
The Canucks lost red-hot winger Shawn Matthias, who did not return from a blatant elbow-to-the-head by Leafs' defenceman Stephane Robidas late in the second period. – Vancouver Sun
The team has assigned Tom Sestito to Utica of the AHL on a conditioning assignment. He has been sidelined with a leg injury. - Team Release
Eddie Lack gets the call in net tonight against the Ottawa Senators. He stopped all 13 shots he saw last night in relief of Ryan Miller. - Team Twitter