Swedish sleeper Arvidsson rising for Preds in SCF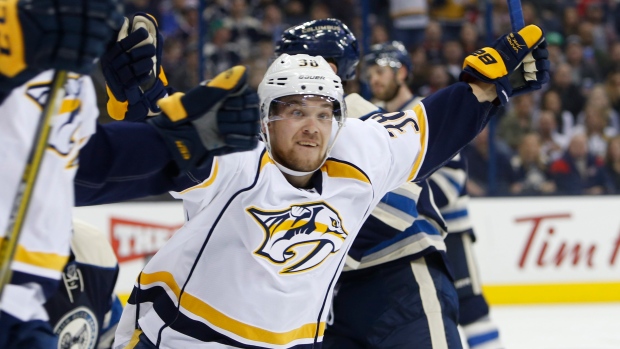 PITTSBURGH — Viktor Arvidsson was just hoping to make the Nashville Predators roster at last fall's training camp. He not only earned a spot on the team, he became one of only 26 players in the NHL to score 30 goals in the regular season.
Now, the 24-year-old Swedish sleeper is starting to make an impression in the Predators' first Stanley Cup final. Arvidsson broke a 15-game drought with his third goal of the playoffs in the Preds' Game 4 win and rides a three-game point streak into Thursday's Game 5 against the defending champs.
"I try to contribute as much as I can," Arvidsson told reporters in Nashville before a flight to Pittsburgh. "Of course, it was nice to get one."
Much like Penguins 22-year-old Jake Guentzel, Arvidsson became an unexpected star for the Predators. He nearly quadrupled his output in his second NHL season, matching linemate Filip Forsberg for the team lead with 31 goals and 61 points. He also led the league and set a franchise record with five short-handed goals.
A mild rookie contributor with eight goals and 16 points in 56 games, Arvidsson came into the year with modest goals.
"And after (making the team), I wanted to be better than I was the year before," he said.
Mission accomplished.
He landed a coveted spot alongside Forsberg and Ryan Johansen on the Preds top line and set career-bests in every offensive category as his role in Nashville expanded. Suddenly, he was getting power-play opportunity and killing penalties for the first time in the NHL.
Scoring 30 was not something he'd imagined.
"I think I believed it in my head, but it's a lot of goals. In 80 games, to score 30 is not easy," said Arvidsson, who scored 22 in his first full American Hockey League season.
Though he's quickly blossomed into a high-impact player, Arvidsson was really a late bloomer. He was the oldest player picked at the 2014 draft — aged 21 when the Predators plucked him 112th overall. He didn't even crack the NHL's top 140 European skaters beforehand with his size the main issue.
"I think people were kind of unsure," said Arvidsson, who is listed now at five foot nine and 180 pounds.
Arvidsson patterned his game after Peter Forsberg and Mats Sundin — "because they're great players from Sweden" — but thinks he plays most like Montreal Canadiens pest, Brendan Gallagher. Like Gallagher, who had only 10 goals and 29 points this season, Arvidsson likes to mix it up around the front of the net and play with pesky, speedy abandon.
"Right when I came over I knew I was going to have to play very gritty — go in front of the net, (play) hard," he said. "I'd done that in Sweden, too, but it's a lot more room there (on the larger ice surface) and not as much as here."
"It's a lot faster than back home," Arvidsson added. "Every time in Sweden you get the puck you can receive it and look up ice, make a decision from there. Here you have to have your decision already planned out for you."
Arvidsson's dramatic goal spike during the regular season was fuelled by an increase in shots — he had almost 250 — and shooting percentage (12.6 per cent) and a comfortable fit alongside the Preds' two most dangerous offensive players.
With Johansen recently sidelined for the playoffs with a thigh injury, the Preds have split Forsberg and Arvidsson and fared just fine offensively despite their meagre outputs so far in the final. Arvidsson broke his dry spell with the third goal in Monday's 4-1 win and Forsberg added the fourth into an empty net — his first of the series.
Eleven players have scored for the Preds against the Penguins. More from one or both of their top guys makes the Preds a whole lot scarier against Sidney Crosby and Co.
"Other guys have been scoring so that's fine but it's good to get (Forsberg) and (Arvidsson) going," Nashville centre Calle Jarnkrok said. "They've been great scorers for us the whole season."