Switch to centre may be key to unlock Granlund's scoring silence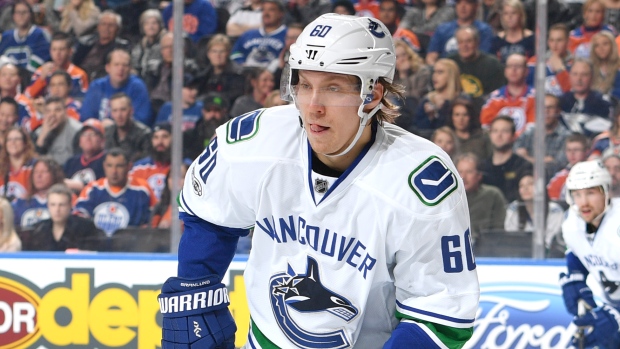 EL SEGUNDO, Calif. – Last season, Markus Granlund was the Vancouver Canucks version of a silent assassin. He didn't say much, but he effectively went about hitting his target. This year, the soft-spoken Finn is just silent – in interviews and on the score sheet. With only two goals and a lone assist in his first 16 games of the 2017-18 National Hockey League season, Granlund shows no signs of the player who finished second on the team with 19 goals last season and led the hockey club in goals-per-game.
Much of that is due to his deployment this season under new head coach Travis Green. Granlund has spent almost all of his time on the left side of the Canucks' shutdown line with Brandon Sutter and Derek Dorsett. Whenever possible, Green has done his best to hard match that line against the top line on opposing teams.
Still, though, Granlund is second among Canuck forwards in ice time with next to nothing in the way of a bottom line. Averaging 17:08 per game this season (down 10 seconds per game from a year ago), the 24-year-old has struggled to get anything going offensively despite playing with a linemate (Dorsett) who leads the team with seven goals. Granlund's lone assist so far came on a Dorsett empty-net goal in Buffalo more than three weeks ago.
He's trying to remain confident the offence will flow and to help aid in that regard, Granlund is likely to find himself in a new role Tuesday when the Canucks face the Los Angeles Kings at Staples Center to wrap up a four-game road trip. At practice Monday he was moved to centre on a line with veterans Sam Gagner and Thomas Vanek. The team was shut out Saturday in San Jose and has scored just once in its past two games. Any contribution from Granlund would be a welcome one for a team suddenly searching for offence.
"Obviously, you want to score goals," the low-key Granlund said after practice on Monday. "Of course, it's frustrating and you have to keep working and hopefully they'll come. I thought I had a couple of good chances last game. I just have to keep shooting the puck and be hungrier."
Granlund played a season-low 12:23 against the Sharks and his past two outings have been his two lowest ice-times of the season. That's a far cry from the 22:25 he logged in an overtime loss to Dallas just two weeks ago.
This is a contract year for Granlund who will be a restricted free agent on July 1, so the stakes are high. In the second year of a two-year deal with the Canucks, he is making $950,000 US with a $900,000 hit against the salary cap. Last year he was a bargain. This year, he is a player who needs to find his game if he hopes to cash in at season's end.
A drop in his goal-production could have been expected considering his shooting percentage last season (15.6 per cent) was above his career average. In addition, the 19-goal season may prove to be an outlier given Granlund had never before scored more than eight goals in one campaign. But with just 24 shots in 16 games, his shot volume is off considerably this season so he's not giving himself nearly as many opportunities to score as he did last year. Much of that is a result of playing on a line that is controlling fewer than half (49.3 per cent) of all even-strength shot attempts against the league's elite.
As well, last season, Granlund scored three times and collected seven points averaging nearly two minutes per game on the power play. So far this season, his power play time has been reduced to an average of just 43 seconds per game. So he's not getting the same opportunities to score that he was last season. And he was in better positions to contribute offensively splitting his time last season almost evenly between a line with the Sedins and one with Sutter and Loui Eriksson.
Last season, Granlund (19) and Sutter (17) combined for 36 goals. Right now, as the Canucks approach the 20-game mark that duo has combined for three. This year the focus has been on defence first, which Granlund understands. Although he admits it's tough to leave the rink after losses knowing the team could have used the kind of offensive boost he's struggling to provide.
"You have to know your role and I'm okay with doing anything if the team wins," he explains. "When you lose and you're not scoring, it's tough. You have to keep your head up and keep pushing."
The Canucks stress offence will come as the result of solid defence and Granlund wants to believe that's the case. But he's gone six games now without a point and with two of his three points on the season coming in the same game (a 4-2 win in Buffalo when he scored his first goal of the season), he's been blanked in 14 of the 16 games he suited up for (he missed a game last week in Calgary with an undisclosed upper body injury).
In tight games where a single goal – or even setting one up – could help the hockey club, Granlund hasn't been able to make things happen yet this season. But the coach hasn't lost faith in a player he looks to for contributions in other areas.
"He's done a lot of good things that go unnoticed," says Green. "He's been a big part of our penalty kill and he's been a big part of our shutdown line. I know offensively, he doesn't have the numbers he would want. It's not all about points, but if you asked him he'd like to score more. If he's playing the middle, it might give him a little jump if we go there. But he's done a lot of good things that go unnoticed to the average fan."
Little things are good. All successful hockey teams need players who take care of details. But they also need players to put the puck in the net. Markus Granlund was that player last season for the Vancouver Canucks and they would like to see some of that in his game this year, too.
Granlund may never be one to make much noise, but a boost in his scoring would speak volumes and could go a long way to help the Canucks break out of a California goal drought.