Tavares set for first taste of Leafs home games
John Tavares is still adjusting to all the newness ahead of his debut as a Maple Leaf in his new home rink Friday night against the Buffalo Sabres, Mark Masters writes.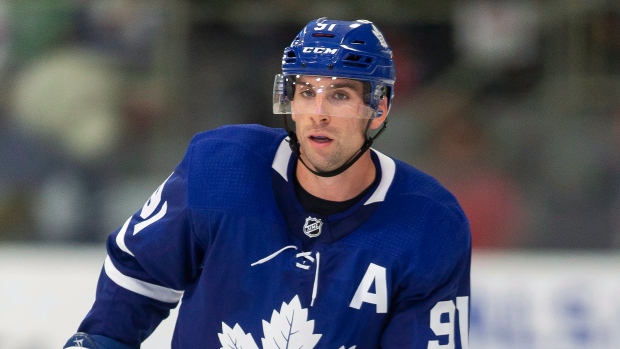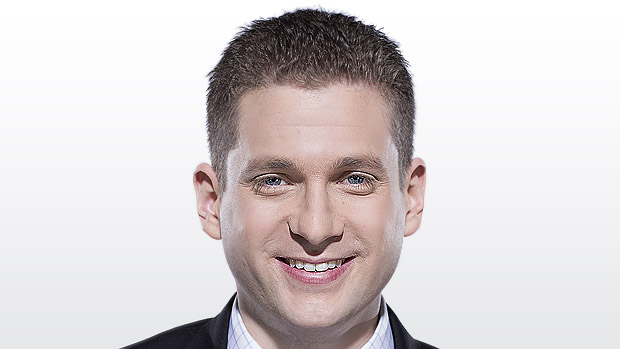 TSN Toronto reporter Mark Masters checks in daily with news and notes on the Maple Leafs. The team held a practice and morning skate at the MasterCard Centre on Friday.
---
John Tavares hasn't stepped foot in the home dressing room at Scotiabank Arena since signing with the Maple Leafs on Canada Day.
There were some emotions back then in July and there should be some tonight as the ex-Islander debuts as a Leaf in his new home rink.
"Being around there on July 1, you really got that sense of why it's special to be a Maple Leaf and why the past and the history of the team are so important," he said.
Tavares has plenty of fond memories of watching his hometown team play in the building.
"I remember a lot of the playoff series they played in, watching them on TV, some big overtime goals, some big playoff series against Ottawa," Tavares said. "I remember watching it as a kid so, yeah…it's crazy to think I'm in it now. So just going to enjoy it."
Tavares made his preseason debut on Tuesday, but that was in Lucan, Ont., Tonight he'll get a taste of what Leafs home games are like.
"Obviously, nice to kind of familiarize yourself with the surroundings at Scotia and in front of our home fans and our crowd, experience that environment and get that feel for what things will be like on a daily basis," he said.
Tavares made a big splash on Tuesday with two goals and an assist against the Senators, but he's still adjusting to all the newness. Patrick Marleau can certainly relate. He signed in Toronto last year after 19 seasons in San Jose. How long did it take before he was completely comfortable with the Mike Babcock system?
"Geez, I don't know," the 39-year-old said with a chuckle. "Probably around the 10-game mark. Something like that. I'm not too sure."
The biggest challenge?
"Just getting used to it all," Marleau noted. "System-wise, getting to a point where you turn off your brain and everything's natural so it's probably going to take a while."
Tavares, who experienced life under three different head coaches in New York, pointed out that most systems are somewhat similar and it's all about nuance.
"There are certain things that Mike really emphasizes that are really key to our game," Tavares said. "I think that's really stretching the ice out and being extremely quick in our own zone. When you're extremely quick in your own zone and not spending much time there it gives you the ability to play with pace throughout the neutral zone and into the offensive zone."
It also helps when you find chemistry with new linemates.
"It's definitely growing," said Mitch Marner when asked about his chemistry with Tavares. "I think we're talking to each other more and both getting a feeling of where we want to be on the ice. Obviously [left winger Zach] Hyman is around the net and down low so he can make plays there. For me and John, it's just making sure we're getting open for Hyman for relief so if he gets in trouble he can just put it somewhere and we're there."
Part of the chemistry development is happening off the ice. Tavares turned 28 yesterday and Marner was among those singing him "Happy Birthday" at dinner.
"Everyone said he was really quiet, but I think it's like Patty last year. Everyone said he was really quiet, but he's been talking a lot," Marner noted.
----
Tavares isn't the only player making a debut on Friday night. Semyon Der-Arguchintsev, Toronto's third-round pick (76th overall) in last June's draft, will play his first NHL preseason game.
"It's such an exciting moment for me to be in Toronto playing an exhibition game," said the Peterborough Pete centre, who turned 18 earlier this week. "It's a special moment for me. I'm excited to go on the ice and have fun out there. I'm not going to expect too much from myself. Just going to try and keep it simple, especially the first shift, just play D zone right."
Der-Arguchintsev​ was hoping to get into at least one NHL preseason game, but wasn't sure if it would happen. This morning he found himself skating on the fourth line between Chris Mueller and Dmytro Timashov and also taking reps on the second power-play unit.
"He's a really good kid," said Babcock. "He feels good about himself, has a smile on every day, wants to get better. He'll be in for an eye-opener tonight, but that's all part of life. He's a long way from the National Hockey League and he's got to get to work on his body and his game, but those things don't happen overnight. That's going to take some time, but he does have an enthusiasm and an infectious personality and he's an energy giver and that's important for team sport."
Der-Arguchintsev is listed as 5-foot-10, 160 pounds and that may be generous. But the Moscow native, who posted 51 points in 68 OHL games last season, has grown accustomed to hitting above his weight in his young career.
"Not really concerned about that at all," he said. "I've always been not the biggest guy and played against bigger guys so just have to be quick out there and not be shy."
The kid's got some swagger and that's endeared him to the Leafs head coach.
"He's not out here hiding," Babcock said. "He wants to be out here. He thinks he should be dressed and that's a big part of it too."
Babcock did note that if Der-Arguchintsev​ gets overwhelmed in any way then Mueller, also a centre, can take over on faceoffs and defensive-zone duties.
After sitting out practices earlier in the week with a minor shoulder injury, defenceman Travis Dermott rejoined his teammates on Friday morning although he wore a red no-contact sweater during compete drills.
"You kind of take it in stride," the 21-year-old said of getting an injury early in camp. "But this time of the year you want to make sure it's not something serious or turns into something serious by pushing it when you don't need to."
Dermott isn't sure when he'll be ready to return to preseason action, but says it'll be "sooner rather than later." Toronto wraps up its exhibition schedule with games Monday, Wednesday, Friday and Saturday next week.
Dermott said the "fluke" injury was sustained when he was trying to box out a player in the third period of Tuesday's game against the Senators.
"It was nothing serious," he said. "Just a hockey play where it doesn't look bad to the untrained eye, but it just felt a little off."
----
Frederik Gauthier, who is also dealing with a shoulder injury, did not participate in practice on Friday, but did skate on his own.
----
*Lines at Leafs morning skate:
Hyman-Tavares-Marner
Leivo-Kadri-Brown
Engvall-Jooris-Greening
Mueller-Der Arguchintsev-Timashov
Clune
Rielly-Hainsey
Marincin-Carrick
Sandin-Liljegren
Nielsen-Subban
McElhinney, Sparks
*Power play units at Leafs morning skate:
Rielly
Timashov-Kadri-Marner
Tavares
Liljegren
Mueller-Leivo-SDA
Greening
*Lines at Leafs practice:
Marleau-Matthews-Ennis
Johnsson-Lindholm-Kapanen
Grundstrom-Cracknell-T.Moore
Clark-Brooks-Bracco
Gardiner-Zaitsev
Rosen-Ozhiganov
Borgman-Holl
Dermott-LoVerde
Andersen, Pickard
*Power play units at Leafs practice:
Gardiner
Matthews-Johnsson-Bracco
Marleau
Rosen
Ennis-T.Moore-Brooks
Grundstrom