Howard to play Brazil for spot in men's worlds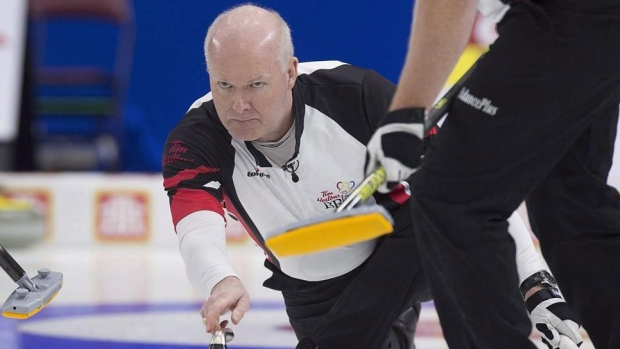 Ontario's Team Glenn Howard has been chosen to represent Canada in a world men's curling championship qualifier against Brazil next month.
Despite Team Brad Gushue of St. John's winning the world championship last year in Edmonton, Canada will need to qualify the long way due to World Curling Federation rules.
The Americas zone is only allowed two spots at the worlds and the United States automatically get an entry since they are hosting the event in Las Vegas. The highest ranked team from the previous season (Canada) gets the second spot, but can be challenged by any other team in the Americans zone.
Brazil has decided to challenge Canada and will play Howard in a five-game series from Jan. 11-13, 2018 during the Continental Cup in London, Ont. The winner will get the last spot in the world championship.
"We're honoured to be asked to represent our country in this challenge, and I can guarantee you we will be taking this very seriously," Howard told Curling Canada in a statement. "We know how important playing at the World Championship is, and we know the kind of expectations Canadian curling fans have for teams wearing the Maple Leaf, so I can guarantee you that Team Howard will do everything possible to make sure we meet those expectations."
Howard is a four-time Brier and world champion. His team consists of third Adam Spencer, second David Mathers, lead Scott Howard and coach Richard Hart. Brazil will be skipped by Marcelo Mello.
Brazil has challenged the United States four times (2017, 2015, 2010 and 2009) but have never won a game.
Canada has won the most gold medals at the men's worlds with 36 and have never missed a year since it started in 1959. Brazil has never appeared in the event.
The men's world championship runs from March 31-April 8 in Las Vegas.
Here is the schedule for the five-game series:
Game 1 - Thursday, Jan. 11 at 7 p.m. ET
Game 2 - Friday, Jan. 12 at 2:30 p.m. ET
Game 3 - Friday, Jan. 12 at 7 p.m. ET
Game 4 (if necessary) - Saturday, Jan. 13 at 2:30 p.m. ET
Game 5 (if necessary) - Saturday, Jan. 13 at 7 p.m. ET