Teams set for mixed doubles Olympic trials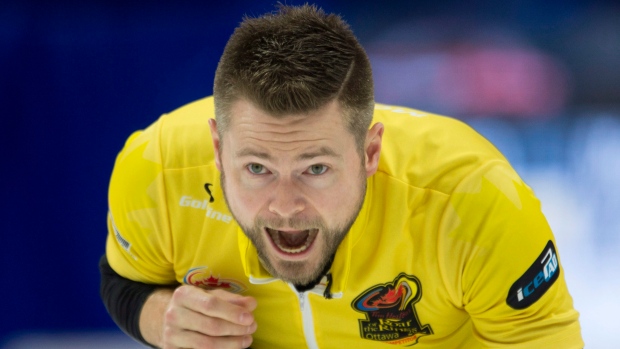 For the dozens of curlers who came up short at the Roar of the Rings in Ottawa earlier this month, there is still another chance to qualify for the 2018 Winter Olympics in PyeongChang, South Korea.
On Monday, Curling Canada confirmed the 18 teams that will compete at the Canadian mixed doubles Olympics trials from Jan. 2-7 at Stride Place in Portage la Prairie, Man.
Mixed doubles will make its Olympic debut in February, giving Canada another chance to capture curling gold.
Unlike other countries, Canada is allowing their curlers to compete in only one of the two competitions, meaning if your partner was a member of either Team Kevin Koe or Team Rachel Homan, you were forced to find someone else to play with.
Here are the 18 pairings that will compete at the trials next month.
POOL A
1. Jocelyn Peterman (Calgary)/Brett Gallant (St. John's)
4. Dawn McEwen/Mike McEwen (both Winnipeg)
5. Jennifer Jones (Winnipeg)/Mark Nichols (St. John's; replaces Brent Laing)
8. Nancy Martin (Saskatoon)/Catlin Schneider (Regina)
9. Jill Officer (Winnipeg; replaces Joanne Courtney)/Reid Carruthers (Winnipeg)
12. Kim Tuck/Wayne Tuck (both Strathroy, Ont.)
13. Emilie Desjardins/Robert Desjardins (both Chicoutimi, Que.)
16. Shannon Birchard/Jason Gunnlaugson (both Winnipeg)
17. Sherry Just (Prince Albert, Sask.; replaces Emma Miskew)/Tyrel Griffith (Kelowna, B.C.)
POOL B
2. Chelsea Carey (Calgary)/Colin Hodgson (Winnipeg)
3. Kalynn Park (Edmonton)/Charley Thomas (Calgary)
6. Kaitlyn Lawes (Winnipeg; replaces Rachel Homan)/John Morris (Canmore, Alta.)
7. Laura Crocker (Edmonton)/Geoff Walker (St. John's)
10. Marliese Kasner (Shellbrook, Sask.)/Dustin Kalthoff (Saskatoon)
11. Val Sweeting (Edmonton)/Brad Gushue (St. John's)
14. Nicole Westlund-Stewart/Tyler Stewart (both Kitchener, Ont.)
15. Dana Ferguson (Edmonton)/Brendan Bottcher (Sherwood Park, Alta.)
18. Sherry Middaugh (Victoria Harbour, Ont.; replaces Lisa Weagle)/John Epping, Toronto
Courtesy Curling Canada
Teams will play a round robin format within their pool. The top two teams in each pool plus the next four teams (regardless of pool) with the best records advance to the playoffs.
At the Olympics, mixed doubles will run from Feb. 8 to Feb. 13. The men's and women's tournaments go from Feb. 14 to Feb. 25.