Welcome to the Rasmus Dahlin Draft
The Swedish defenceman is a potential generational blueliner who has pulled away from the rest of the 2018 NHL draft field, TSN Hockey Insider Bob McKenzie writes in his mid-season rankings.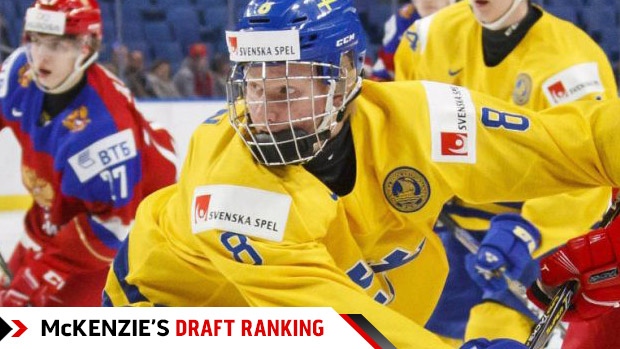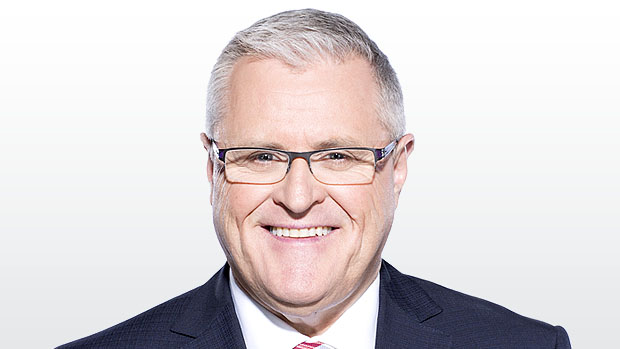 It's still five months away, but it's time we affix a label to the 2018 NHL draft.
So let's call it for what it is - the Rasmus Dahlin Draft.
"No one is close to him," one NHL scout said. "There's Dahlin, and there's everyone else."
It's not necessarily a shocking revelation.
The 6-foot-2, 180-pound Swedish defenceman from Frolunda was No. 1, as chosen by TSN's panel of 10 NHL scouts, on TSN's Pre-Season Top 15 rankings in September. But there was a sense last fall that another prospect - Russian winger Andrei Svechnikov of the Barrie Colts was deemed the most likely candidate - might mount a legitimate challenge to Dahlin for No. 1.
Dahlin received nine No. 1 votes in September; Svechnikov got one.
But that challenge never really materialized. Dahlin is that good, a potential generational blueliner - offensively dynamic, defensively dominant with an unrivalled combination of size, strength, speed, skill and sense.
Ten out of 10 scouts surveyed this week had Dahlin at No. 1, duly noting it was an easy choice.
So then what?
Well, funny you should ask.
When last we left you in the preseason rankings, Svechnikov was a clear and distinct No. 2 behind Dahlin, still mostly in a class of his own in that second slot. Now, though, the big Russian goal-scoring winger is facing a challenge of his own.
Svechnikov has played well this season, not disappointing at all and still holds down No. 2 on TSN Hockey's mid-season list. But a layer of three high-end wingers - including Svechnikov - has emerged behind Dahlin, but potentially ahead of the rest of the 2018 class.
That includes sensational Czech winger Filip Zadina of the Quebec League's Halifax Mooseheads and Boston University freshman winger Brady Tkachuk. Both Zadina, already being billed as the best natural goal scorer available in this draft, and the big American horse Tkachuk, who plays a strong, agitating, offensive power game, were outstanding at the World Junior Championship in Buffalo.
Svechnikov played well at times for Russia at the WJC, but on a team coached by Valeri Bragin, who doesn't warm up to younger players at the WJC, Svechnikov simply wasn't given the same quality opportunities to perform as Zadina and Tkachuk.
Svechnikov remains at No 2 on our mid-season list, with Zadina at No. 3 (he was No. 7 in September) and Tkachuk at No. 4 (down from No. 3 in September). Zadina is blessed with what is arguably the best shot of any prospect and Tkachuk simply has a physical dimension combined with high-end offence that is unlike any other.
By all accounts, there isn't a lot separating the three talented wingers, all of whom project to be top-line NHL talent. No scout surveyed by TSN had any one of them outside the top four overall in the draft.
The next prospect strata in TSN Hockey's Top 10 consists of four defencemen, the first two of whom round out what is currently a fairly well defined top six.
Two somewhat undersized blueliners - 5-foot-11, 168-pound Adam Boqvist of Brynas in Sweden and 5-foot-10, 170-pound University of Michigan American freshman Quinn Hughes - check in at Nos. 5 and 6. Nine of 10 scouts had Boqvist ranked in the top six of this draft, while every one of the 10 scouts surveyed on Hughes had him slotted at either No. 6 or 7.
Both share a lot of the same traits. They're outstanding skaters. Hughes may be more of a puck carrier than a puck mover, but both have offensive flair and dynamic qualities though neither is physically imposing. Both do better work with the puck than without.
Subject to change, of course, and there's still a lot of prospect hockey to be played, three tiers appear to have emerged within the top six of this draft — Dahlin alone at the top; the three big wingers next; followed by the dynamic D duo of Boqvist and Hughes.
It's possible one of those dynamic defencemen could crash the wingers' No. 2 to 4 party, especially for any team that puts a premium on positional preference. But, for now anyway, based on our mid-season survey, there's a defined set of six at the top end.
Outside of the top six, this draft tends to become a little more scattershot.
It also becomes more Canadian. Finally.
Perhaps you noticed, but there's nary a Canadian in the top six prospects on TSN Hockey's list.
If it should happen on draft day, June 22 in Dallas, that no Canadian is chosen in the top five, it would be the first time that has happened since 1999 and only the second time in the 50-year history of the modern NHL entry draft.
Bearing in mind the consensus from No. 7 down is not nearly as strong as No. 6 up, Canada's best draft hopes in 2018 apparently rest on a pair of blueliners - No. 7 ranked Evan Bouchard of the London Knights and No. 8 ranked Noah Dobson of the Acadie-Bathurst Titan. Both have good size - Bouchard is 6-foot-2, 193 pounds and Dobson is 6-foot-3, 180.
Bouchard is at his best when he has the puck on his stick. He's one of the best passers of any player in the draft, with an uncanny knack of finding the open man and making an NHL-quality pass. He was Team Cherry player of the game in the CHL Prospects game after picking up four assists. He also possesses a booming shot from the point and puts up considerable numbers from the Knights' blueline.
Dobson is an excellent two-way, all-around blueliner who can impact the game in all three zones. He's smart, physical, and skilled and is continuing to elevate his game. He's currently projected as a potential top-pairing NHL blueliner.
TSN Hockey's mid-season Top 10 is rounded out by No. 9 Oliver Wahlstrom, a 6-foot-1, 205-pound, powerful yet highly skilled offensive winger with the U.S. national team development program and No. 10 Ty Smith, a sub 6-foot, cerebral defenceman with the Spokane Chiefs.
Wahlstrom has all the tools to be a top six pro forward though scouts are looking for him to even out his consistency of effort. Smith's best asset is his hockey sense and ability to make the right play with and without the puck in a somewhat understated fashion, but he'll have to continue to show that can make up for lack of physical prowess (5-foot 10, 176 pounds) and/or dynamic elements.
What's abundantly clear is this is not a draft for teams looking for high-end talent at the centre position. There is not one pivot in the Top 10.
In fact, the run on centres doesn't begin until No. 12, where Soo Greyhound industrious two-way, Canadian pivot Barrett Hayton is slotted. He's followed by speedy and skilled Finnish centre Rasmus Kupari of Karpat at No. 13. Drummondville centre Joe Veleno, who carries with him the burden of having once been declared an "exceptional" player by Hockey Canada for early admission as a 15-year-old to the Quebec League, is No. 15.
Veleno is not "exceptional" relative to this year's other draft prospects but he is a very solid, two-way centre and almost assuredly will be a first-round pick. But he was No. 5 on TSN's pre-season list, slipping 10 spots, though one of the scouts surveyed by TSN for these rankings still had him as a potential top five prospect.
One other intriguing storyline this year is that of No. 11 ranked Ryan Merkley of the Guelph Storm. The first-overall pick in his OHL draft year, Merkley is easily one of the most skilled, dynamic and talented players available in this draft. Top five in natural ability. A pure offensive defenceman who plays a high-risk, high-reward style, Merkley has, however, been flagged by NHL scouts as temperamental and a potential problem child with a questionable attitude. Either that or he's the draft's most misunderstood prospect.
Merkley's stock has plummeted on a number of scouting service listings and rankings - NHL Central Scouting Bureau slotted him way down at No. 21 on the North American list - but his relatively strong showing at No. 11 on the European-North American composite TSN list is more a reflection of the scouts we surveyed ranking him, for now, on ability over attitude.
"We'll all drill down on that other stuff as we get closer to the draft," one scout said. "Talented kid, no doubting that."
It's not a strong draft year for goaltenders, with not one of them being considered a potential first-round pick. In fact, a number of scouts surveyed weren't sure they would slot a goalie in the second round either. For this mid-term ranking, we chose not to integrate any goalies into the list and listed five stoppers on a separate list that could be considerations in the second and/or third round.
A number of scouts did caution that this season's mid-term rankings could be a little volatile in terms of movement of prospects up and down between now and draft day.
"It's a very strong draft in the top five or six," the scout said. "Those top guys are outstanding. It's should be, overall, a quality first round but I think you'll see quite a bit of jockeying back and forth in the coming months."
TSN's final draft rankings will be released the week of the NHL draft in mid-June.
The Top 80
| RK | Player | Team | POS | HT | WT | GP | G | P |
| --- | --- | --- | --- | --- | --- | --- | --- | --- |
| 1 | Rasmus Dahlin | Frolunda (SHL) | D | 6'2 | 181 | 31 | 6 | 14 |
| 2 | Andrei Svechnikov | Barrie (OHL) | RW | 6'1 ½ | 188 | 24 | 19 | 32 |
| 3 | Filip Zadina | Halifax (QMJHL) | RW | 6'0 | 198 | 38 | 27 | 53 |
| 4 | Brady Tkachuk | Boston U (NCAA) | LW | 6'2 | 194 | 24 | 5 | 18 |
| 5 | Adam Boqvist | Brynäs (SWE J20) | D | 5'10 ¾ | 168 | 20 | 12 | 19 |
| 6 | Quinn Hughes | Michigan (NCAA) | D | 5'9 | 167 | 21 | 1 | 14 |
| 7 | Evan Bouchard | London (OHL) | D | 6'1 ½ | 190 | 45 | 15 | 54 |
| 8 | Noah Dobson | A-Bathurst (QMJHL) | D | 6'2 ½ | 178 | 46 | 10 | 47 |
| 9 | Oliver Wahlstrom | USA NTDP (USHL) | C | 6'0 ¾ | 195 | 34 | 26 | 45 |
| 10 | Ty Smith | Spokane (WHL) | D | 5'10 ¼ | 176 | 46 | 6 | 44 |
| 11 | Ryan Merkley | Guelph (OHL) | D | 5'11 | 170 | 44 | 11 | 52 |
| 12 | Barrett Hayton | S.S. Marie (OHL) | C | 6'1 | 186 | 44 | 17 | 42 |
| 13 | Rasmus Kupari | Kärpät (SM Liiga) | C | 6'1 ¼ | 183 | 24 | 4 | 6 |
| 14 | Bode Wilde | USA NTDP (USHL) | D | 6'2 ½ | 197 | 34 | 5 | 21 |
| 15 | Joe Veleno | Drummondville (QMJHL) | C | 6'1 | 195 | 41 | 8 | 38 |
| 16 | Joel Farabee | USA NTDP (USHL) | LW | 5'11 | 152 | 34 | 17 | 40 |
| 17 | Ryan McLeod | Mississuaga (OHL) | C/LW | 6'2 | 190 | 45 | 15 | 50 |
| 18 | Jared McIsaac | Halifax (QMJHL) | D | 6'1 | 195 | 45 | 5 | 26 |
| 19 | Jesperi Kotkaniemi | Ässät (SM Liiga) | C | 6'1 ½ | 188 | 45 | 8 | 22 |
| 20 | Isac Lundestrom | Luleå (SHL) | C/LW | 5'11 ¼ | 178 | 28 | 3 | 10 |
| 21 | Grigori Denisenko | Yaroslavl (MHL) | LW | 5'11 | 163 | 23 | 4 | 14 |
| 22 | Serron Noel | Oshawa (OHL) | RW | 6'4 | 200 | 40 | 17 | 34 |
| 23 | Jacob Olofsson | Timra (SWE-Als) | C | 6'2 | 185 | 32 | 8 | 18 |
| 24 | Mattias Samuelsson | USA NTDP (USHL) | D | 6'3 ¼ | 209 | 30 | 6 | 15 |
| 25 | Dominik Bokk | Vaxjo (SuperElit) | LW/RW | 6'1 | 179 | 23 | 11 | 29 |
| 26 | Jack McBain | Toronto (OJHL) | C | 6'3 ¼ | 196 | 41 | 19 | 49 |
| 27 | Jett Woo | Moose Jaw (WHL) | D | 5'11 ¾ | 205 | 30 | 8 | 23 |
| 28 | Benoît-Olivier Groulx | Halifax (QMJHL) | C | 6'0 ¾ | 192 | 47 | 19 | 35 |
| 29 | Akil Thomas | Niagara (OHL) | RW | 5'11 | 169 | 44 | 12 | 50 |
| 30 | Martin Kaut | Pardubice (CZE Extra) | RW | 6'1 ½ | 176 | 28 | 4 | 7 |
| 31 | Alexander Alexeyev | Red Deer (WHL) | D | 6'3 ½ | 184 | 37 | 6 | 31 |
| 32 | Calen Addison | Lethbridge (WHL) | D | 5'9 ¾ | 179 | 46 | 7 | 47 |
| 33 | K'Andre Miller | USA NTDP (USHL) | D | 6'3 ½ | 194 | 34 | 6 | 17 |
| 34 | Rasmus Sandin | S.S. Marie (OHL) | D | 5'10 ¾ | 183 | 32 | 5 | 28 |
| 35 | Jakub Lauko | Chomutov (CZE Extra) | LW | 6'0 | 169 | 32 | 2 | 5 |
| 36 | Jesse Ylonen | Espoo (FIN) | RW | 5'11 ¾ | 160 | 34 | 11 | 19 |
| 37 | Kevin Bahl | Ottawa (OHL) | D | 6'5 ¾ | 225 | 45 | 1 | 14 |
| 38 | Jonathon Tychonick | Penticton (BCHL) | D | 5'11 ¼ | 166 | 35 | 8 | 26 |
| 39 | Vitali Kravtsov | Chelyabinsk (KHL) | RW | 6'2 | 170 | 33 | 3 | 6 |
| 40 | Adam Ginning | Linköping (SHL) | D | 6'2 ¾ | 196 | 19 | 0 | 0 |
| 41 | Ty Dellandrea | Flint (OHL) | C/RW | 5'11 ¾ | 180 | 44 | 17 | 35 |
| 42 | Sampo Ranta | Sioux City (UHSL) | RW | 6'0 ¾ | 192 | 26 | 9 | 15 |
| 43 | Jay O'Brien | Thayer (USHS) | C | 6'0 | 175 | N/A | N/A | N/A |
| 44 | Filip Johansson | Leksands (SWE J20) | D | 6'0 ½ | 174 | 25 | 4 | 6 |
| 45 | Jacob Bernard-Docker | Okotoks (AJHL) | D | 6'0 | 181 | 36 | 14 | 29 |
| 46 | Nico Gross | Oshawa (OHL) | D | 5'11 ¾ | 183 | 36 | 4 | 10 |
| 47 | Stanislav Demin | Wenatchee (BCHL) | D | 6'2 | 190 | 44 | 8 | 36 |
| 48 | Allan McShane | Oshawa (OHL) | C | 5'10 ½ | 190 | 45 | 10 | 36 |
| 49 | Filip Hallander | Timra (SWE-Als) | C/LW | 6'0 | 178 | 35 | 8 | 19 |
| 50 | Nando Eggenberger | Davos (SUI NLA) | LW/RW | 6'2 | 185 | 29 | 3 | 5 |
| 51 | Blake McLaughlin | Chicago (USHL) | LW | 5'11 | 156 | 27 | 17 | 36 |
| 52 | Jan Jenik | Benatky (CZE2) | RW | 6'1 | 161 | 26 | 3 | 8 |
| 53 | Tyler Madden | Tri-City (USHL) | C/RW | 5'10 | 152 | 27 | 11 | 20 |
| 54 | Jonatan Berggren | Skellefteå (SWE J20) | LW | 5'10 | 181 | 26 | 13 | 34 |
| 55 | Riley Sutter | Everett (WHL) | C | 6'2 ¾ | 202 | 45 | 20 | 37 |
| 56 | Cameron Hillis | Guelph (OHL) | C | 5'9 ½ | 168 | 44 | 17 | 40 |
| 57 | Curtis Hall | Youngstown (USHL) | C | 6'2 | 194 | 28 | 11 | 20 |
| 58 | Albin Eriksson | Skellefteå (SWE J20) | LW | 6'4 ¼ | 207 | 24 | 13 | 26 |
| 59 | David Gustafsson | HV 71 (SHL) | C | 5'11 ½ | 196 | 30 | 2 | 3 |
| 60 | Martin Fehervary | Oskarshamn (SWE-Als) | D | 6'1 | 190 | 27 | 1 | 6 |
| 61 | Ty Emberson | USA NTDP (USHL) | D | 6'1 | 194 | 33 | 3 | 14 |
| 62 | Alexander Khovanov | Moncton (QMJHL) | C | 5'11 | 187 | 12 | 1 | 7 |
| 63 | Kody Clark | Ottawa (OHL) | RW | 6'0 ¾ | 172 | 38 | 16 | 33 |
| 64 | Jacob Pivonka | USA NTDP (USHL) | C | 5'11 | 198 | 31 | 8 | 16 |
| 65 | Sean Durzi | Owen Sound (OHL) | D | 5'11 ½ | 195 | 37 | 15 | 47 |
| 66 | Oskar Back | Färjestads (SWE J20) | C | 6'2 ¼ | 192 | 28 | 4 | 18 |
| 67 | Giovanni Vallati | Kitchener (OHL) | D | 6'1 | 176 | 44 | 3 | 20 |
| 68 | Jake Wise | USA NTDP (USHL) | C | 5'9 ¾ | 185 | 10 | 1 | 9 |
| 69 | Gabriel Fortier | Baie Comeau (QMJHL) | LW | 5'9 | 164 | 45 | 16 | 37 |
| 70 | Nicolas Beaudin | Drummondville (QMJHL) | D | 5'10 ½ | 175 | 45 | 10 | 41 |
| 71 | Nathan Dunkley | London (OHL) | C | 5'11 | 192 | 39 | 15 | 38 |
| 72 | Philipp Kurashev | Quebec (QMJHL) | RW | 5'11 ½ | 181 | 42 | 11 | 41 |
| 73 | Merrick Rippon | Ottawa (OHL) | D | 6'0 | 191 | 45 | 2 | 17 |
| 74 | Axel Andersson | Djurgarden (SWE J20) | D | 5'11 ¾ | 178 | 30 | 3 | 25 |
| 75 | Anderson MacDonald | Moncton (QMJHL) | LW | 6'1 ½ | 205 | 43 | 24 | 37 |
| 76 | Carter Robertson | Ottawa (OHL) | D | 6'2 | 178 | 34 | 3 | 10 |
| 77 | Tyler Weiss | USA NTDP (USHL) | C/LW | 5'10 ¼ | 158 | 34 | 5 | 18 |
| 78 | Blade Jenkins | Saginaw (OHL) | LW | 6'1 | 195 | 44 | 15 | 30 |
| 79 | Xavier Bernard | Drummondville (QMJHL) | D | 6'2 ½ | 208 | 43 | 10 | 27 |
| 80 | Lenni Killinen | Blues Jr. (Jr. SM Liiga) | RW | 6'2 | 180 | 34 | 12 | 38 |
Honourable Mentions
| Player | Team | POS | HT | WT | GP | G | P |
| --- | --- | --- | --- | --- | --- | --- | --- |
| Xavier Bouchard | Baie Comeau (QMJHL) | D | 6'3 ¼ | 191 | 44 | 2 | 14 |
| Jack Drury | Waterloo (USHL) | C | 5'11 | 175 | 29 | 10 | 31 |
| Aidan Dudas | Owen Sound (OHL) | C | 5'8 | 167 | 44 | 20 | 44 |
| Danila Galenyuk | Mamonty Yugry (MHL) | D | 6'1 | 201 | 13 | 0 | 3 |
| Patrick Giles | USA NTDP (USHL) | RW | 6'4 | 205 | 34 | 9 | 18 |
| Jordan Harris | Kimball Union (USHS) | D | 5'11 | 179 | N/A | N/A | N/A |
| Christian Krygier | Lincoln (USHL) | D | 6'2 | 192 | 20 | 0 | 2 |
| Cole Krygier | Lincoln (USHL) | C | 6'3 | 192 | 30 | 0 | 7 |
Top Goaltenders
| RK | Player | Team | HT | WT | GP | GAA | SV% |
| --- | --- | --- | --- | --- | --- | --- | --- |
| 1 | Jakub Skarek | Jihlava (CZE) | 6'3 | 196 | 18 | 2.60 | .900 |
| 2 | Alexis Gravel | Halifax (QMJHL) | 6'2 ½ | 226 | 21 | 3.28 | .896 |
| 3 | Olivier Rodrigue | Drummondville (QMJHL) | 6'0 ¼ | 155 | 34 | 2.62 | .901 |
| 4 | Kevin Mandolese | Cape Breton (QMJHL) | 6'4 | 181 | 23 | 3.61 | .889 |
| 5 | Lukáš Dostal | Brno (Cze Jr.) | 6'0 ¾ | 158 | 16 | 2.41 | .919 |