TFC to transfer Vazquez to Qatar club
The Canadian Press with TSN.ca files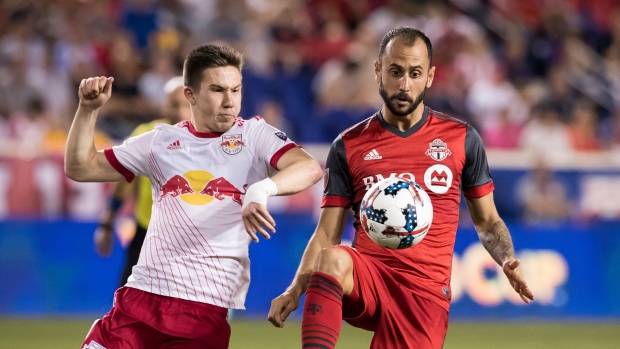 Toronto FC has come to an agreement to sell Spanish playmaker Victor Vazquez to a team in Qatar. The move to transfer was initiated by Vazquez.
A Toronto FC spokesperson said the MLS club had agreed to terms with the team, which Toronto declined to identify.
The 31-year-old Vazquez has been a key component of the Toronto attack, with 16 goals and 25 assists in 52 games over his two seasons in MLS. A variety of injuries slowed him last season.
"It'll be difficult," head coach Greg Vanney said of losing Vazquez Tuesday. "I don't think we'll find a way to replace Victor exactly but we'll find a player or players that we'll also add to our team in this transition."
"This opportunity came up for him and his family, it's important to him and I think it's something that he's very committed to and it's a long-term thing for him and his family," Vanney added.
According to TSN's Gareth Wheeler, significant targeted allocation money will be made available on the transfer.
"It's good business but it's terrible on-the-field timing and this is a player that you will not just be able to replace at this stage of the season and it is clear, Greg Vanney has also told me this as well, it's clear they got him at a bargain price," said TSN's Kristian Jack.
"I think he's going to be an enormous loss and they're going to find it very difficult to get that same player that can build with that construction of play through midfield."
Meanwhile, Sebastian Giovinco claimed that another club has made a serious bid for him, which Vanney said is news to the him. The Italian forward is entering the final year of his contract, as are Americans Jozy Altidore and Michael Bradley.
"This is my last year of my contract. I try to honour my contract and we'll see what happens. I want to stay here but you know I hear something already this season that somebody wants to offer me to another team," Giovinco said Tuesday.
"Honestly I will enjoy this year. It can be my last, or no. We'll see," he added.
"How many times have we said we want to stay here, we want to close our careers here," Giovinco told TSN's Kristian Jack Monday. "But, at the end, this not only our decision."